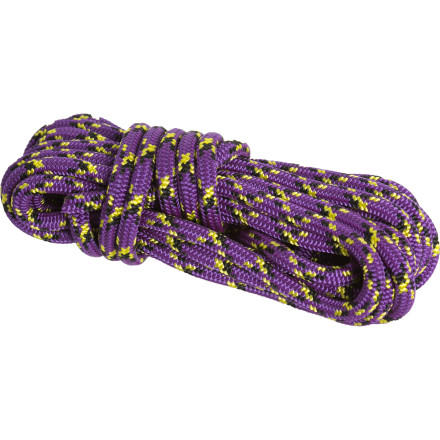 Detail Images
Use the Edelweiss Edel 6mm X 5m Precut Cord to tie down your tent at a windy camp or finish setting up a top-rope anchor. Rest assured knowing the tight braid is extra abrasion-resistant.
Share your thoughts
What do you think of the
Edelweiss
Edel Precut Cord - 6mm x 5m (16.5ft)
? Share a...
Is 7.2kN and 6mm suitable for a toprope...
Is 7.2kN and 6mm suitable for a toprope climbing anchor?
Would it require that I always double up the cord?
I prefer slings when I build a toprope anchor, but the minimum amount of strength for a bombproof anchor is standardized no matter if you like cordelette or slings. 14kN (3,147 lb.) is the minimum strength that I feel comfortable with for any toprope anchor
Best Answer
Aaron,

This cord is suitable for setting up anchors, and top ropes. However if you wish to use this cord repeatedly for toproping, and let's say that is how you primarily access your climbing routes I would suggest something in the 7-8mm range.

This is strictly for the longevity of your cord. Should you use this 6mm repeatedly for an entire season of setting up TR's it will see significantly more wear and tear than something of a thicker diameter. I would push for the 7-8mm cord for setting up top ropes.

If you're looking for something to use for multipitch climbing I would suggest something along the 6-7mm range. This size will pack small, be lighter, and be easier to handle. You don't put as much strain or work on a piece of cord when multipitch climbing as you do when soley top roping off an anchor.
I use 6mm for prussik / autoblock cords, and 7mm for cordelettes. This is fairly standard. You could use 6mm for cordelettes, but that's on the weak side. Some people use 5mm for prusik loops, but that's too weak in my opinion- sometimes you will want to use a prusik loop as a safety line, or to climb a rope etc, and 5mm is kinda weak to trust your life to (though if you use a very thin rope, 5mm will grip better and might make sense).

I haven't used this cord specifically, but when comparing nylon cord across brands, the strength is close enough that the diameters are equivalent.