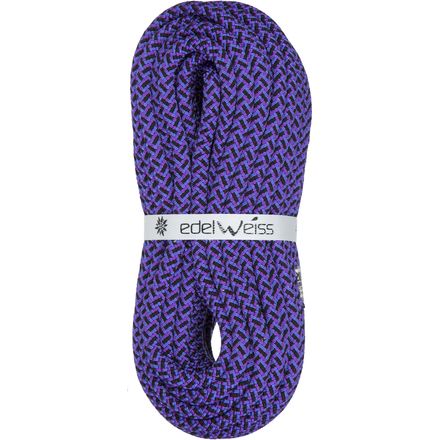 Colors
Description
A trustworthy cord.
Edelweiss designed the Discover 8mm SuperEverDry Glacier Rope for backpacking, alpine summit bids, and backcountry skiing and glacier travel. Keep your gear hoard compact thanks to a small and lightweight-yet-strong design. Edelweiss' proprietary SuperEverDry treatment prevents moisture-induced weight gain. Rated to 14 falls and boasting an impact rating of just 9kN, the Discover provides peace of mind to the speed-oriented adventurer.
Unanswered Question
I want to have an emergency setup for when...
I want to have an emergency setup for when I do tree camping in my hammock. Will this rope be good enligh to caught me in a fall?
Ski & Fast Mountaineering Go To
Familiarity:

I've put it through the wringer
Grabbed this up a couple years ago and it's my go to rope for two person mountaineering trips on non-tech glacier routes (have even used it for three in a bind) and carrying it for those backcountry ski trips that require short drop to get into. Light weight and very fast drying.
Fine glacier and ski mountaineering rope
Familiarity:

I've put it through the wringer
Just a short twin rope for use as a single line in low fall risk terrain. When you just want a rope for safety or rescue, but don't plan on pitching anything out or rappelling long distances, this is a hunk to carry that'll dry out fast and be ready for the next adventure. A perfect one to keep in the car and throw in when you want to ski something steeper or run on a glacier with crevasses
Is this considered twin or double rope?...
Is this considered twin or double rope? Can't tell from the tech specs. Judging by the name, I'm assuming it's suitable for glacier travel.
Best Answer
Yeah, it's a twin rope. Besides the diameter, if you look closely at the ends, you'll see a symbol with two interlocking circles, that's the symbol for a twin rope. Some people swear by the weight benefits of 30m ropes, some people would tell you that it's not enough to work with and that you better be really good at self-arrest, especially with only two on. Hope this helps.
Thank you, Phil. Very helpful. Regarding the suitability for glacier travel, I was more asking about the width rather than the length. I've agonized enough over 30m vs 40m and in the end bought the 30m Sterling Duetto (8.4mm). The plan is to have 2 30m ropes for 3 people and 1 30m rope for 2 with some narrower cord back-ups for rescue.
If you have that many people it might be better to consider a full length 60m twin line. just sayin