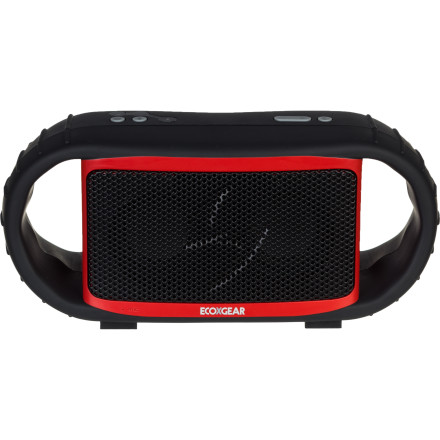 Videos
Thanks to the ECOXGEAR ecoXBT Waterproof Bluetooth Speaker with built-in speakerphone feature, you can listen to your music and answer calls in the pool, on the lake - even in the shower if you feel like it. The floating, waterproof, extremely rugged design goes damn near anywhere and pumps out surprisingly high-quality sound out of its stereo speaker array.
Connects to any Bluetooth-enabled music playback device, including laptops
Built-in speakerphone lets you take calls even when away from your phone
Top panel buttons for Bluetooth pairing, power, volume control, and call answer
10-hour battery life when playing at average volume settings
Waterproof, rugged design withstands harsh conditions and floats in water
Full-range stereo speakers with stainless-steel grill cover
Outer dimensions are 4 x 9 x 2.8 in
Removable carabiner clip for easy attachment to pretty much anything
Powered by built-in rechargeable battery - AC wall adapter included
An outdoors version of the Jambox!
Familiarity:

I've put it through the wringer
I purchased one of these bad boys for a trip down the Grand Canyon in September. It paired easily with my iPhone 5, with my laptop, and with my friend's Samsung Galaxy phone. You can play your music library, pandora, or spotify through your phone with no problems. Sound quality was awesome, comparable to the Jambox (which I think of as the current industry standard in sound quality/loudness for a wireless bluetooth speaker) and the speaker got plenty loud; I was even told annoyingly loud... The speaker performed well when splashed, when it was thrown into the water (it loses bluetooth connection instantly when underwater FYI). The two loops on the side make it easy to rig to anything and the plastic is a nice non-slip type that makes it very grip-able.



Downsides: The built in speakerphone seems ridiculous, definitely hard to use. The mini-USB charging port is very fragile, very finicky - mine has to be at a certain angle to charge at all. And lastly - it is not completely waterproof. Mine eventually gave in after several splashes and submersions and no longer works. I blame the back door which just "pops" into place without any latching mechanism or way to properly secure it. Gonna send it into backcountry and see what they can do for me!
Can this speaker be attached to your bike...
Can this speaker be attached to your bike handles??
Best Answer
Absolutely. This one is built to take a beating. If you are going on a smooth run, I'd use a bungee. But if you'll be on single tracks and such, electrical tape would do great.
We really love the speaker. It gets loud and sounds good. The blue-tooth range seems to be good and the phone answer feature works fine. We have actually purchased a second one.

Sadly there is one, what I would consider a design flaw. For some reason these days everyone wants to use a mini usb plug for charging purposes. We accidentally tripped on the cord and broke the usb socket inside the unit. I just sent the manufacturer an e-mail we will see how customer support is.

I will rate it a 5 for now.