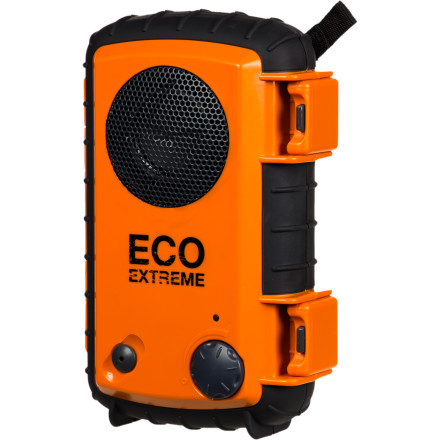 Detail Images

Community Images
Want a durable, waterproof, floating, and shock-resistant way to amplify your tunes without blowing a ton of cash? The ECOXGEAR EcoExtreme Waterproof Speaker securely holds your media player and other small items like cash or keys, to keep all the important stuff in one place while you do your thing.
Universal design fits iPhone, Blackberry, Samsung, Android, and Windows devices
30-hour battery life allows all-day use
Waterproof, rugged design withstands harsh conditions and floats in water
3-inch speaker for great sound on the go
Outer dimensions are 7.5 x 4.5 x 2.5 in
Inner dimensions are 6.13 x 3.13 x 1 in
Removable carabiner clip for easy attachment to pretty much anything
Requires 3 AA batteries (sold separately)
Here's the size next to your basic nalgene... And a herd of goats
Super cool!!!!
Familiarity:

I've put it through the wringer
The sound isnt the best but i cant complain cause this thing can go anywhere so what do you expect. It floats you can drop from anywhere and it will be fine. This thing is one solid brick. If water gets in the speaker it effects the sound so you have to just turn it over and get the water out but it is fine. Also you can listen to music under water so that is always cool. And you can trust it , it will never leak!
Let's Make Everything AWESOME-R!!!
Familiarity:

I've put it through the wringer
What a genius product to have EVERYWHERE! I bought this for a trip to Hawaii for some lazy beach tunes but I have ended up taking it everywhere. The sound quality is far better than I expected and the inner pocket held my ipod, phone, credit cards and keys. By far, this is the best value in a waterproof speaker.
Floatable, Waterproof, Party in a Box!
Familiarity:

I've put it through the wringer
If you have had your eye out for a rad waterproof speaker, look no further than the EcoExtreme Waterproof Speaker! For a personal waterproof speaker this can't be beat. This badass little speaker features a waterproof interior compartment that will fit any iPod (even if you have an ancient ol'brick of an iPod like I do) and still has space to spare for your keys, credit cards, ID and whatnot. It's 3 AA batteries give it a more than ample 30 hour battery life, so your mp3 player will die well before the speakers will. It blasts the tunes loud enough for your own personal dance party... or should I say float party. I have used this the last 3 times I have navigated Utah's mighty Weber river (pronounced We-beer) and it has instantly turned me from lowly floating minion, into King of the River. Errybody wants to float with me now, cause they knows I gots the tunes! Get the EcoExtreme Waterproof speaker and you will go from River Zero, to River Hero!




Couldn't ask for a better speaker! It's small enough to throw in your pack or bag for the day, and bomber enough to withstand the trials of being outdoors. The sound quality is awesome- no distortion, and this thing can crank! It is well worth the money- I haven't found anything out there that matches up to this guy. I would absolutely recommend it!
This thing is awesome. Well worth the money. We couldn't hear anything when we'd crank the tunes up on the phone/iPod when it was in the dry box. This is a simple connection, runs of some batteries, & sounds great! Very clean & clear sound, no distortion whatsoever. I have even used it in the garage when listening to tunes while working on other projects. Well worth the money.
How's the quality on this speaker? It looks...
How's the quality on this speaker? It looks sweet, I just want to know how it sounds.
The sound is actually pretty good! I play an old school iPod, and the music, though not terribly loud, sounds nice and clean, and a hint of bass. I also play Pandora on my iPhone, and like that this protects the phone from salt water. for my kayaking, this is a perfect accessory!