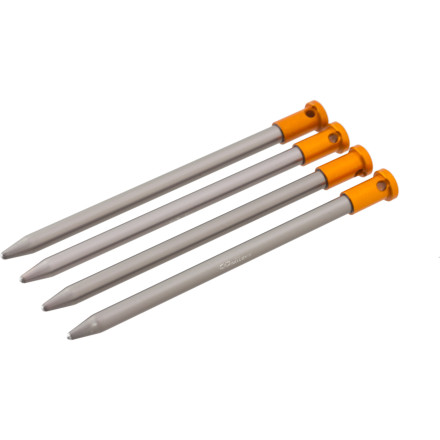 Community Images
Most tents come with a batch of weak, thin stakes; the ultralight, incredibly strong Easton Mountain Products Nano Tent Stakes are a definite upgrade. Each sturdy stake features a hole in the top for tie-on accessories or guy lines.
Worthless if you actually need stakes
Familiarity:

I've put it through the wringer
I used these stakes for a long trip for a tent that actually requires the stakes to hold up the tent (a Tarptent). They were fine (obviously) when there was no wind, but if there was any significant wind, the caps flew off the tent and the tent would collapse. Getting the stakes out of the ground was also miserable--at least one stake would lose its cap every single morning, making digging them out a 15+ minute project. This was not just one defective stake, every one of them had this problem. One of the stakes also just snapped in half when I tried to drive it into harder ground. Didn't bend at all, just snapped right in half, rendering it completely useless. Most nights we had to find big rocks to put on top of the stakes because it was the only way to assure that the caps wouldn't fly off. These stakes were USELESS. I would definitely take a few extra ounces of weight over these any day.
Very Light, but not very tough
I used these for about 20 nights before one of them snapped going into rocky ground. I could've been more careful, but I wasn't neglectful and the stake snapped clean in half while inserting it. Sides that, they're super light and functional.
Lightweight, sturdy, inexpensive.
Familiarity:

I've used it several times
These are great tent stakes. They are very light and so far seem to be durable. 6in steaks are great, so are the longer sizes, can't seem to get the 10 in all the way in the ground ever though... Maybe once. I purchase 3mm accessory cord and created loops through the holes in the heads for easy removal. This makes removing the stakes from the ground incredibly easy. I highly recommend.
Killer stakes!
Familiarity:

I've used it several times
Just got a couple sets of these to replace my old stakes, and they are killer. I went with the 6" version, because I believe that's all you really need. In the past I've always gone with 8-10" stakes and had a hell of a time getting the last 2-3" into the ground so you don't trip on them. This solved the problem, not to mention they are extremely light. I actually threaded 5mm paracord into these to make loops to pull out easier. Works like a champ.
70% Effective?
Familiarity:

I've used it once or twice and have initial impressions
Bought the 4 of the 4 pack in blue (8 inch stakes) and took it out to camping a 2 weeks ago for the first time. I drove 12 stakes into the ground to secure my tarp and tent. The stakes performed flawlessly. They stayed straight and true even as I pounded them into a stony clay dry ground. Taking them out two days later was a different story. 5 of the stakes failed while being pulled out of the ground. The caps came off rendering them practically useless. The only way I was able to pull them out was using a needle nosed plier. I have a picture of the failed stakes. Assuming the 4 remaining unused stakes do not fail, 5 out of 16 failure rate is disappointing.
Replace your stakes with these.
Very strong, super light and very wallet savy. I have replaced all my stakes on all 3 tents with these or the kelty no-bendem. Awesome stake.
What is the diameter of the hole. Could I...
What is the diameter of the hole. Could I fit paracord or 3mm line through it?
The manufacturer website has even less info than here on Backcountry. Your best bet is to contact the manufacturer directly.

http://eastonmountainproducts.com/contact/contact
Easton Nano Tent Stakes Rock!
Gender:

Male

Familiarity:

I've put it through the wringer
I did an analysis of tent stake weights and Easton's Nano stakes earned my purchase. I went with the orange-capped, 6" version to use with my Mountain Hardwear Skyledge 3 tent (see my separate review of that excellent tent). Analysis results for 10 stakes:



4.60 oz - original Skyledge 3 stakes

3.50 oz - MSR Mini Groundhog ($30/oz saved)

2.80 oz - Easton 6" Nano ($13/oz saved)

2.00 oz - Vargo Ultralight ($14/oz saved)

1.90 oz - MSR Carbon Core ($24/oz saved)



My backpacking gear motto is: "If you watch the ounces, the pounds will follow." Easton lists the weight of these stakes at 0.26 oz each. My scale - accurate to within 0.05 oz - has 10 stakes coming in at 2.80 oz (= 0.28 oz each). My previous stakes were 0.46 oz apiece, so I'm saving almost 2 oz on the set of ten.



The Easton Nanos are pretty durable but, as with all stakes, some care will be needed when sinking them into rocky ground. If you're a gram-counter (or, as in my case, a tenth-of-an-ounce-counter), you should consider Easton Mountain Products' Nano tent stakes as an upgrade for your backcountry kit.
what is dimention before rim
what is dimention before rim
The Nano cones in 3 sizes. These are 7075 aluminum, Made in the USA at the Easton facility in Salt Lake City Utah.

6 in. = Weight 7.4 grams
8 in = Weight 12.2 grams
10 in = weight 17.6 grams

This is total length including the cap.
What's the length, and weight on these?
What's the length, and weight on these?
Best Answer
They come in 6" (7g), 8" (10g), or 10" flavors. I was unable to find the weight of the new 10" Nanos