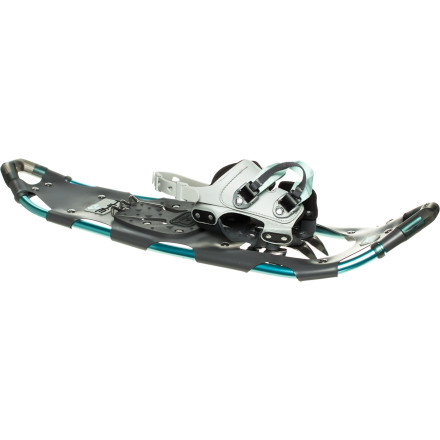 Videos
Historically, a snowshoe was designed with a fully rigid frame and minimal moving pieces, and it served one purpose: to keep you on top of the snow. Easton Mountain Products revisited the traditional design, tossed out the mold, and redefined the entire genre of hiking snowshoes when it created the Women's Artica Hike Snowshoe. The fully articulated frame, split-toe crampons, and flip-out heel lifter give recreational winter hikers a versatile tool for exploring in deep snow far beyond the trail.
Women's model has a shorter, uniquely nested step pattern that allows left and right snowshoes to step close to each other without catching
Articulating frame design secures the left and right rails of each shoe using flexible material that allows each rail to articulate independently over uneven terrain, which improves traction and reduces stress on joints
Forged USA aluminum is lightweight, ultra-durable, and made from 80% recycled material
Quick-cinch binding system uses a single strap to cinch the binding around your boot and secure your foot into the binding on all sides, a second strap releases the binding so you can exit easily
Contoured padding allows the inside of the binding to hug your boot easily in order to eliminate pressure points that cause pain
Synthetic Excursion deck material is highly abrasion- and puncture-resistant
Virtual Pivot Traction Cam allows the crampon to dip below the level of the decking as needed for more traction
High-strength stainless steel crampons dig deep into ice and packed snow, and the crampons resist wear should you have to cross dirt or paved roads
Toe crampons have a one-of-a-kind toe-like claw shape that transfers your hiking energy more efficiently for increased traction whether you're ascending, descending, or sidestepping on a slope
Heel cleat is aggressively shaped to prevent slipping when you're ascending or descending
Climb-assist heel lift stays tucked away under your heel on top of the deck until you need it, and then it flips out to provide a more efficient foot position when you're climbing steep pitches
What do you think about this product?
Have questions about this product?
Easton Mountain Products Artica Hike
These snowshoes are definitely lookers. sleek, but not too flashy. And I love how easy it is to put them on and adjust the straps. They are comfortable to wear and after adjusting the straps once or twice, my feet were pretty comfy in them. That, sadly is where the positives end. Although I'm only 115# which is no where near the upper limit on weight, these snowshoes do not sufficient flotation meaning I postholed in powder situations. The heel lifters work well, but mine were broken and didn't properly secure when not in use. The last issue is the grip. I have only taken these snowshoes on moderate rolling hills and if there is any slight traverse where you need lateral stability, these shoes failed miserably! The same is true on steep descents. For those two reasons, these beautiful snowshoes are being returned (probably for a much uglier, but better pair).