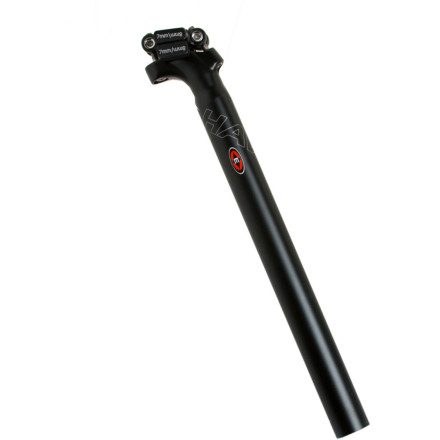 Detail Images
The Easton Havoc Seatpost is tough as nails. You want that if you're in the market for a gravity-focused seatpin like this, but the smarts Easton brings to the fight help separate the Havoc Seatpost from the competition.
First off, the Havoc Seatpost is made of Easton's venerable EA70 aluminum, a stalwart alloy that's held up to millions of miles of trail abuse over several decades. New to the game is TaperWall construction, a kind of internal butting. On the Havoc Seatpost, TaperWall technology is specifically applied to massively reinforce the vulnerable head clamp area, while the body of the post is made leaner, to reduce weight and damp vibration.
The really clever deal, however, is that Easton created a flip-flop clamp that'll bite down on either 7mm or 8mm saddle rails, so you won't find yourself over-torquing the clamp bolts -- or find yourself mid-run with your saddle slipping. The two-bolt clamp also gives you assurance against the saddle tilting awkwardly mid-ride, and you can adjust it to perfection.
The Easton Havoc Seatpost is available in a Matte Black anodized finish. It comes in four sizes -- 27.2, 30, 30.9, and 31.6mm. It's 350mm long and has a 10mm clamp offset.