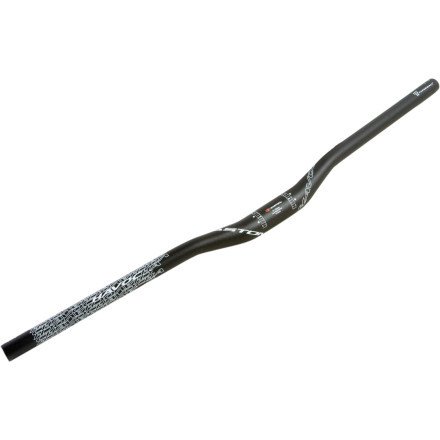 Detail Images
Easton's new Havoc DH Handlebar is going to be a good choice for budget minded gravity riders as it won't break the bank, so you're free to spend precious pennies on the stuff that fails more often (say, on broken chains and bent derailleur hangers). And that it's lighter than most DH bars is a nice treat when you're pulling on the bars to lob the front tire through rock gardens.
One of the best virtues of the Havoc DH Handlebar is its mega, 750mm width. You'll get arm-wrestler sized leverage. This is important for steering through vicious braking bumps at the end of a day of racing. Easton's 7050 aluminum is cold-worked (allowing greater strength retention), and as it's forged, Easton engineers use their proprietary TaperWall system for carefully allocating the alloy. With more material reinforcing the high stress areas, the lower stress areas allowed some flex to keep you from fatigue on long DH runs. TaperWall also lets Easton create one of the lightest-ever bars at this width, without any compromise to durability or performance.
b>Easton's Havoc Handlebar is made of Easton 7050 aluminum. It comes in either a low (20mm) or mid (30mm) rise and features a 9-degree backsweep and 5-degree upsweep. The clamp diameter is 31.8mm. Low rise models of the Havoc Handlebar come in Black, Gray, and Orange; only the Black bar is available in mid-rise.
Great bar!
Familiarity:

I've put it through the wringer
Even though this bar will not serve you adult beverages, it will serve you good times out on the trails! This thing is solid, there isn't much else to say!
Create Some Havoc
Familiarity:

I've put it through the wringer
It's a handlebar. You can attach it to your bike, then you have a place to hold onto when you want to ride the bike and steer it. This bar is the prime width in my opinion. Wide enough to really manhandle your bike when things get rowdy. Not so wide that you are hitting every tree off the side of the trail with it. As an added bonus it looks great. It doesn't have magical powers, but what did you expect? It's only a handlebar. I have no complaints.
Amazing bar!!
Familiarity:

I've put it through the wringer
I had this one in the past but got rid of it on my all mountain bike for the Haven since it's lighter. I now have a 2005 Trek Session 77 free ride bike that is a tank. I got this bar since it was strong. I love the bend and sweep. The bar seems solid. The graphics do rub off a little but oh well. You can't go wrong with this bar.
Dem some wide bars
Familiarity:

I've put it through the wringer
Love 'em. Definitely upped my control and stability game by going to this wide of bars on my trail bike. Diggin' em. Not the lightest in the world, but not heavy either.
I love the angles on Easton bars, they have just the right amount of backsweep and upsweep. The 750mm width is great and gives you a ton of control and leverage. I run these on both my XC and downhill bike. If you are looking for a set of wider bars these are a great option.
I replaced the stock bars on my Rockhopper with these wide bars. I'm not a tall guy but have pretty broad shoulders and the 540mm wide set just wasn't doing it. Not to mention that with the addition of a Garmin 800 and the Command Post lever for my seat, things were pretty crowded in the cockpt area. These bars cured all issues. I thought I would cut them down a little but like them just the way they are!