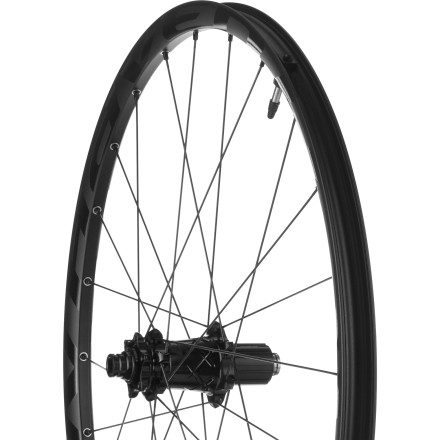 Colors
Description
All mountain, all of the time.
The Easton Haven 26in Wheel possesses all of the shaping and structural elements required to meet the stringent UST standards. The testing and certification is an expensive process, but Easton decided that the time and monetary commitment would offset the ease of seating beads with a floor pump, and riding without the fear of a burp, or worse, having the tire blow off the rim.
In practical terms, you can seat a UST tire on these wheels by hand and with only a floor pump -- no mess and no fuss. Creating a UST approved rim is tricky, but Easton found a great way to get around the task of eliminating spoke penetrations in the outer wall of the rim. The straight-pull DT double-butted spokes are placed in the hub in a 3-cross pattern as usual, but the nipple features a fresh design that's compatible with the specific rim -- it's both internally and externally threaded. When the spokes are drawn into the nipple it's simultaneously threading into the inner wall of the rim. And they can be trued exactly like a wheel with standard nipples, only the included valve stem pierce the entire cross-section of the rim.
The internal rim width is a sensible 21 mm in order to allow the fitment of 2.3 - 2.5in tires for true all-mountain adventures. The Easton Haven hubs run on sealed cartridge bearings and have preload adjusters. This way, you'll have an easy time making sure that your bearings are always perfectly adjusted. The front hub is available as either a 15x100 or 20x100mm option. For the rear, you can choose from a 10x135 QR or a 12x135/142mm axle.
The Easton Haven 26in Wheel uses ISO standard 6-bolt mounts for the brake rotors and is available in the colors Brushed Black and Matte Silver. Please note that these wheels are sold individually.
Hi there,



1. is this a wheelset?



2. can the rear be used with a 142x12 rear end?



Thank you.
Hello Lee105957683,

These wheels are being sold individually. We have sold out of the rear wheel options.



These wheels were offered with the option to run a 10 x 135 mm and a 12 x 135/142 mm rear axle. We no longer that the rear wheel options in stock.
Is the 10x135 QR a standard quick release axle? I have an old bike with old wheels that need replacing. I have a 20mm thru-axle up front but the rear wheels is still a QR. will these fit my bike?
All we have left in those is the 15X100 front so it would not fit. There may be adapters available from Easton for those but we don't have them available.
will these wheels run a 1x11 setup from...
will these wheels run a 1x11 setup from Sram?
Best Answer
Hi Phil,



Sram designed a new freehub body for their 11-speed mountain cassette, designated as the XD driver. So, to install an XX1 cassette, you will need to purchase an Easton XD driver separately. Here is a link:

http://www.competitivecyclist.com/easton-xx1-freehub-body



Call to place the order, and we can have our shop install that freehub on the wheel before it ships.
Can you run these on a 2 x 10 speed...
Can you run these on a 2 x 10 speed setup?
Best Answer
Hey Eddie,

Sorry for taking so long to get you an answer.

Yes, these will run a 10 speed cassette no problem and then the crank you use is really up to you. You'll have no problem at all with a 2x10.

If you need anything else please let us know. You can call us at 1.888.276.7130, jump on chat and talk with one of our bike specialist, or shoot us an email at sales@competitivecyclist.com