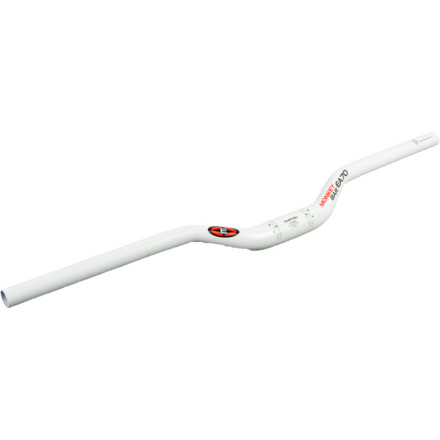 Detail Images

Community Images
Easton won our hearts with their mastery of aluminum way back when we were little leaguers. Technology has advanced all the while, and they put all of their experience to use in the Taperwall EA70 Monkeybar.
Easton's Taperwall technology cold works the aluminum, and utilizes multiple tapers in the same tube. The result is a lightweight, high-performance bar that can take a proper beating. And because of its ultra-smooth walls, it transfers impact energy down the length of the tube, muting vibration and yielding a silky smooth ride.
It's plenty wide, at 27" (685mm), for single-speeders, downhillers or anyone else who likes a nice wide bar. Of course, it can be easily cut down to your personal favorite width. It has a relaxed 9° sweep and a 5° upsweep, perfect for just plain cruising down your favorite trail or hammering along on the race course.
The Easton EA70 Monkeybar is available in a 31.8mm clamp diameter only and comes in three rise versions -- low (20mm), mid (30mm), and high (40mm). 265 grams.
Awesome bar, it's lightweight and looks great.
How long are these bars? I need a longer...
How long are these bars? I need a longer pair for my wife's bike. Thanks
Easton specs out their handlebars using width instead of length, so the EA70 Monkeybar is 685mm wide / 26.9685" long. Easton's "Haven" handlebars are 711mm wide and are their widest all mountains. They make aluminum & carbon models.
what is the difference between the high...
what is the difference between the high and low bar?
It's how much rise between the stem clamp and the end of the bars. Easton has 20mm for Lo-rise and 40mm for high-rise.
Needed some wide bars on my mountain bike and picked the Easton EA70 bars up in white. Went with white because the only 3 colos on my bike are black, silver, and white. Visually, these bars are pleasing to they eye, but just like all Easton products, they perform solidly as well. I expect them to last a very long time!
Unanswered Question
I recently have made some dramatic changes...
I recently have made some dramatic changes to my Giant Hybrid to make it somewhat off road worthy. My old bike was a Jamis and it had a set of handle bars that are just shy of 30". Unfortunately they will not work on my new configuration. My questions is do you have a set of handle bars that range 30'??
very light, yet very strong. I have been pounding on it pretty hard, and have had no problems.
Easton EA70 Monkeybar Handlebar
Loves these bars. Not too heavy and look great.