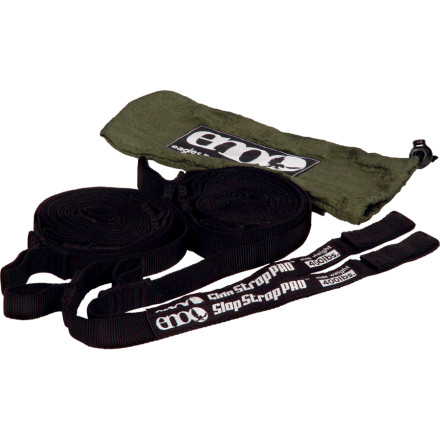 Community Images
Description
Tough, extra-long hanging straps for your ENO hammock.
Pick up the Eagles Nest Outfitters SlapStrap Pro, find two trees, cars, rocks, or other stationary objects, hang up your hammock, and let the relaxation begin. This extra-long, tree-friendly hanging kit is ideal for everything from backyard naps to backcountry camps. The tough tubular webbing supports up to 400 pounds, and the included stuff sack keeps them organized when you're on the go.
Great
Familiarity:

I've used it several times
Really easy to use helps the hammock attach to almost anything.
Durable!
Familiarity:

I've put it through the wringer
This is a nice durable, versatile webbing! I've used this webbing for a while now on multiple hammocks of different makes and styles. It has held up under a pretty hefty amount of weight as well. I've definitely tested the 400 lb limit... check!
There's a better way
Familiarity:

I've used it several times
Hard to tension properly, due to the loops being spaced apart as far as they are. Using two metal rings and webbing to create a ratchet is better. Still, these beat the cord that comes with Hennessy hammocks from the factory.
Held us up!
Gender:

Female

Familiarity:

I've used it several times
I was skeptical these would hold up since there were 2 of us and one of the straps wasn't looped over a branch knob (which it should be) but these suckers held tight. Highly recommend adding them to a double nest purchase and lounging in the sunshine with your favorites!
How many attach points does it have?
Hey Jeff,



There are multiple attachment points per strap that enables a versatile hammock setup between two points up to 20 ft. apart. I would say about 8-10 attachment points. I'll count how many on the one I have at home and get back to you on the exact amount of attachment points.
I laugh at my friends who tie ropes
Familiarity:

I've put it through the wringer
Then I show them these, and they get jealous and buy a set as soon as we get back from our trip. It's a relatively inexpensive way to make your life better... so why not?? They're also pretty simple strong nylon webbing, so they can serve many purposes out in the woods when not supporting your hammock.
Holds weight
Familiarity:

I've put it through the wringer
These straps allow you to set up and adjust a hammock very fast. They are slightly heavier than some similar options but the ease of setup make it worthwhile in my mind. If you are trying to shave every ounce from your backpacking setup you may want to consider something else. I am 200lbs and have not had a problem with these stretching.
Adjustable, but heavy
Familiarity:

I've put it through the wringer
These straps are easy to choose what length you want, because of the many loops, but it makes them heavy. You are also limited to the loops, because they are not easy to adjust in smaller increments. I prefer other setups, like the hammockbliss straps, for the weight. These also have a little more stretch than I would like. However, these things are tough as nails, and I'm not sure there is a longer set of straps on the market.




Super convenient, good price, some cons
Familiarity:

I've used it several times
These are great, durable, convenient and they should last a lifetime. Only complaint is that they are heavy. If you're looking for an ultralight setup, pass on these and get some paracord and make your own.
Best Straps
Familiarity:

I've put it through the wringer
Durable, tons of different ways to sling these make them the easiest most versatile straps. Minimal stretch also means you won't wake up on the ground in the middle of the night.
Atlas straps > Pros > Normal slap straps
Familiarity:

I've put it through the wringer
I have had my Pros since June of 2012 and at the time it was either the pros or the normal SlapStraps, do yourself a if your trying to bounce between the two and get the pros, they are longer and give you a lot more places to hook your carabineers. The only problem I have with them which is fixed by the Atlas straps is that sometimes in order to get the hammock nice and taunt which is ideal for me I have to go around the tree, post, or whatever else I'm putting the straps on to make sure they are going be the right distance in order to get my hammock how I like it. With the Atlas straps they are the same length as the Pros but instead have double the amount of loops to hook your carabineers which makes adjusting how tight it is much easier. No matter what though these things will hold a ton of weight and will have you laying comfortable in a hammock in no time.
Good system, but stretchy
Familiarity:

I've put it through the wringer
Like most other reviews, I found these to stretch pretty bad... especially when two people jump into the double hammock. You can expect this out of nylon webbing, but it would be nice to see this design made with a spectra/dyneema blend in the future.



Other than the stretch, they are really easy to use and setup. I keep them around for the simplicity, but I prefer using webbing and paracord for a perfect, custom setup.
Decent.
Familiarity:

I've put it through the wringer
I would say everything about these rocks except they stretch a little too much for my liking! They are easy to set up and easy to tear down,easy to adjust if you know how. I love them just wish they stretched less.
Makes the hammock life easy
Familiarity:

I've put it through the wringer
I've tried using other straps with previous hammocks, and have always ended up having issues. They've made using these straps extremely easy, and they're also super compact, light, and durable.



Hyped on my eagle nest hammock set up :)
Makes Hammock Set-Up a Cinch!
I've had the ENO Double Nest Hammock & always struggled to rig it up using cam straps/whatever I could find. These make setting your hammock up a breeze & best of all they pack down nice & small! Was great for our recent backpacking trip in the Uintas.



Like a few other reviewers, I wish there were more attachment points, but overall I am so excited about this product! (ended up getting my husband a set too!)
Not as good as the atlas straps
I bought these for my eno hammock and was disappointed to find that the attachment points are only located every 2 feet or so , resulting in very little adjustment. If you want a super effective and quick hammock strap go with the atlas straps by Eno, it has a lot more attachment points ( every six inches or so) and doesn't seem to sag like the slap strap.
These slap straps are the best for pitching the ENOs. You can rig up other systems, but these make it so simple.