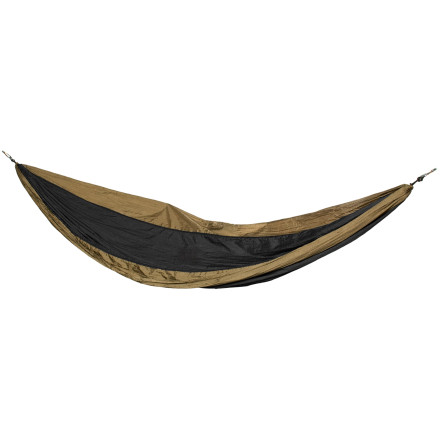 Detail Images

Community Images
Description
A highly portable hammock for mobile or stationary adventures.
From a palm-lined beach to a backcountry campsite, the Eagles Nest Outfitters SingleNest Hammock is a dream come true for ultralight backpackers and lazy bums alike. This woven nylon hammock packs down to the size of a softball in its integrated stuff sack, and its triple-stitch construction helps it support up to 400 pounds. Carabiner clips on each end make for quick attaching to a hanging kit or other anchor.
Best of the Ultra-Light category
Familiarity:

I've put it through the wringer
Hammocks are my favorite piece of furniture. So I wanted one that I could bring on summer hikes. Sometimes I'm tired, other times I just want to chill in a beautiful place in steezy comfort. Thus, the appeal of the ultra-light category of packable hammocks.



I bought three: the ENO, Grand Trunk, and Hammock Bliss. Prices vary considerably. And you get what you pay for. The GT and HB ultra-lights were less comfortable, seemed less durable, and were less convenient to hang/take down/store.



I returned the HB and the GT and kept the ENO. The ENO weighed more or less the same as the other two. But the material was non-sticky, even breathable and soft like it had been brushed. While I usually will take off my mountain shoes when I get it in, I don't feel like I'd automatically tear the thing if I snagged a heel, or whatnot. The HB and GT material feels like it's stressed and ready to tear just from the force of laying in them. Falling through a hammock sucks.



In addition to the comfort factor, the ENO ultra-light hammock has built in biners and stuff sack that are hella convenient. I use two 6' loops of 550 cord lashed around trees to clip in the binders. It's such an easy set up. The packed-up ENO ultra-light hammock is about the size of two man's fists. It fits, along with the paracord, in one of the large Outdoor Research Ultra-light ditty sacks, right in the bottom of my pack, and stays there until it's time to chill or have a safety meeting.



Highly recommended. (4 Star rating bc there's always room for improvement)
Go six deep!
Familiarity:

I've put it through the wringer
This is amazing! Get six or more high and keep your camp together!
Pretty good!
Familiarity:

I've used it several times
I like this item the only thing I was not sold on is that I did not get ropes with it to hang it like the grand trunk hammocks come with. I do have a double hammock from GT and going to this after that I do like having the extra room! It packs up super small and tiny and I love that!
Excellent for camping, or anything!
Familiarity:

I've put it through the wringer
We love our ENO. We take it camping, we took it to Estes Park and hung it out on our cabin's deck, we hang it in the backyard... it is so versatile and so great!

The colors are awesome too! I purchased the Orange/Grey and it is just as vibrant in real life as pictures make it out to be. So awesome!

I would definitely recommend getting some straps, since this doesn't come with them. We use climbing rope and carabiners though too, and that works great for us!

I actually prefer the double nest for more room, but this is a great hammock for one person, or for two people to just sit in together, you just wouldn't lay well side by side unless you were really tiny, our two nieces fit in it side by side really well. (probably not ideal for sleeping though)

This hammock is so nice to just kick back and relax in, wrap yourself up a little by pulling in the sides, this thing is pure comfort!
Smaller than the Grand Trunk single
I have an Eno double and it is massive.

I Initially bought a Grand Trunk single over an Eno single because I read Outdoor Gear Labs ratings on hammocks.

I have preferred to use the GT single over the Eno double.

The Eno's were just on sale and I thought I would give one of their singles a try. Outdoor gearlab was right. They are smaller than the GT singles in both width and length. It makes a difference.

The only negative with purchasing the GT single is the carabiners that are steel and heavy as hell. Not to mention the crappy cords for hanging that come with it.

So bottom line..

The GT single is better for a decent sized person than the Eno single. For a smaller woman or a child I could see an Eno single being a better fit. I could also see a preference to an Eno single if you get claustrophobic at all. I don't, but I prefer the singles to the doubles because you can actually sit in them and see out. I like the double if I want a bit of privacy.

You will need to buy hammock straps with either. (Eno Atlas Straps are the way to go)
After comparing the carabiners if you go with the GT you would want to get two compact wire gate carabiners similar to the ENO's. (Metolius F.S. Mini Carabiners are nearly the exact same size as the Eno's but better quality.)

Eno also makes a more compact and light single. The Pro Nest single. They also have made the Sub 7 single which is even smaller and lighter than that. I am guessing that would be the equivalent of wearing a two sizes too small banana hammock at the beach and trying to keep all your man parts stuffed in there.

I like the Eno single but it is harder to get situated in that the GT single. It is a little over a foot shorter and few inches less in the width but it makes a big difference.

I sometimes use a closed cell foam pad in the GT and also an underquilt when I go camping. The Eno single would make putting anything under you a bear to keep in place while you tried getting in. I am going to keep it and that one will be my wife's to use or if we go on vacation and bring a hammock along.

I would have to give it to the Grand Trunk single if someone asked me which one to get.
Elevate your perspective!
Gender:

Male

Familiarity:

I've put it through the wringer
I have a Dream Hammock Freebird that use for backpacking. It is a great hammock and super lightweight. It however finds a home in my pack, or if it is being used...I am in it.

My two year old daughter loves being in my hammock, however, when she is in the hammock I cannot be in the hammock. I decided to pick up a ENO SingleNest that we could use as a second hammock when we are having out and it has turned out to be a great purchase. This hammock is loved by all and is super comfortable. It is a lot shorter than my other hammock and slightly narrower. I personally would not camp overnight in this hammock (I am 5'11 and need a longer hammock), but it is awesome for lounging about in.

The fabric is soft to the touch and it just offers a very comfortable way to relax. The portability of this thing is awesome. You can take it anywhere you want, and set it up anywhere you have two trees/poles that are not to far apart.

I am thinking about buying another one to have as well so my camping hammock can stay set up for backpacking and the ENO hammocks for the lounging! I would not hesitate to take these on a day hike.

I chose the ENO SingleNest because I found the DoubleNest to be to wide for the length it is and found to much extra fabric flapping around. The SingleNest is on awesome piece of kit everyone should have!
Great for camping!
Familiarity:

I've put it through the wringer
I bought two of these, one for me and one for my girlfriend, and they are phenomenal. Along with the slap straps and the rain fly they're incredibly easy to set up and provide a comfortable shelter when you're out camping and don't want to mess around with a tent or carry the weight. Putting up the hammock and rainfly maybe took 5 minutes the first time I set it up and now I can do it in no time at all.

Pros:
Half the size of my tent
Half the weight of my tent
Easy set-up/tear-down
More comfortable than sleeping on the ground (even with a sleeping pad)

Cons:
Obviously not great for winter
Falling out when you've had too much to drink
Looking so cool that the ladies won't leave you alone
You'll be really disappointed sleeping anywhere else
Family Fun
Familiarity:

I've used it several times
My four year old nephew loved my DoubleNest, so I bought him a SingleNest. He loves to go out with me and just relax. We haven't used this in an overnight trip yet, but maybe we'll do a campout at his parents place. These things are so versatile, they can go anywhere. If you need a place to sleep, you got it. Find somewhere to hang it and you're golden!
what can ya say?
Familiarity:

I've put it through the wringer
Rad hammock. Comfy, durable and lightweight. Best sleeping related investment that Ive ever made. If I can ever help it, I will never tent camp again.
Love eno
Familiarity:

I gave it as a gift but have feedback to share
This hammock is awesome! I suggest getting the double because it is roomier even for one person however, this one is slightly lighter if weight is a concern.
Must have
Familiarity:

I've put it through the wringer
I've enjoyed my hammock tremendously since I've purchased it. It's a great summer alternative to sleeping on the ground, it really allows you to set up camp in unique places and ways.



I'd suggest getting the double nest, it's not too much bigger and it's nice to have some extra room. I'd also suggest looking at some of eno's other products that "support" their hammocks. (Underquilts, rain flys, etc.) Those really improve the versatility of the hammock.