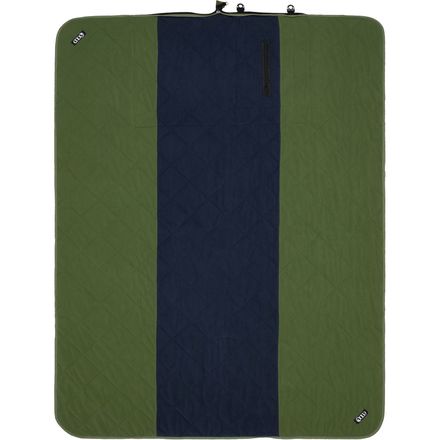 Colors

Detail Images
Description
Festival freak-out friendly.
Before the band starts playing, set down the Eagles Nest Outfitters Launch Pad in the grass and begin the countdown for liftoff. The Launch Pad is a blanket, not a magic carpet, but when you set it down on wet, hippie-trampled grass it may feel like magic because of the water-resistant ripstop bottom keeping the soft fleece top dry. As you attempt to stay calm and patient while studying clouds in the sky, the inconspicuous stash pocket keeps any number of small items in their appropriate place, and the attached stuff pocket lets you pack up the Launch Pad as the first lucid tones beam out from the stage so it doesn't get run over by dancing mud-covered sandals.
Unanswered Question
26,49 ounces,so math is what 16 ounces in a lb?
I wanted to get a waterproof blanket for sitting on when we snowshoe or stop for lunch when skiing. I guess I didn't really know what to expect.



The double is quite large and it isn't a small package when folded up. It would take up the majority of a backpack if it was shoved in there. They made the zippered case with a shoulder strap part of the blanket. It all folds into itself and then three sides zip together to look like a flat shoulder bag. I think it will be awesome for concerts or for picnics. I also really like the soft fleece top.

We used it at the local winery for a picnic and it is a very nice blanket.



I still need to find a more packable waterproof blanket to get for skiing and snowshoeing.