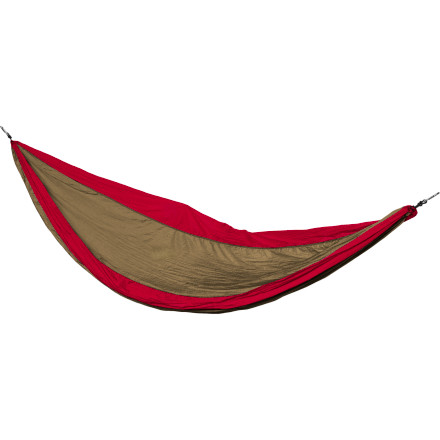 Colors

Community Images
Description
Snuggle up in the lightweight, portable DoubleNest.
With room for two, the Eagles Nest Outfitters DoubleNest Hammock is your own portable luxury lounger for the backyard, the beach, or the backcountry. The highly packable design stuffs down to the size of a softball, and the breathable woven nylon fabric supports up to 400 pounds. Tough carabiner attachments let you clip on to your anchor of choice.
Share your thoughts
What do you think of the
Eagles Nest Outfitters
DoubleNest Hammock
? Share a...
Do you hate naps?
Familiarity:

I've used it once or twice and have initial impressions
Hate cozy naps under a tree? Definitely don't buy this hammock then. It's perfect for a lazy afternoon at the camp site. Easy to set up, durable, and weighs almost nothing. If you hate relaxing, this thing is terrible. If you enjoy a little downtime, give it a whirl.
Great first hammock
Familiarity:

I've used it once or twice and have initial impressions
I've only used this once, and it was amazing. Great material, easy set up, and quick/lite pack.
Hammocks are so cool now ....
Everyone luvs the hammock, this one is portable and easy to set up. A must have for your collection of fun stuff. My son luvs it.
Great Purchase
Familiarity:

I've used it several times
Great purchase, easy to pack and bring anywhere. Leave it in the car, in a suitcase or back pack, it's small and light. Super easy to set up with the slap straps, I was able to be in it in 5 minutes. The double is pretty big so when your solo you can wrap yourself totally up. It holds up well when just lounging or when the kids try to make it a pirate ship on rough waters.
My bed
Familiarity:

I've put it through the wringer
This is one of my favorite purchases. I have taken it on a boat high on a rock wall and to 6 different countries and it has never failed me. this is my third one i've had cause i really use these things to their limits. they are pretty durable considering what they are made of and what I have put them through.
Wherever you are, if you have this hammock and two reasonably spaced solid objects in your vicinity, you can pretty much turn ANYWHERE into a chillzone. I've paired this hammock with Hammock Biss' Tree Straps and have been able to rig my hammock up with its included carabiners in a variety of situations (like on a boat.) Portable comfort!
Finally my first hammock!
Familiarity:

I've used it several times
So I bought this hammock so I could go out camping in the woods and just bring it, a sleeping bag, and small pillow. For that end, it is PERFECT! It is the right size that I could fit a partner in the hammock with me if I wanted, but I would also sleep very comfortably in it alone.

I initially bought the double-deluxe, but returned it due to too much extra fabric. The doubleNest is where it is at.

Do yourself a favor and experience hammock camping!
you can take a nap any where with out a tent and they are comfortable.
ENO
Familiarity:

I've put it through the wringer
This is one of the best investments I have made. This hammock is made very well and can support two people.
Snooze Time!
Familiarity:

I've used it several times
Excellent for napping, excellent for sitting and snacking, and backpacking! Works well for kicking up your feet, when you're feeling beat, and need a seat. That a snooze, sit and sip some booze, get this hammock for your next woodland cruise!


Easy Peasy!
Familiarity:

I've used it once or twice and have initial impressions
I haven't tested the durability quite yet, but on the first run, it was super easy to set up, easy to get in and out of and super comfy to stretch out and enjoy great big wild! Will update with more use!
The best purchase. EVER!
Gender:

Male

Familiarity:

I've put it through the wringer
Bought mine at firefly music festival in Dover, DE this summer, best decision ever. I also bought the atlas suspension system with this. I bring this thing everywhere with me since I bought it, you never know when an opportunity for a hammock sesh will pop up, all you need is 2 sturdy points and your set. I'm not too knowledgeable about the other suspension systems but I believe the atlas system is the quickest.
I've brought this with me down the shore, to the lake, on hikes, in my backyard, and on porches.
There is plenty of fabric, you can essentially wrap yourself up like a taco/burrito if you want to. This is to accommodate the 2nd person which I've only done once but it held up great! granted we were still within the weight limits (the rep who sold it to me said they have tested them up to 900 lbs but not recommended obviously)
Just something I've figured out through my different set ups. The tighter you string up the hammock the more the fabric will automatically fold up around you when you're laying it. The higher you can set up the straps and droopier the hammock the less fabric comes up allowing to comfortably hang limbs out of it and such (if you've experienced it you'll know what I'm talking about)
I was one the fence about buying one and impulse bought this, I'm upset that I didn't buy it a longggg time ago, stop waiting and add it to your cart.

I will be purchasing accessories for it ASAP especially the home set up kit for my new apartment.

The picture I've included is when I brought it on a hike with me
Everyone should own one!
Familiarity:

I've put it through the wringer
This is a necessity when you are hiking, camping or just hanging out. I always bring my hammock with me where ever I go just because it is so small, light weight and easy to set up. The hammock itself packs down into its own pocket and comes with two carabiners. You will need to purchase rope or straps separate in order to set it up.

I recommend these: http://www.backcountry.com/eagles-nest-outfitters-slapstrap-25mm

They are super easy to wrap around a tree and can hold up to 200 lbs on each strap which equals 400 Lbs total.

The fabric is durable and and somewhat water resistant, but if you are planning on heavy rain, then I would recommend a rain cover for sure:

http://www.backcountry.com/eagles-nest-outfitters-profly-rain-tarp?rr=t

The hammock could fit two comfortably but I wouldn't recommend sleeping with two people. It is easy and fast to set up and take down. Nothing better than hanging out in the mountains chilling in the ENO Double Nest!
Full time living
Familiarity:

I've put it through the wringer
This hammock is the best thing that ever happened to me. I love using it anywhere i go but i also bought the ENO indoor hammock hanging kit so it is my bed at home and on vacation.

Perfect for a sunshine nap!
This was perfect for a nap in the sunshine with the dogs!
Absolutely Perfect!!
Familiarity:

I've put it through the wringer
I bought this product over a year and a half ago, I use it almost every weekend and it is still in perfect condition, still packs up with ease, and is still perfectly comfortable! I love this product and I will definitely always buy from ENO and Backcountry!!
Best backyard addition to date!
Familiarity:

I've used it several times
This hammock has upped my backyard game to a whole new level. It's perfect for lounging in the yard while the dogs play, as well as packing up to taking on a mountain or desert adventure. Well done Eagles Nest Outfitters, well done.
The cat's pajamas.
Familiarity:

I've put it through the wringer
Seriously if I were a cat, and I were in the market for pajamas, this hammock would be my pajamas, and what is a cat with no pajamas?

As stated by a couple of other purchasers it does take an art to get two people in this hammock comfortably, but it can be done!

If you are looking for all night comfort then this the way to go and I have never heard anyone say this hammock is TOO big for one person all night. I personally appreciate the extra material all to myself. Help block those late night winds!

The seams are well put together and this hammock will not fail without many years of use and abuse in the backyard or the backcountry. I have over 30 nights logged in my double nest and I don't sleep better, even at home, and the hammock still looks new! I even strung up mounts so I can sleep in my hammock in my house!

If you want a solid camping hammock, or just something that makes your backyard super inviting, look no further!
60 seconds to nap time bliss
This hammock is perfect for hanging around camp. It sets up super quick and easy, and is pretty self explanatory. For 2 people, there's definitely a learning curve to get both of you in there and comfortable, but once you do it's straight up glorious.

Spend the extra money for the Atlas Straps. You won't regret it.