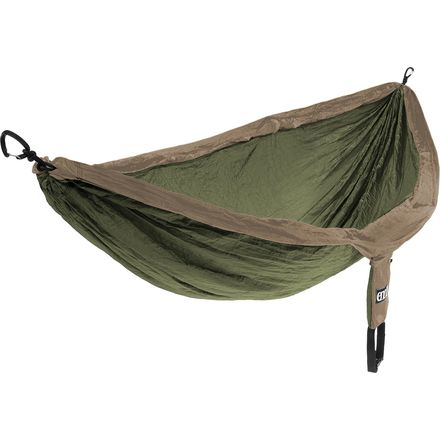 Colors

Detail Images

Community Images
Description
A hammock that puts the 'oo' in spooning.
Snuggle up with your favorite warm body in the Double Nest Hammock with Insect Shield from Eagles Nest Outfitters. This double-person hammock will have you swinging in the breeze when you're getting your zzz's.
Made of high-strength, breathable woven nylon with triple interlocking stitching
Designed to sleep two people—m ax weight 400lb (181kg)
Nautical-grade tie-in lines mean you don't have to be afraid of shearing
Insect Shield treatment repels insects through 6 months of exposure to the elements
Say goodbye to rolling over onto jagged rocks at night
When paired with a rain fly (sold separately), hammock can serve as a shelter for long-distance hikers tackling wooded routes such as the Appalachian Trail
Not designed to be hung more than 18 inches above the ground
The Bug Repellent works great..
Familiarity:

I've used it once or twice and have initial impressions
The Bug shield works awesome.

I put it up and have really enjoyed lounging around in it both laying down and sitting in it just swinging back and forth.

I got it for when we go back to Hawaii and just want to chill under some palm trees. Mainly brought on by the fact that many of the best beaches that you can visit on the Big Island only allow resort guests to use the chairs and chaise lounges at their beach. Many of the beaches we went to had palm trees right at the beach and this would make for a very easy set up.

I also purchased the ENO Atlas straps and they make setting this thing up way too easy.

I did sleep in the thing overnight and I have mixed feelings about it.



The Good:

It is comfortable being off the ground and no need for a mattress.

The double is quite large and gives a cocoon feeling as it wraps around you. If you throw the stuff sack that is attached to the side over the top over the other side it completely wraps around you giving almost zero space for any lil sombitch mosquito to even attempt a bloodsucking mission.



The Bad:

That was one of the worst nights sleep I have ever had. I woke up throughout the night with cramps in the back of my legs especially in the calves.

I woke up twice gasping for air like I was being suffocated by the cocoon effect of the extra material wrapping around you. I tried to open it up as much as possible but when I woke up the second time gasping for fresh air I had about enough of sleeping in the thing. I could see if there was a sufficient breeze blowing that you could get fresh air but that brings me to the last concern about this thing. You have zero insulation underneath you and you get cold underneath very easily. I understand that there are ways to insulate under hammocks but when you go to bed and it is still warm out then if and when the temperatures drop or plummet at all during the night you are going to freeze your ass off.



Anytime you sleep outside there are pros and cons to any sleep system.
The best thing since the womb
Familiarity:

I've used it several times
I recently took this hammock on a trip through the Grand Canyon and I am now totally converted. I know so many others have been converted before me and my experience is not that different from theirs, but you will never forget your first night sleeping in an Eno hammock. You begin to realize that a tent isn't always the answer. Now, anytime I know the weather will be remotely moderate, I bring my Eno along.
So the "insect shield" is a treatment, not...
So the "insect shield" is a treatment, not a mesh?
Yes, it is a treatment. Here is more info from Insect Shield's website:

"Insect Shield apparel and gear products combine the patent-pending Insect Shield process with a proprietary formulation of the insect repellent permethrin—resulting in effective, odorless insect protection that lasts the expected lifetime of a garment"

http://www.insectshield.com/OurTechnology/TechnologyContent.aspx
They do make a nice mesh "sleeve" though, its called the Guardian.
Does the ENO doublenest hammock with insect...
Does the ENO doublenest hammock with insect shield come with ropes to hang it in the trees?
Best Answer
No it doesn't. It does come with two crappy steel carabiners though, and you can buy separately the "slap straps" which make setup easier.

My recommendation would be to get 20ft of 3/4" tubular nylon climbing webbing, as well as 2 C.A.M.P. nano 23 carabiners. This will give you an easy to set up and take down system that is fairly cheap, fairly light, and has a very low impact on the bark of the trees you wrap the webbing around. Webbing can be easily tied with an overhand on a bight.