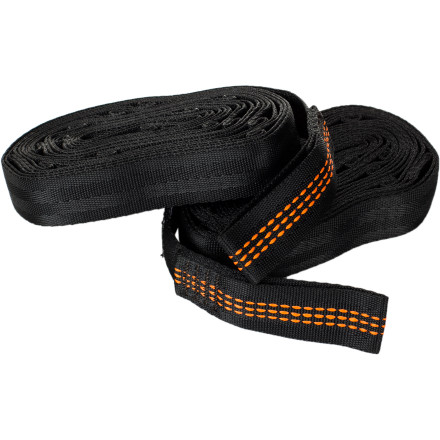 Colors
Whether you're setting up a end-of-trail sleeping spot between a couple of trees or just looking for a perfect spot in your backyard to spend an afternoon, the Eagles Nest Outfitters Atlas Hammock Suspension System secures your hammock so you can sleep soundly and safely pretty much anywhere you can find a couple of trees.

Poly-filament webbing with attachment whorls is strong enough for you to throw a few people in your hammock without fear of a fall-out
A total of 30 adjustment points make sure that you'll be able to configure a prime rigging system pretty much wherever you go
Weighing a light eleven ounces, this suspension system won't over-burden your pack
Set up
Familiarity:

I've used it several times
Got these a few weeks ago and it has made for a super easy set up for almost any situation. Easy to pack up and makes for a great all around experience.
Simple Setup
Familiarity:

I've used it once or twice and have initial impressions
Made setting up the hammock a breeze, and allowed for quick adjustments over the course of the few days I left the hammock up. Definitely the right choice.
EASY made Easier
Familiarity:

I've used it once or twice and have initial impressions
Went camping with the scouts, and this was so fast to set up that I was able to start the fire and get food cooking before half the scouts were done tying up there hammocks. As food cooked I helped the rest. Then in the morning same thing, I was packed and ready to rock before even the other leaders had theirs untied. I would recommend these to anyone that has never slept in a hammock. NO HASSLE SET UP!
Easiest way to set up a hammock
Familiarity:

I've used it several times
These straps are the best of the ENO straps. And well worth it! THey are 1 inch wide (less damage to the tree), weigh less than the Slapstrap, and are long enough to set up your hammock in pretty much any situation.

These straps have large and plentiful openings so you can fine tune your hammock fit.

Definitely recommend.

Ben
brabinowitz@backcountry.com
801-746-7564
Tough stuff
Familiarity:

I've used it several times
I have used this suspension system a couple times now and am always so pleased how fast and easy it is. I've also loaded the hammock pretty full so I can attest to the strength of this suspension. Good stuff!
almost too convenient
Gender:

Male

Familiarity:

I've put it through the wringer
This system is almost too convenient to set up your hammock with. The various anchor points allow you to perfectly tweak your hammock set up in mere seconds. Also it gives you a quite a long range to set up your hammock. There have been so many times where I was thinking my tie points are too far apart and I give it a shot and I have plenty of room to spare, best feeling ever.
The stitching on these are super serious too, definitely look like they will hold up for quite a while.
They are also super gentle on whatever you're tying them too. I have strung my hammock up to mostly trees or wood (my deck) with no damage at all but for a whole week I had it set up on the porch of our shore house on the supports. The supports had the white plastic covers over it and it didn't damage the it at all after spending HOURS in it that week. You will see what I'm talking about in the picture I'm attaching.
Definitely look into the other systems as they may work better for your applications but I highly recommend this one!
Awesome!
Familiarity:

I've put it through the wringer
I use these almost every weekend and love them to death!! I've had my hammock and straps for over a year and a half now and the straps are still holding up. They have a few marks and worn spots but hold up very very well. The extra loops make for an even better hammock experience!! Definitely worth the extra money!
Worth it.
Familiarity:

I've used it several times
These are totally worth the extra money over the other straps. The extra loops make it so much easier to get a good hang on your hammock, which makes all the difference in the world. If it matters to you, the stripes on my straps are blue, not orange.
Makes it easy
Familiarity:

I've put it through the wringer
The ENO hammock is fantastic by itself, but this simple daisy chain set up means no re-tying and super fast set up. Fast enough to take it out of the pack for a simple break along the trail.
Worth the extra few dollars
Familiarity:

I've used it several times
I had heard the regular SlapStraps were not as good as the Atlas, and I definitely believe it now. After borrowing my friend's Slap Straps after owning my Atlas straps for 6 months, I found it more difficult to get the right amount of tension for my hammock. I've had these for a year and LOVE them. They were a great investment to go along with my ENO double nest!
very convenient
Familiarity:

I've put it through the wringer
Lots of attachment points, so you can get a good fit. They dont slide down the tree. Sewn like a mofo, so they wont wear out or tear the stitching out. (Im 6'1" / 220, and I have no issue hopping (literally, sometimes) up into my hammock and never have to worry that something might give way and leave me on the ground.)
Strap it on.
Familiarity:

I've used it several times
These Atlas straps are really a great product.

I have a Hennessy hammock and thought the set up I have using their tree straps and two rappel rings with a carabiner at each end was the easiest way to hook up a hammock. Nope, these Atlas straps are super easy and quick.
Gold
Familiarity:

I've put it through the wringer
I chose to purchase the Atlas Straps instead of the Slap Straps because of a few not so great reviews on the Slap Straps and really good reviews about Atlas. I have not been disappointed once with these. Had these for about a year now. Went hammocking every weekend during the summer/fall and never had any issues with tree spacing or attaching the hammock. Highly recommend!
Easy, excellent, and expensive.
Familiarity:

I've put it through the wringer
Eno has their designs down, I bought the atlas strap combined with the single nest and its the best hammock I've ever owned. I was hesitant at first due to the cost but you get what you pay for.



The hammock is durable, and comfortable, and the atlas straps are simple to use and easy to adjust, with around 2-6 feet of adjustment room allowing you to setup in a variety of situations.

An option you can consider if you don't want to spend the moolah on the atlas straps is to purchase 4 nsr straps, and you can make your own hammock straps for a third of the cost. The tradeoff of course is efficiency, weight, and pack-ability.



link to nsr straps: http://www.backcountry.com/nrs-1in-tie-down-straps?ti=U2VhcmNoIFJlc3VsdHM6cmFmdCBzdHJhcDoxOjM6cmFmdCBzdHJh
Eno got it right this time!
Familiarity:

I've put it through the wringer
I make my own tree straps using polyester webbing, but got these as a gift and really like them. They are made of polyester (so they don't stretch), unlike the slap straps that are made of nylon and stretch quite a bit. If you are new to hammocking or don't want to make your own gear, then these are a great option.
These are super easy to setup, you could probably do it in the dark if you have your trees picked out already. So much better than the slap straps , it makes you wonder why they even made the slap strap in the first place. I highly recommend these straps over other hammock suspension options out there.
Great straps for quick and easy set up.
I have a hennessy hammock that I use when backpacking and these straps make set up and take down a breeze. The 30 attachment points make looking for that perfect distance for good tension a thing of the past. I just tied a loop in the rope close to the hammock and then used a carabiner to attach to the straps. Set up time is now around 3 minutes.