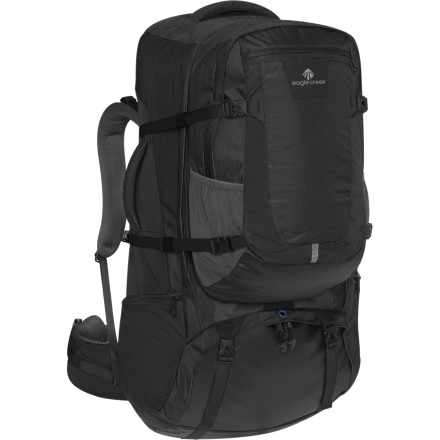 Detail Images

Community Images
The Eagle Creek Women's Rincon Vita 75L Travel Pack carries your gear from destination to destination, and it has a detachable daypack so you can bring just what you need on day hikes and tours. The women-specific fit means you won't be shouldering an unwieldy man-sized pack.
Pack uses a woman-specific frame sheet (sized a bit smaller than men's packs), contoured shoulder straps, and a waist-belt that's canted 9 degrees to fit just right
20-Liter daypack zips off from main pack for trips around town, hikes away from basecamp, and carry-on options when you're checking the main pack
Daypack includes padded backpack-style shoulder straps, a zippered pocket on the back panel for stashing your passport, and side water bottle pockets
58-Liter main pack includes a bottom compartment with a zippered internal divider
Central lock points make it easy to secure zippers (lock not included)
Waist-belt 30-34in, torso 15-19in
Main pack dimensions 13 x 29 x 12in
Daypack dimensions 11 x 18 x 6in
I see the description doesn't mention...
I see the description doesn't mention anything about water resistance. How would this bag fare in the rain?
Best Answer
Like most packs, the Rincon Vita 75L pack will not be waterproof by itself--there are plenty of places for water to get through (seams, zippers, etc), and the material itself is not fully waterproof.



If serious rain is a concern in your travels, I would highly recommend picking up a pack cover like this one by Gregory:



http://www.backcountry.com/gregory-rain-cover?ti=U2VhcmNoIFJlc3VsdHM6cGFjayBjb3ZlcjoxOjE6cGFjayBjb3Zlcg



It's lightweight, completely rain proof, and acts as a good insurance policy for when you get caught out by a big monsoon storm on the streets of Kathmandu on your way to your hostel.
I just returned from a 2 month trip to Indonesia, and before I left I looked long and hard for the optimal travel backpack. This backpack served well for my purposes (we were on a surf trip and got around via scooters and taxis), but it is not the most ideal backpacker's backpack.

I like the luggage style, full-frontal zip opening which allows you to open the backpack fully instead of having to dig through from the top. The better access allows you to keep things organized as well as reach everything much more easily. The bottom portion of the bag can be separated into an isolated, smaller compartment, which I found to be useful (I put my toiletries in this bottom area).

It is also great that you can zip up the main straps/frame area with a cover (that folds into the bottom of the backpack when not in use) so they don't get damaged when traveling on planes, etc.

It is really nice to have a smaller, removable backpack and I used it more than I imagined I would. However, the downside to it is it's a bare-bones little backpack with no features. It is on the smaller side too, which worked fine for me (it fit a towel, small waterbottle, sunblock, and a book alright but I don't think it could squeeze in much more). If you planned to do some long day trip missions this little guy probably wouldn't work very well.

What I did not like about the bag is the shoulder straps when you actually have the bag on. They sit very awkwardly. What the problem is is the straps that attach the backpack to the shoulder straps do not stay tight and constantly come loose. This in turn makes the bag pull away from your body up at the top of the pack which is very uncomfortable. For my sake we didn't do a ton of walking and or trekking with our packs on so it wasn't to much of an issue; however, if you are planning to put in some miles on your feet with your pack on this would become a major, major problem. We never figured out a way to resolve the problem.

All in all the backpack is pretty good and worked rather well for my circumstances, but it really depends on what your purpose for the pack is. If I was doing any kind of trip where a fair amount of walking with it on was necessary I don't think I would have liked it as much.