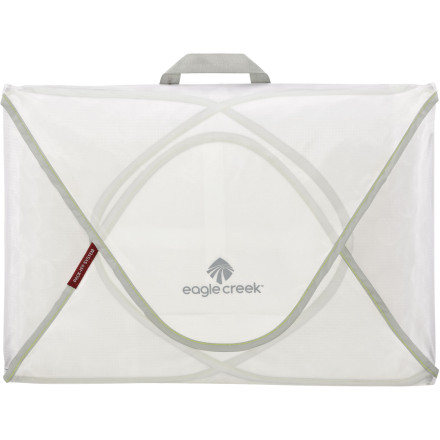 Description
Wrinkle-free travel.
Packing is all about how much stuff you can fit in the smallest amount of space, at the lightest weight, with a minimal amount of wrinkling. Turn to the Eagle Creek Pack-It Specter Folder 18. It's the newest ultra-light addition to the Pack-It System.
Ultra-light, water-resistant silnylon ripstop fabric is translucent so you can easily see what's in the folder
Fits 8-12 items (shirts, pants, and jackets, or a few bulky sweaters) and minimizes wrinkling
Folding instruction board helps with quick, efficient packing
Fits into carry-on-size bags
Eagle Creek Pack-It Video
Is it possible to fit a men's suit jacket...
Is it possible to fit a men's suit jacket in this?
Best Answer
This has the same benefits as the Eagle Creek Pack-It Folders only made out of a lighter weight material. You should be fine putting a men's suit in here, maybe even two.
Thanks so much Wayne, exactly the information I was looking for.
It will fit a men's jacket without issue -- HOWEVER -- it will put wrinkles in a jacket not matter how well you fold it. A jacket better fits into one of their "full cubes" folded inside out loosely over itself.
This is my second Pack-it Folder. The other one lasted 5 years and is still going. I but I needed another one. This version is ultra light. We all know every ounce counts. Being able to organize your stuff, unpack and repack is much quicker with these.