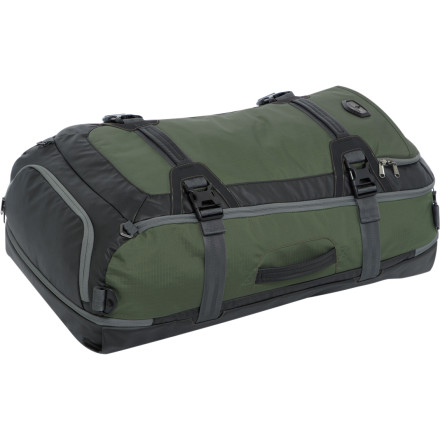 Detail Images

Community Images
The grass and sidewalk are all wet, and you're waiting for the from-airport-to-destination train. The Eagle Creek Hybrid Hauler Backpack has a water-resistant bottom that means you won't have to shoulder that pack the whole time you wait. Go ahead—put the Hybrid Hauler down in the wet grass and let the bottom compartment keep your gear and clothes bone-dry.
Backpack straps and duffel straps give you carry options, and you can tuck away the backpack straps if you're checking the bag
Zippered water-resistant bathtub compartment separates your dirty gear from your clean skivvies and protects your gear from wet grass and shallow puddles
External pocket with organizer panel makes it easy for you to grab travel directions and guide books
Bi-Tech-e polyester made from 100% recycled post-consumer plastic bottles for an earth-friendly approach
Integrates with Eagle Creek's Gear Organizers (sold separately)
This bag has a good capacity for a week-long trip, plenty of grab handles, shoulder strap, and compressor/reinforcement straps. Since it has no frame and no hip belt, it's not made for using as a pack to hike around once you reach your destination, rather just for short carry's around the airport and en route to your hotel. I'm a little concerned by the light-weight clips that attach the bottom of the shoulder straps to the pack, and hope they don't break at some point. It seems decent for the price, but not the right choice if you want to do some serious hiking with it at your destination.
WIll be traveling through Brazil for three...
WIll be traveling through Brazil for three weeks. Rio, Florianopolis, and then some time in the Amazon. Looking for a pack that can tackle the both phases. Doesn't necessarily need to be ready for an ice-climbing expedition, but I'm not looking for a roller bag either. If I had to lean to one side, I would want a pack I could use for backpacking, camping, etc... Whaddya think?
i think you would probably regret carrying a duffel style bag for three weeks and this is not the best bag for backpacking/camping. without knowing the nature of your trip, i think you would be better served getting a traditional pack.
My new favorite travel bag!
I just took this bag to Europe for three weeks. Three countries later, I've decided it's my new favorite travel bag! The back pack straps are comfortable and stow really easily and flat. The bag itself is light enough that I was able to fill it completely and still be way under the 50 lbs. limit that the airlines require. Enough pockets to keep me organized, but not so many that I couldn't find things. The bucket style bottom kept my gear dry. Having all of the zippers on the side of the bag that was against my back is clever, I didn't have to worry about getting ripped off while walking through the train station in Barcelona. I recommend a backpack style bag over a wheeled duffed if traveling by train or ferry - lots of stairs, not many escalators or elevators! Well done Eagle Creek. A nice complement to this bag are the packing cubes that EC makes - helps you fit more in the bag and keep you organized!