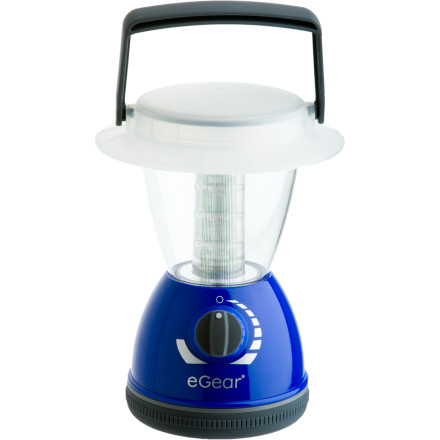 Detail Images
Light up a dark campsite or storm shelter with the E-Gear 10-Day Lantern and its 12 ultra-bright LED bulbs. Replace your volatile, fossil-fuel-powered lantern with this 120-lumen, battery-powered lantern, which features a dimming adjuster to save the juice. The weather-resistant ABS plastic housing protects the guiding light from condensing water-vapor and light rain while you finish setting up the tent in the dark.
Burns for 40hrs on high setting when you need lots of light or for 10 days (240hrs) on low setting so you can preserve the light for emergency power-outages
The ultra LED lights burn for a total of 100,000hrs, which is over 11 years of constant use
Cool Touch LED bulb keeps the lamp cool no matter the brightness or burn time
Compact and lightweight design works great for weekends at the campground
What do you think about this product?
Have questions about this product?
I bought 3 of these a few years ago due to frequent power outages in our area. They are terrific, and do last a very long time. I have yet to wear out a set of batteries on any one lamp. I often use them now around the house at night instead of a flashlight.

For maximum life, you don't need to run it on high, you can run it near high, and save a lot of juice that way, but still get a ton of light. On lower settings, it will run seemingly forever.

My only suggestion for an improvement would be make the LED's less visible, make the lens material more opaque. As they are now... you get lighter and darker spots from the individual LED's. Not a huge issue..but room for improvements.

Regardless, I'd buy more if I ever needed them, and recommend them to anyone.
I did not know this was called the 10 day lantern when I bought it for power outages and camping. My three year old started taking it to be set on low to use a nightlight. I could not believe how long it lasted used this way. It is definitely true to its name! The bright setting also works great as our main source of light during the occasional ice storm that takes power away for a couple days up here in NH.