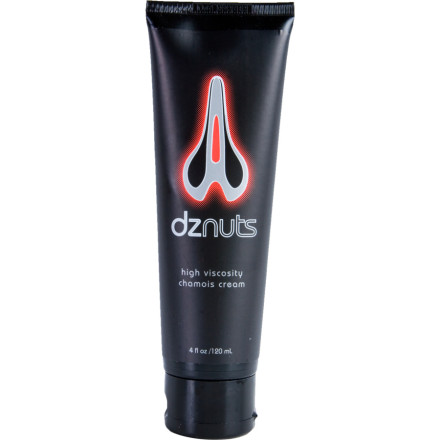 Colors

Detail Images
Description
Proper protection.
Hours in the saddle will start to beat up anyone's unmentionable areas—regardless of the rider and regardless of the saddle. Chamois cream, however, takes the pinch out and the edge off any ride, so you can forget about your saddle area and concentrate on the fire in your lungs. DZ Nuts Pro Chamois Cream has a more substantial texture than other creams—it's not a lotion that's just absorbed into the skin. Instead, it layers up on the surface of the skin for a satisfying, slick feeling that lasts.
Substantial feel that layers on the surface of the skin
All-natural, plant-derived ingredients
Couldn't imagine riding without it
Familiarity:

I've put it through the wringer
I use this on just about every ride I go on both long and short. Works great and keeps everything chafe free. Highly recommned.
I have tried quite a few of the options out there and I am sticking this dznuts. I have open tubes of other stuff, but keep buying new tubes of dznuts.
DzNuts!
Familiarity:

I've put it through the wringer
It's kind of like chapstick, once you start using it, it's hard to go without it. Pretty key for those long days in the saddle. Highly recommended.
It makes yer taint tingle
Good product, works well but, I could do without the menthol cooling...it just feels a little weird. I suppose that is spot on for Dave though...gotta love Zabriskie!
Best of the best
Familiarity:

I gave it as a gift but have feedback to share
I haven't had experience using this, but my boyfriend sure has. I bought it for him a couple of months ago. He said he wouldn't bike without using this chamois cream, the menthol is a nice touch and seems to have a numbing agent. It's an excellent product.
Like this over assos
Familiarity:

I've used it several times
It's slick and it seems to agree more with my skin. I race endurance/ultra endurance MTB/gravel. This will be my go-to from here on out.
This stuff lasts long
Familiarity:

I've put it through the wringer
This is the chamois cream to get! It lasts a long time and allows for a nice smooth ride. Use it any way you need, this stuff will definitely work!!!
Protects mah Junk
Familiarity:

I've put it through the wringer
This quickly become the corner stone of my pre-race routine. I simply cannot ride without it. Putting in the hours every week can be rough on your undercarriage, and this product is amazing at taintentance as advertised. You will not be disappointed, no need to look further.
Well Worth It
Familiarity:

I've put it through the wringer
There are few if any things that I like more in this world than my "man bits & pieces". That being said, I certainly don't mind spending a bit to make sure that everything down below is well taken care of while moving around on the saddle. Won't go on anything other than a short ride without it. DZ I salute you.
Great stuff
Familiarity:

I've put it through the wringer
Great. I don't use cream all the time because I don't ride everyday. I tend to use it for longer rides but have noticed it seems to help with healing if you're already a bit sore.



I always use it for long rides.
Nice product
Familiarity:

I've put it through the wringer
ive been using this product for a couple of years and love it. It feels great on the skin and stays in place for hours. I will continue to use this for years to come.
Don't waste your money
Familiarity:

I've used it several times
Saddle sores are caused by chafing and moisture. Once you let the problem heal (tea tree oil is a great help) use talcum powder. It's the ticket. If you think about it and gymnasts, weight lifters,golfers and mothers (baby diapers) do, it only makes sense that you'd want something dry and slippery not wet and goopy. Of course its too cheap and available to make money on and you won't read a romance novel about Dave Zabrieske and all the hype CC writes,but try it.
Don't bother looking elsewhere
Familiarity:

I've put it through the wringer
I think I've tried most options available, and I've found nothing that compares to dz. in summer it feels cool and deals well with copious amounts of sweat well. In winter it feels like a gentle heat.

It is pricey with a bunch of strange ingredients, but still 5* product, I doubt I will ever try another cream.
Life Saver
Familiarity:

I've put it through the wringer
This stuff saved my freaking life on a backpacking trip. Totally changed my whole world. A cycling buddy of mine introduced it to me on a backpacking trip and I went from rashy, smelly, misery to menthol fresh, creamy comfort.



A backpacker's dream
Makes all other creams look bad
Familiarity:

I've put it through the wringer
This stuff is the real deal Holyfield. Other creams I've used don't even compare in durability and comfort. It's noticeably thicker, but goes on smooth and easy, washes out with no problem, and doesn't have that greasy feel/texture. Pay a little more to protect your valuables!
one ride too may without it!
Let's just say i rode one ride too many without it and I will never go without it again! The name says it all.
I tried a tube of this to see if it is better than Chamois Butt'r. The price difference may lead you to believe that there is a substantial difference in performance. What I found is that DZ Nuts is doesn't work better, nor is it inferior. I found it to work just as good as CB. The menthol was a seriously invigorating the first time I used it. I found the sensation to be far less dramatic in future uses. For me, this honestly comes down to cost. I'm not a pro, and I have to pay for my equipment. DZ nuts costs about 50% more than Chamois Butt'r for half the amount of product. I just can't justify the price considering the consumable nature of the product. A tube of Chamois Butt'r may barely last two weeks if I'm riding a lot. There's no way I would want to essentially triple that cost, I would rather spend the money on durable products that I may still have in a couple years.
DZ hit it out of the park...this chamois cream works awesome, easy clean up, washes out of chamois, non-greasy, has a bit of a cooling feel once applied and worn....very nice product.
This was my first attempt at using chamios cream for my rides. Boy does it make a difference. A healthy application before a ride has kept me chafe and saddle sore free without fail.

There is some tingle when you first put it on, it doesn't bother me now that I am accustomed to it.