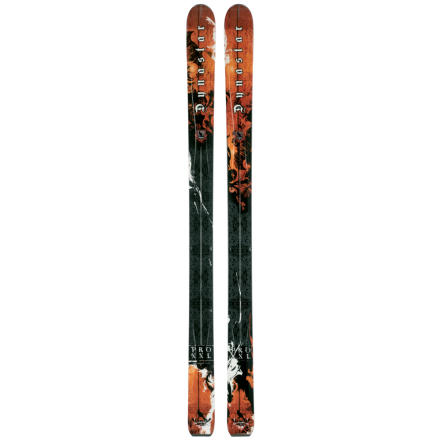 Community Images
6'4" 220lb freeskier with racing background. They are awesome. I"ve broken/delaminated/even snapped a half dozen pair of skis and I think these will be the first pair that will really withstand some abuse. First day out at on em at Crystal was 8inches after a rainstorm with some nice deathcookies deep down. These were perfect at blazing through them. Very nice at higher speeds. Love soft snow. When the run transitioned to some hard pack before the lift I tried taking a slow sign like a gate and my outside ski just wanted to go straight, but with good 35 degrees plus and soft snow they are awesome, even made some nice tighter turns in the trees. They're beefy, but I love having the extra weight for the type terrain they are intended for.
Likely the Best Rippin? tool Ever Constructed.
I have logged 9 ski days on the 187 cm XXL--on and off piste--in many typical snow conditions, including 40" powder/crud, hard pack, spring corn, and wet heavy slop. I bought these skis for powder days--but they have become my default pair. The XXL's are rock solid at any speed and on any terrain--you set the pace, they just say "we can do that, no problem!" The modest rocker tip is sufficient to float the ski in light powder. Heavy crud/wet slop does not push the tips around--the XXL's always track true. Their swing weight makes them less than optimal for mogul skiing--but they can be forced to snake bumps at moderate speed. (About me: 6'0", 205 lb, expert.) This ski is not for everyone; it is a big-mountain ski best for ripping long sweeping descents. I cannot recommend it for eastern skiing. It will brutally punish less-than-solid weight-transfer technique. Its responsiveness and tracking accuracy is very sensitive to mounting position. To tweak handling, I mounted Marker Schizo's on my XXLs, which allow the bindings to be moved 3 cm forward and aft of the stock boot mounting position. My optimum position is 1.5 cm forward of the stock position, as determined by ease of turn initiation and tracking accuracy in 10" powder. (This small adjustment also eliminated the "tip rise" and "tip wander" noted by some reviewers.) Your optimum position will likely differ. In short, for good skiers this ski is likely the best rippin' tool ever constructed.
Your wicked-fast bulldozer is ready.
The XXL skis like a freight train. It turns about like one, too. If you want to bash through anything and everything... chowder, mank, bumps, Jersey barriers... this ski is for you. Did I say bumps? Yes, you just super-g through them. Also fun on groomers, although you have to get them up to about 40mph before they are in their element. Sack up and get the original 194.
This ski basically rips. It is the most solid feeling ski at speeds I have ever ridden. I have messed up a line and plowed into a bump field at high speed and the ski soaks of everything in its path.

I choose this ski for hard pack or crud. If there is powder I pick a softer ski with tip rocker. I would accept the XXL in powder if it would just dive but the skis are unpredictable. The big tip splay sometimes wants to rise. The problem is one ski might rise and the other dives.

I love the XXL's but use the Katana or Kuro for pow.
This is a board that if you like speed, steep, and ass puckering moments, your boat has come in. Ski it hard, it rewards you. Altough it carries some weight, you won't feel it up on plane. Very pleasing to have a ski that doesn't wonder underfoot and holds on to any conditions you throw at it. Heavy Mank, suncrust, less than optimal conditons have no negative effect on this ski. Primo fresh, or manmade groomer, they seem to have no limit. I wouldn't recomend this ski to the timid, or those with weak legs, it would become very tiresome to do a first to last chair day. Dynastar has become a favoite after many years on the K2 wagon.
The xxl in 194 (me 5'11 190)is absoloutley the most versatile big mt ski Ive ridden,floats great(mount 1 .3 cm back of boot line)unreal fast in pow,hold edge excellent on steep ice,landing gear extreme for cliffs,and soft tips for bumps and pushing short radius turns in the steeps...excellent.....Thanks Dynastar!!
I am 5' 8 226lbs and the first time I tried these ski I really hate them.
Before I purchased them I read I think pretty much every review I could find in the net. Mostly everyone loved them and suggested to have have them up in speed etc. etc. not in grommed etc.
Well, I started thinking about why I hated them, and I figured it out.
All I had to do was de-tuned them at the tips, I de-tuned, all the way to letter "R" on the Dyanstar print graffics. I have the model year 2007-2008.
I tried them in Mt sunapee in NH, I tried them in Loveland Co, Copper CO and in Vail Co. I must share with you all,, that this ski are much better than,
Mantra 2007 191 or 184, Mantra 2008 184, Atomic Metron B5 172, Rosi Bandit X 177, Salomon 178 equips. All these ski that I mentioned above are very versitile and they all have their edge or niche... I must say that I would probably would prefer the Atomic Metron B5 as 2nd best or 1st place if I doing the MT. in the East like Stowe etc. but in Co. The Dynastar is the King for sure.....
I put some crazy speeds in pretty much all kinds of trails and this skis just handle wonderfully. The best I can descrive them is as if you are skiing and you are not touching the snow at all (I know you! outthere know exactly what I am talking about).....The only think that I don't like is that you find your-self pretty fast back at the chair lift... I think any serious skiers that love the sport should own one of these for those days that you are all alone and down have to wait for anyone..... HEEEEEEEEEEEe....
I'm an big guy and an aggressive skier and these skis left me in awe. I only borrowed these skis for a couple of runs from a friend but they were the best runs of the day. This is a very powerful ski that really doesn't shine until you get it up to speed (+50 km/hr). I also skied tight trees with this ski and although it's not best suited for these conditions it is certainly capable. But I can't stress this enough, in my 20 years of resort skiing, BC, and ski racing I've never felt a ski like this. Point it downhill and hang on. It feels like your driving a train.
Dynastar Legend Pro XXL Alpine Ski - Best All Mountain Charger
These things destroy anything and everything in their path. If you don't know what to expect when you show up at the hill in the morning, take these. Just don't expect to take them on the groomers, unless you're a beefy ex-racer who likes to keep the speed limit consistently above 40mph. The Dynastar Legend Pro XXL's kill it in the crud, pow, chop, mank, corn... you get the picture. I'm a 6'1, 175 pound ex-racer, and while they're heavy,they're a surprisingly nimble tool that really can do it all.
Might be the best ski ever made... does it all. The only thing it leaves to be desired is reverse camber for the really, really deep days.