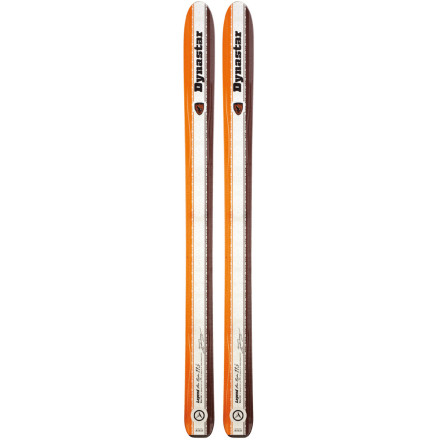 Videos
A stout wood core and just-enough early-rise in the tips gives the Dynastar Legend Pro Rider 115 Ski the chops it needs to pillage stashes of powder and burn down burly lines. Stuff the fat tip deep into the freshness and feel the powerful flex as the Pro surfaces quickly. Top and bottom layers of Titanal mean nigh-unshakable stability at full throttle and full-length vertical sidewalls add a measure of race-bred edge grip. Outside the slack-country gates or hammering out tram laps this beast treats you to a versatile, big-mountain ride like none other.
Early rise tips float above pow and variable conditions, and ease turn initiation
Sandwich sidewall construction creates bombproof, shark-fin proof durability
Titanal-reinforced wood core creates an expert-level flex patter for hard charging
Unanswered Question
My wife is 5'7", 120 pounds, and a strong...
My wife is 5'7", 120 pounds, and a strong but not agressive skier. Would th 166 be too long?
Dynastar Legend Pro 115 Ski
I've skied most of the incarnations of the Pro Rider over the years. As another review said, this one does have a softer tip-tail flex than the old models, but it makes the ski very well balanced for powder and soft chop. Ski tracks very well (though tip rocker always makes this a little less so than a traditional camber ski). I find it easy to swivel, and the tail has enough kick to accelerate out of a turn. Performance is less impressive on hard snow, but that's not what these skis are for.

If you spend enough time in powder to warrant a ski dedicated to it, and are a strong skier, the Pro Rider 115 should please you.
looking for the boot mounting mark on the...
looking for the boot mounting mark on the 115 pro rider
and is it a boot center mark or otherwise?
It's molded into the top sheet, and it's a boot center mark (nearly every ski is now). The mounting point is furter back than you'd expect, but I've found they ski very well from the defailt point.
Any idea what the straight pull from the tail to the bump should be? Mine are 74cm on a 184 - is that right?
SIZE 175 or 184 ?? Im 5 10 and 175 pound....
SIZE 175 or 184 ??
Im 5 10 and 175 pound. Im an east coast skier and I dont know if I'd get a pair of 175 or 184. I ski most of the time in the trees on the east coast and 10 days a year in utah or BC...im an aggressive skier and scared that 184 is may too long for the east...?
If you are a strong skier, you will be able to make either length work. Consider that this is a beefy, stable ski in a 175. So, for Eastern skis you might go with the 175 for the added maneuverability and quickness if that will be the majority of your skiing.
Not quite the Pro XXL anymore,...
When I heard about this coming out a couple years ago I was excited for an with a slight rocker. I have a set of 194 cm Dynastar Pro XXLs (which I ranked 5 stars on bc.com), they are hands one of the finest traditional camber skis I have ever ridden & are still part of my ski quiver. The only gripe about the XXL was it was a burly & heavier ski, but it handle anything that was thrown at ya.

Dynastar made it more lightweight & in essence it does not have that same XXL feel to it. It is not as stiff, with medium flex on the ski now, less burly. It still is a solid ski, but I feel they dropped the ball taking out some of the best attributes that made the Dynastar Pro XXL so well liked over it's 2006 to 2010 run.

I think most people will enjoy it, for what I want in the ski it is letdown. If you want a medium flex rockered pow ski it'll do the job. A lot of XXL fans like myself expected out of Dynastar. Dynastar just went in a different direction in this model vs. the Pro XXL.
I'm thinking of mounting my Dynastar Legend...
I'm thinking of mounting my Dynastar Legend Pro Rider 115 skis with NTN bindings. I understand that I can get a brake that is 110 wide, but I don't know if there are any brakes wider than that for NTN?? If not, could I slightly bend the 110 brakes to fit the 115 ski? I have read elsewhere that the 95 brake could be used on a 100 ski with slight bending, so maybe the same goes for the 110/115 variation??
I believe this year's NTNs come in 95, 100 and 125mm versions. 125 is the call.
Any brakes on any bindings can be bent. Plus if you are skiing a ski like this you must be a good skier. So you wont need brakes all that often. Get the 110 and bend them. A 125 is too big. If you are really railing the edges on these skis you will hit the brakes cuz they stick out farther than the ski and that will cause you to lose your ability to lay down a solid turn. 110 will be perfect for these skis.