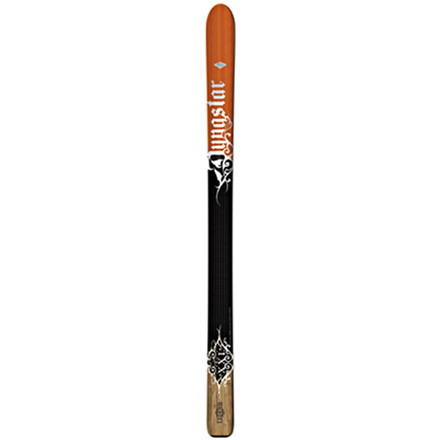 Detail Images
Dynastar makes the best skis ever, end of the story.
A couple years ago I got a pair of legend pros in 194. Everyone thought they'd be too long, fat, stiff, whatever. They were wrong. This year I got a pair of legend pro XXL, again in 194. Same comments, apparently I'd spend my winter slogging around and not being able to turn... He he, these guns are by far the best I've ever ridden. Super stable at high speed, you can line just about anything and they'll do all the work for you. Carve fast turns in deep pow: check. Bomb through tracked out bumpy crap: check. Float through super tight tree runs: check. Only issue: I'm not strong enough to get them to their full potential. I end up sitting back with burning thighs hoping I'll be able to stop before I hit something.
Oh, and they do bumps. You just go through them as opposed to going around them!
Unanswered Question
Are these 07/08 and are they any different...
Are these 07/08 and are they any different than the 08/09?
the only regret i have is that i bought the 187mm and not the 194mm. i am 6'0" 170lbs and im not saying they are too short cause i love them do much, but i think i could have used that little extra. but that thing that backcountry wrote about them right under the picture, yeah, if i could write, thats what i would say! i can stay stable bombing through the most gnarly stuff i can find on the mountain! nice and stiff too!
These Dynastar XXL's (I have 187) are solid the way a good ski should be. The torsional stiffness is awesome and provide incredible edge hold when you need it. They aren't much for turning under 20mph but once you get them moving they'll rip big arcs down anything. I love these skis and they are the perfect do everything ski. The 187 is a great length for me in tight spots as well as open bowls. I'm 6'0 200lbs.
Actually can ski the trees too
in response to the dude above, these things actually can rip it in the trees... just so long you aren't trying to ski the gnar-tree-ice-bumps days after a storm... cause these really don't do bumps...

but if it's soft and fresh, let em rip in the trees. i got these skis basically for west coast adventures, but found myself going to them time and again all over the vermont woods and loving them. you just gotta stand on 'em.

also, it's worth noting these are exactly the same as the 06/07 model just with a BNG (bold new graphic). not sure if the 08/09s were changed in any particular way