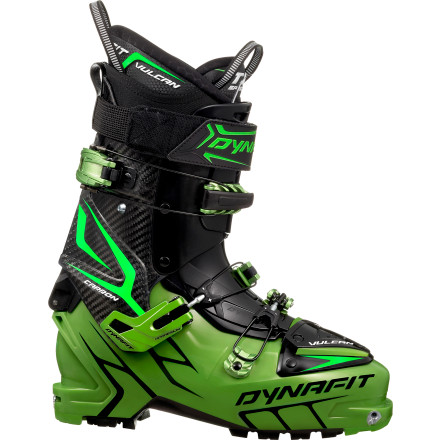 Community Images
Description
Not every relationship requires compromise.
For years, there was a common perception that a boot built to tour uphill couldn't possibly ski well going down. Well, the Vulcan TF Alpine Touring Boot from Dynafit is here to shatter that perception. In the skintrack, there are a number of features to love about the Vulcan, starting with the weight—these bad boys come in at just about 3.5 pounds per boot, extremely lightweight for a boot this stiff. The 103mm last is plenty roomy for your toes on the way up, which is especially nice to help maintain good circulation on colder days. The 60-degree cuff rotation should be plenty for even the most ardent yoga enthusiasts. Honestly, if your ankle is rotating past 60-degrees, you should probably be concerned about that, not your boot.
The beauty of the Vulcan is that the fun doesn't stop when you get to the top of your run. Simply plug in the removable downhill booster tongue and your boot becomes a stiff, freeriding machine. The boot is plenty skiable without the cuff however, for lighter riders, or if you just feel like skiing a more forgiving boot for a run. The Vulcan sports three metal buckles, one of them being an innovative, new centrally located buckle directly on the shell pivot points. When engaged, it helps to keep the cuff and shell compressed, adding to increased stiffness throughout the entire boot. The Dynafit Pro Freeride sole features three different rubber compounds for use on both the uphill and the downhill. There is a soft rubber that offers excellent grip on slipper rock ridges, a hard substance designed to work with modern step-in binding systems, and a medium rubber that is a good compromise for areas that need grip but are subject to high amounts of abrasion as well.
Stiff flex, carbon fiber and Pebax cuff
Grilamid shell
103mm last
Seven pounds per pair (size 27.5)
Series thermo-moldable liner
Removable downhill booster tongue
Driving spoiler 2.0
Internal cuff stoppers
45-degree buckle system
60-degree cuff rotation
15- to 18-degree forward lean
Dynafit Pro freeride sole
Share your thoughts
What do you think of the
Dynafit
Vulcan TF Alpine Touring Boot
? Share a...
Astounding Boots!
Familiarity:

I've used it several times
I've been hanging around this thread for about a year thinking of pulling the trigger and as usual the sheer price has been a deterring factor. Recently a friend of mine who runs a ski gear shop in Central Asia offered me a sweet deal that was approximately the price indicated here. I couldn't resist as I had switched to dynafit beast 14 and La Sportivas HI5 shortly before that and was contemplating some early summer skiing. (Here, in Central Asia, everything above 15 000 feet can give you some OK powder from mid April up until mid July.) The approach to the glacier from the starting point we usually jump off takes about an hour of skinning and with all the insanely low weight of my new set-up I still felt It could be a lot better with proper boots (I had used my beloved Technica Cochise with swapped technical soles). Four weeks ago the day came, I opened the box with the most beautiful boots I had seen to that date.
The first experience of inserting the foot inside gave me some mixed feelings. On one hand, when you start unfolding the boot cuff it is so rigid to the point of where you feel it becomes fragile. This is deceptive. Made of carbon fiber, it is solid and will break only if someone will unfold the cuff outwards under very wide and extraordinary angle. I immediately started anticipating some problems with putting them on in cold days outside. My prior experience with that was mostly unfortunate with Technica Cochise 120 and even more so with Lange XT 120. But surprise surprise - the caff rotates at very generous 60 degrees and makes this otherwise painful operation very quick and nothing like giving a labor. Similarly, pulling the leg out also is easy and doesn't wrinkle an insole as it usually happens with sturdy 100+ boots.

Walking in vulcans after any DIN boots is a feeling pleasure. You'll never get the AT boots to walk as soft and natural as regular mountain boots, but Vulcans approached that feeling as close as possible. Be that an ascending walk along the path filled with rocks or a skinning trail, the generous cuff rotation redefines touring for you. It was better than sex.

In terms of rigidity, my feeling is that Vulcans are the same as Cochises 120, altough latter have an advantage with PowerStrap / PowerClip - something I had enjoyed amply and still miss in Vulcans a bit.

These boots epitomize everything I wanted: sturdy, yet extremely light and aesthetically pleasing AT machines. Please consider those if you care about weight, speed and comfort.

JediFarmer
Unanswered Question
What is this boots' flex rating?
Light as a feather, burly as a race boot
Familiarity:

I've put it through the wringer
I have been using the Dynafit Vulcan to drive Volkl V-Werks Katanas mounted with Marker Barons for the last season, comprised of about 30 ski days in varied conditions, from powder, to hard pack, to steep tree lines, bumps and groomers, and even a little messing around in the freestyle park. In short, I am thoroughly impressed. Even without the extra stiffness from the removable tongue inserts, these boots are solid and the huge weight savings (my last boots Nordica Fire Arrow F1 literally weighted twice as much) has really changed the way I ski in a good way. It actually took some getting used to, but now I feel I have much more agility, and more energy when I reach the top of a long skin track. The only issue I have had is excess wear on the toe lug, to the point where I am worried they won't be skiable come the end of next season. I had my Barons professionally adjusted for the toe height, but this didn't seem to help. I think the toe piece is made of PEBA, which might explain the durability issue.

I thermoformed my liners at home, and trust me they are warm and comfortable after a full day break in.

If you are on the fence about switching to a touring boot because you are worried about losing that control on the steeps and at high speeds like I was, just give the Vulcan a shot. I will never go back to heavy race boots.

Check out the video to get a sense of what these boots can do.
The boot I've been waiting for...
Familiarity:

I've put it through the wringer
Great fit. Super light. Perform like an alpine race boot. Great walk mode.
Not sure I could ask for anything more in a touring boot!
I would be careful though as these will only fit in alpine bindings that are meant for AT boots or have a height adjustable toe piece.
I'm told that the Maestrale RS is significantly warmer than these boots due to the Intuition liner in that boot. I've had frostbite in the past so that's important to me. But I love the snug fit of this boot an significant stiffness boost compared to the Scarpas. Is that a fair assessment, these are colder?
A lot of places in Europe wont even sell you these boots with Dynafit's inferior liner. I would stay with the Vulcan and buy an Intuition liner, they are so good. Ive transferred my liner in between like 3 pairs of boots.

You can call or email me directly. 801-736-6398, or bporreca@backcountry.com
I've found the Dynafit liner to be excellent. My previous boot was the Maestrale RS, and I skied that with both the OEM Intuition liner and after that an Intuition Pro Tour. The Dynafit liner thermoforms just as well, skis just as well, and walks just as well. Durability is comparable too. Don't worry about buying a new liner right off the bat.
Do these work with a Salomon Guardian 16 binding ??
As long as you have this year's MNC version, yeah you could make that work. Last year's Salomon Guardian was only compatible with alpine and WTR soles!
mine are last years so i guess they wont fit but i have no idea what are MNC or WTR soles


Best Answer
MNC= Multi norm certified. Those will work with AT or Alpine soles, as well as Salomon's proprietary WTR soles.
WTR= Walk to Ride. Similar concept to AT soles, but less aggressive rocker. Salomon's WTR compatible bindings will work with their WTR soled boots as well as alpine standard boots, but NOT AT soles!
Solid Quiver of One Boot
Familiarity:

I've put it through the wringer
I use the Dynafit Vulcan TF AT boot as both my backcountry touring boot and as my daily driver as an Aspen/Snowmass Ski Pro and I have to say it's almost as good as my Full Tilts on the front side and a WAY better SKI boot than my TLT5s in the backcountry. Ridiculously stiff for an AT boot and stupid comfortable and light as an Alpine boot.
And you get used to the green color, eventually.

What crampon works best with this boot in terms of toe bail/heel throw compatibility?
I just picked up a pair of Vulcans, and am very happy with the fit of my Grivel G12. I have the cramp-o-matic (wire toe bail, plastic heel throw), and would think that any similar crampon (Petzl Vasak leverwire, BD Sabertooth) would be super solid.

My only other advice, stay away from the ultra light Alloy ones!
I have a size 11 foot and the size 29 Vulcan fits perfectly right out of the box. They may be expensive but they're worth it since I haven't had to do any work to them.
The Vulcan's are my third set of ski boots in my quiver of boots. These are obviously my touring boots. I also own Tecnica Agents with Hotronics for comfort and cold weather sidecountry days, and Atomic Burner 130s for high speed in bounds days.
The Vulcans are very streamlined and stiff almost like a Full Tilt. They are easy to get in and out of when they are in walk mode, unlike my Burners which are extremely painful to take off. I have a relatively narrow foot which is probably the reason I haven't had to do any work to them.
They fit nice and snug around my shins and calves, offering great response when initiating turns. I can't always get my Agents tight enough around my shins and they sometimes feel pressed out.
The Vulcan has two modes, controlled by the top buckle. Switching from walk/skin to ski means you essentially just buckle the boots all the way, clamping the top buckle down in the back of the boot.
Skin mode and entry/exit mode is achieved by unbuckling the top buckle from the back of the boot. This is a little hokey because when you're walking and skinning the top buckle is open and flapping around.
Once the top buckle is clamped down you can hear an obvious click and with a little forward pressure you can feel the stiffness of ski mode engage.
Taking on the Chugach and AT Boots
I used the Dynafit Vulcan and Beast all season in AK last year. Skiing big lines in the Chugach with no issues. I felt no fear dropping into some of the steepest lines of my life, even with "Tech" Bindings and "Touring" Boots on my feet. The toe elasticity in the Beast is noticeable in variable and firm conditions and a serious upgrade over the previous static tech bindings. Since this is more of a boot review, the Vulcan never let me down. It allowed me to ski freely and also have the convenience of walk mode when stomping out LZ's or traversing ridges to ski lines the heli couldn't land us on.

PC: Mike Bachman Photography
http://mikebachmanphotography.com