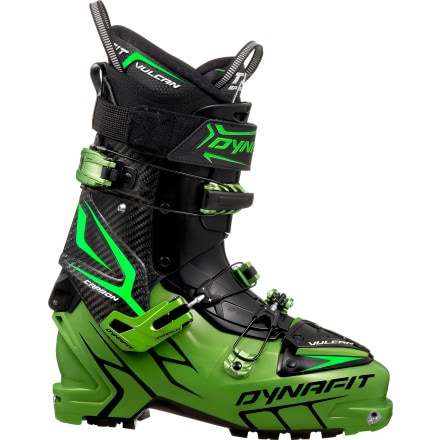 Community Images
Description
Not every relationship requires compromise.
For years, there was a common perception that a boot built to tour uphill couldn't possibly ski well going down. Well, the Vulcan TF Alpine Touring Boot from Dynafit is here to shatter that perception. In the skintrack, there are a number of features to love about the Vulcan, starting with the weight—these bad boys come in at just about 3.5 pounds per boot, extremely lightweight for a boot this stiff. The 103mm last is plenty roomy for your toes on the way up, which is especially nice to help maintain good circulation on colder days. The 60-degree cuff rotation should be plenty for even the most ardent yoga enthusiasts. Honestly, if your ankle is rotating past 60-degrees, you should probably be concerned about that, not your boot.
The beauty of the Vulcan is that the fun doesn't stop when you get to the top of your run. Simply plug in the removable downhill booster tongue and your boot becomes a stiff, freeriding machine. The boot is plenty skiable without the cuff however, for lighter riders, or if you just feel like skiing a more forgiving boot for a run. The Vulcan sports three metal buckles, one of them being an innovative, new centrally located buckle directly on the shell pivot points. When engaged, it helps to keep the cuff and shell compressed, adding to increased stiffness throughout the entire boot. The Dynafit Pro Freeride sole features three different rubber compounds for use on both the uphill and the downhill. There is a soft rubber that offers excellent grip on slipper rock ridges, a hard substance designed to work with modern step-in binding systems, and a medium rubber that is a good compromise for areas that need grip but are subject to high amounts of abrasion as well.
Stiff flex, carbon fiber and Pebax cuff
Grilamid shell
103mm last
Seven pounds per pair (size 27.5)
Series thermo-moldable liner
Removable downhill booster tongue
Driving spoiler 2.0
Internal cuff stoppers
45-degree buckle system
60-degree cuff rotation
15- to 18-degree forward lean
Dynafit Pro freeride sole
Share your thoughts
What do you think of the
Dynafit
Vulcan TF Alpine Touring Boot
? Share a...
I have a size 11 foot and the size 29 Vulcan fits perfectly right out of the box. They may be expensive but they're worth it since I haven't had to do any work to them.
The Vulcan's are my third set of ski boots in my quiver of boots. These are obviously my touring boots. I also own Tecnica Agents with Hotronics for comfort and cold weather sidecountry days, and Atomic Burner 130s for high speed in bounds days.
The Vulcans are very streamlined and stiff almost like a Full Tilt. They are easy to get in and out of when they are in walk mode, unlike my Burners which are extremely painful to take off. I have a relatively narrow foot which is probably the reason I haven't had to do any work to them.
They fit nice and snug around my shins and calves, offering great response when initiating turns. I can't always get my Agents tight enough around my shins and they sometimes feel pressed out.
The Vulcan has two modes, controlled by the top buckle. Switching from walk/skin to ski means you essentially just buckle the boots all the way, clamping the top buckle down in the back of the boot.
Skin mode and entry/exit mode is achieved by unbuckling the top buckle from the back of the boot. This is a little hokey because when you're walking and skinning the top buckle is open and flapping around.
Once the top buckle is clamped down you can hear an obvious click and with a little forward pressure you can feel the stiffness of ski mode engage.
Posted on
Taking on the Chugach and AT Boots
I used the Dynafit Vulcan and Beast all season in AK last year. Skiing big lines in the Chugach with no issues. I felt no fear dropping into some of the steepest lines of my life, even with "Tech" Bindings and "Touring" Boots on my feet. The toe elasticity in the Beast is noticeable in variable and firm conditions and a serious upgrade over the previous static tech bindings. Since this is more of a boot review, the Vulcan never let me down. It allowed me to ski freely and also have the convenience of walk mode when stomping out LZ's or traversing ridges to ski lines the heli couldn't land us on.

PC: Mike Bachman Photography
http://mikebachmanphotography.com