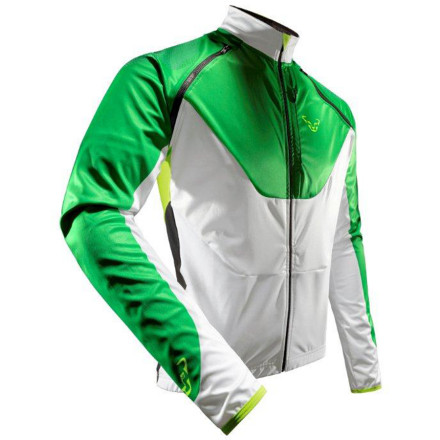 Detail Images
It takes more than devotion and stamina to go up, over, and across mountains—the Dynafit Men's Transalper Convertible Jacket is that 'more' you need. As you tackle the first few miles of singletrack, the Transalper meticulously regulates the moisture your body creates and dumps heat via key mesh zones. When you break through the cloud layer and kiss the first rays of late-morning sunlight, zip off the sleeves, stuff them into the back pockets, and start the final ascent to the top of the world.
Sleeves zip off to expose mesh arms underneath for optimal use in a variety of conditions and elevations
Stonewall three-layer fabric offers total wind and light moisture protection
Raised 3D Silica laminate at the shoulders limits wear from pack straps
Articulated yoke adds mobility in your upper back and shoulders
Integrated mesh panels in key hot zones offer ventilation to prevent overheating
UV protection helps reduce the chance of dehydration and burns from excessive sun exposure
Multiple back pockets for energy goo or any other accessories you may need during a ride or run
MP3 pocket lets you take the soundtrack with you on the trails or the road
What do you think about this product?
Have questions about this product?
A Lot of Jacket But Still Lightweight
Full Disclosure First: I am a Dynafit sponsored athlete. So I will only describe objective observations - both positive and negative - and will resist using judgmental words like, "better" or "best." But not many people have been in this stuff, so I will share my experiences.

The Transalper is truly a unique jacket. It is almost a new category of jacket. It clearly excels while you are pursuing aerobic activity in the alpine environment.

Material Weight / Hand: It is lightweight, but not featherweight. If you're familiar with Patagonia, it is lighter than a Simple Guide Jacket, but heavier than a Houdini or Nine Trails. It is soft to the touch - almost silky.

Weather Resistance / Breathability: What has surprised me so far is how breathable and comfortable the jacket is, and yet it cuts wind extremely well. I have worn this jacket on cold morning starts, and it has made a huge difference in allowing me to warm up. But what has been really neat is how long I keep it on for. I don't over heat or get clammy. It's more than a simple wind jacket, but it's definitely not a heavy soft shell either.

Pockets: There are a lot of pockets on the jacket. There is one on the breast. There are three in the back like a cycling jersey. There are two drop in pockets inside.

Size / Fit: The fit is small. In every other company's jackets I would wear a small for a jacket like this. In the Transapler, a medium fits me perfectly. I am 5'8", 140 lbs. I am thin, but not pro cyclist thin. If you are between sizes, go up one.

Sleeve Design: The sleeves can be pulled off the jacket with one hand by reaching across your body, over the opposite shoulder, and grabbing a tab on the back seem. It is easy to reach and find. When you pull on this, the zipper is separated and the sleeve is easily pulled down off your shoulder. The sleeves are then easily stuffed into any of the pockets.

But it doesn't actually become a "vest." There are still really thin, stretchy short sleeves attached to the body of the jacket. The material is almost like a thin rash guard used for surfing.

I have not been able to put the sleeves back on while still riding. It is extremely fast to put them back on, but you have to start the zipper in the back of the shoulder, so it is easier when off the body.

So far I have been using this piece intentionally, rather than bringing it "just in case." It has been an incredible "warm up" jacket, meaning I start with it on in the cold, but can keep it on a long time because it breathes well. Then I rip the sleeves and this has been buying me even more time before I have to stop. I find I can dress lightly underneath.