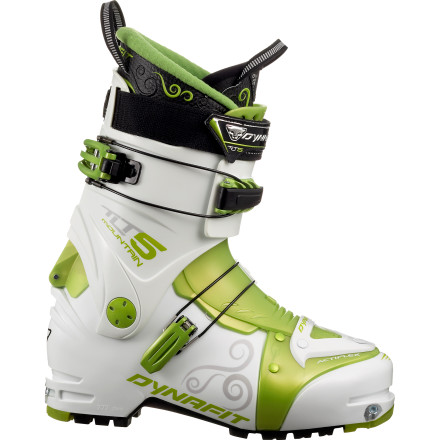 You'll be tempted to motor up the hill and mach back down on repeat in the Dynafit Women's TLT5 Mountain TF-X Alpine Touring Boot. It's light and speedy on both long-distance and short-and-fast climbs and tough enough for technical, steep descents and all-out downhill bombs. You'll have plenty of time to take in the beauty of the mountains, eat snacks and hydrate, and wait for your ski buddies. They are right behind you, aren't they?
Thermoplastic elastomer Pebax shell with Grilamid cuff affords lightweight climbing and ripping performance
An agile 4lb 14oz (size 25.5) or 5lb 2oz with Downhill Booster won't weigh you down on the hike
Downhill Booster tongue boosts support on steep, technical descents
TF-X women-specific liner is thermoformable for exact and efficient fit, warmth, and comfort
Racing-borne Ultra-Lock-System buckles allow for incredible cuff rotation and on-the-fly walk-mode transition
15-18-degree lean angle and 60-degree cuff rotation provides aggressive positioning and easy on-off
Compatible with Dynafit Quick Step-In binding
Compatible with crampons for climbing on rock and ice
Rockered, sticky-rubber Claw sole for comfort and sure footing on treacherous terrain
Claw outsole design allows for easy re-soling of the toe and heel areas when worn
Is the 24.5 shell appropriate for a women...
Is the 24.5 shell appropriate for a women with a size 7.5 foot?


Yes the 24.5 is the shell for a US Women's 7.5.
Hi, can you please recommend some bindings...
Hi, can you please recommend some bindings to go with these boots?

Thanks

Deb
You will need a tech style binding as these do not work in any frame style binding (Duke, Guardian, etc.). I do not know your exact setup or needs but I have the men's version of these boots and have them paired with the TLT Speed Radical bindings (http://www.backcountry.com/dynafit-tlt-speed-radical-binding?ti=U2VhcmNoIFJlc3VsdHM6dGx0IHNwZWVkOjE6MQ) on a pair of Dynafit Stoke skis. I find that to be a great backcountry setup. Note the Speeds don't have brakes so if you need brakes you may want to look at the Radical ST binding.
Thanks for the info Sandy! That's right,...
Thanks for the info Sandy! That's right, the 26 is 287mm, my typo. Back to the liner cushioning, is there more cushioning, and thus less volume, in the 26 liner (women's Mountain) compared to the 26.5 liner ? Thanks!
Correct. More cush/fill in the 26.0 vs. the 26.5
Hi, I am looking to purchase a TLT5...
Hi,

I am looking to purchase a TLT5 Mountain

boot for my girlfriend. She measures a 26 on a Branick device, and fits well into the mens Mountain (green) version of this boot in a 26 (297mm). My 3 questions are: 1. what is the Boot Sole Length of the women's version in a 26 shell? 2. Is there a difference in overall volume and width with the women's mountain boot compared to the men's when comparing, lets say a 26 to a 26? Oddly, it looks like it could be similar or the same with this great boot design. and 3. On the half size mondo point difference, I know the shells stays the same, but does the size of the liner change as well, or is it just the insole length change that comes inside the liner? Thanks an look forward to ordering here soon! Pete
Best Answer
Pete, The BSL of both men's and women's in a 26.0 shell is 287mm ( I ski in the 26.0 TLT5P). The women's liner is lasted for a women's foot shape. The lower shell is the same for men's and women's. The 1/2 size difference is in the liner(26.0 vs. 26.5). The difference is primarily in the thickness of the cushioning. Shell sizes change on the whole size.

Hope this helps.
Would it be silly to use these as you would...
Would it be silly to use these as you would normal plastic mountaineering boots?
Not silly, but probably not very practical. While these walk beautifully for AT boots, a plastic mtnrg boot will slog across the glacier much more comfortably. Also, "french technique"(significant ankle angle) for steep sections or traverses would be darn difficult.
It would also suck to walk downhill on an angle more than, say, 15-20 degrees with ski boots instead of mountaineering boots - the cuff rotation on any ski boot is not designed for you to be pointing your toes downhill with your body still vertical.