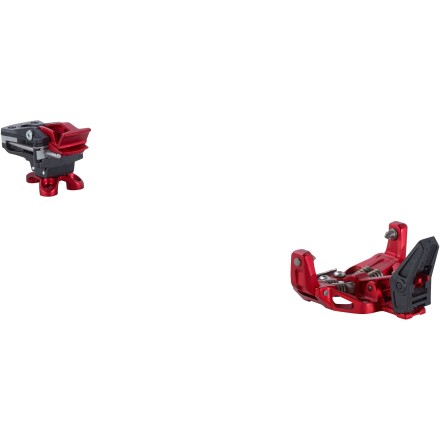 Community Images
Weighing in at a mere 185-grams and featuring a heel piece with an adjustable release, the Dynafit TLT Speed Superlite Binding delivers an ideal blend of minimalism and safety. Unlike other incarnations of Dynafit's ultralight tech bindings, the TLT Speed Superlite lets you set the release value of your heel piece for added safety while you're out there pushing your limits.
An adjustable screw on the heel piece lets you dial in your side- and front-release value for added safety (release value: 5-10)
Forged 7075 aluminum chassis keeps weight to a minimum without sacrificing performance
Sole-height screw lets you adjust the toe piece to fit modified racing boots
Four steel Torx screws for the toe and three for the heel save weight
Patented anti-snow grooves on the toe pivot of the binding allows the boot to gain rapid entry into the toe in all snow conditions
Mounted these on some BD Converts, love the weight and option of a heel riser. Mounted them on plates to allow for some adjustment and would recommend that to anyone.
Nearly-Perfect Minimal Touring Binding
Familiarity:

I've put it through the wringer
This binding is ideal for lightweight ski touring and ski mountaineering. It's not a Duke, a Beast, or a Baron, but it does weigh next-to-nothing, provides all of the clamping power that we've come to expect from dynafit, and provides a bit of release safety on top of their race-weight toe.



I've put thousands of feet on these bindings, and the only wear or tear that I've seen is a bit of anodizing coming off where my boot hits the risers. I suspect that the low reviews for durability are isolated cases, and dynafit has been amazing with their warranty in the past.



Of note, this thing is getting even better next year with a removable brake! That solves the only conundrum with this binding. You have to run a leash if you want to ski with the binding unlocked and not missile a ski. I primarily ski with them locked out, but appreciate that they can be unlocked for releasability when there is avalanche concern, etc.



This binding will pair perfectly with a Scarpa Alien, Dynafit TLT6, Scarpa F1 Evo, etc, and if you mount it up on a light ski, you'll be impressed with both the weight and the skiability.



Because there's no adjustability in the binding for boot-sole-length, make sure that you like your boot pairing and have them mounted at a solid shop. There shouldn't be play in the boot-binding interface if they're mounted up right.
GREAT minimal touring binding!
Familiarity:

I've used it several times
The ultimate combination of weight, performance, features and price for a serious touring binding!



Assuming you aren't dropping cliffs or using this binding inbounds, I find that it offers plenty of performance for fairly aggressive skiing on a relatively large ski (184cm 99mm underfoot dynafit denali). The weight is incredibly low (1/3 of a radical FT) for the amount of performance it provides. I have not yet had a pre-release nor have I crashed and tested its release capabilities (but it is comforting to know it CAN release unlike the low tech race).



I was worried about the lack of a flat tour mode but having high-articulation boots (TLT5 for me) makes it barely noticeable. In fact I find the lower of the 2 touring positions to be wonderful on low-angle skin tracks where the middle setting on a conventional dynafit binding would be a little high. The higher touring position works great on all but the steepest of skin tracks. Not having to ever rotate the heel during any transitions is very nice (just flip the heel lifter up/down and go!)



The extra heel lifter, releasability and $250 savings (and likely greater durability) for a mere 75gram weight penalty over the Low Tech Race makes it a great buy for all but the serious racer.



Only minor downside I have found thus far is the toe lever is harder to lock using your ski poles while standing up (being lazy and not wanting to bend down) than my old Vertical FT toe levers.



Leashes - I was easily able to attach a small, homemade leash to the toe pieces.



I have 16 days and just shy of 100k vertical on these bindings so far and have not experienced any durability issues.



Overall this is a great binding that I highly recommend and plan to buy again for my next pair of skis!
Besides +3oz and -$200, what do I trade off when going with these vs. the Sportiva RSR binding?
The way they make the RSR is stronger and stiffer. It is like comparing Snap-On Tools to Craftsmans, just better quality overall.
Best Answer
there are a number of additional differences:

>speed superlite (SS) has 2 heel lifter positions where as RSR only has one

>SS does NOT have an auto-locking toe where as RSR does

>SS has adjustable 5-10 release values where as RSR is fixed



I personally consider the speed superlite a minimal touring binding (how I use it) and a budget race binding where as the RSR is a full-on race binding
the best of the bunch!
Familiarity:

I've put it through the wringer
This has become my favorite Dynafit binding. Secure, reliable and super lwt. I am using them on two pairs of 110mm+ skis and rocking them every where from Spring corn and chutes to lift skiing. Worth every penny of the buy in IMO.
How do these ski compared to marker barons...
How do these ski compared to marker barons or dukes? Would I be loosing performance by switching?
Best Answer
They are completely different animals. These highly emphasize touring efficiency and low weight over hard charging. The Duke weighs 2780g per pair vs 368g per pair on these which is a 5 lb weight savings (2.5lb per foot). Additioanlly you need to have boots with tech fittings in them to use these bindings so that is another thing to consider. The release value on these is a 10 vs the DIN value of 16 on the Duke. There are countless differences to discuss but basically the gains are: low weight, efficiency of stride, and ease of use, pivot point in its natural location rather than forward of the binding. The losses are: weight;-) , high DIN value, ability to use Alpine boots, and a the myriad of problems that accompany heavy frame bindings with inefficient stride mechanics.
I do have Black Diamond quadrant boots which are compatible with dynafit. But do you loose performance on the descent part of the skiing experience?


Again its really a different experience altogether. The Speed Superlights will not ski as well as Dukes and they aren't designed to. They are designed for light weight and competent descents. The idea is with less weight you get more laps so in the end you should have more fun!
They don't compare. Excellent release ability but a huge drop in weight.
I think they actually ski better..a lot better than a Duke.
How does Release Value compare to DIN? My...
How does Release Value compare to DIN? My DIN setting is below 5 does that mean that these bindings will not release when they should?
Best Answer
Ellen, Release Value and DIN are close to synonymous. Due to AT gear's non-standard binding interface, the companies don't use the same nomenclature (DIN) as Alpine gear. That said, the adjustment table used by Dynafit is the same as the alpine DIN table. If you are sure that you should have your Release Value below 5, this binding may be too "stiff" for you.
B&D sells aftermarket heel springs to reduce stated release values below 5. Not approved by Dynafit, but definitely an option.
This an a very reliable binding for release and retention in the 6 and up numbers. Not sure I would use it if you are 5 or lower without changing out to the lwt spring kit.
FWIW on one pair of mine I have been skiing a 4 setting..and need a DIN by the numebrs ofa 7. Not that a 4 is a strong setting it isn't. But the binding has been reliable and forgiving at a 4 for me...@ 190# Most impressed.
Can the heel piece on this binding be...
Can the heel piece on this binding be rotated to allow the heel to sit flat while touring, or does it only operate in a raised mode similar to the race heel pieces? I'm interested in something lighter than the Speed Radical for a lightweight setup but I don't think I'm willing to live with the limitation of having to tour with only a raised heel.
Best Answer
Josh, The Speed Superlite only tours in the raised-heel mode. The idea was to have a race-weight and lower cost binding with DIN release.
Sandy, thank you for the prompt reply. This binding is very tempting at $449, but I'm not sure how much I'd be bothered by only being able to tour in raised-heel mode since the tours I do often involve a start and finish along a stretch of flat, snow-covered forest road. Choices, choices, hmm....
Tours only with the lower lifter...comfort will depend on your choice in boots. Using a TLT5, 6 or a race boot? Touring on flat ground is no problem withthe timny bit of heel lift the lowest elevator demands. The comfort in other boots will depend on how much rotation the cuff offers. More the better.
Not what I expect from Dynafit
Has anyone used these yet? I just played with a pair and the pins on the heel unit are very loose and allow a tone of movement in the boot binding interface. Nothing like other dynafits I have used. I really want a pair but am worried about the play in the heel unit.