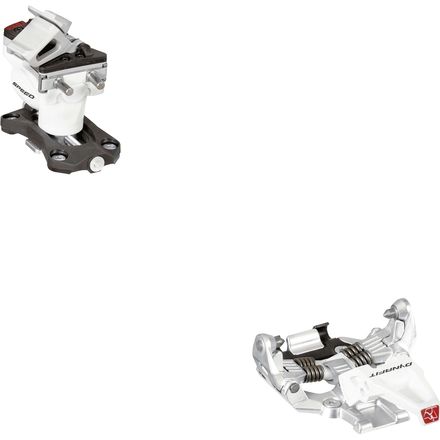 Community Images
Description
Lighter and faster than ever.
Built to be light, fast, and super-simple to use, Dynafit designed its TLT Speed Radical Binding to withstand the forces of traditional alpine touring and maintain the low overall weight that ski-mountaineers demand.
A combination of forged aluminum, CrMo steel, stainless steel, and high-strength plastic provide plenty of strength and keep overall weight low (341g)
No plate under the toe means that power gets transferred to your ski more directly
Speed Step heel-height adjustment system activates easily using your pole tip
Slideable heel piece allows you to gain or lose 12.5mm of length without remounting
Torx (steel) screws save weight and are ultra durable
Guide leashes included
Are the Speed Radical bindings you have in stock all the updated models with the added anti-rotation device in the heel?
"Update: All Speed Radicals now come with an anti-rotation mechanism that is mounted under the heel to prevent accidentally going into ski mode while skinning."

Yes, they have the updated anti-rotate attachment.
light and strong
Familiarity:

I've put it through the wringer
Love this binding, I have had many pairs of previous dynafit bindings but this is the best so far. Updates to the heel lifts are great, they do take a little getting used to, but once you do, its great. Haven't had any issues with pre-releasing. Very light weight
How do these bindings hold up in inbounds skiing? Looking to get into AT, but also will be skiing inbound most of the season.
Hi Ty,



I wouldn't recommend these for inbounds skiing. Give me a shout and we can talk about some options that will work for you. Namely frame bindings or burlier tech-style bindings.



Ben

brabinowitz@backcountry.com

801-746-7564
So light and strong!
Familiarity:

I've put it through the wringer
This is my go to touring binding for more technical missions here in the PNW. If you're doing lots of miles and technical descents this is a great option. I have never had a pre-release issue or any other wear related issues and have skied these a fair amount in the backcountry with lots of skinning. My version has the anti-rotation solve from dynafit which IMO 100% solved the problem of the binding accidentally rotating while skinning. The toe is super easy to step into, some people are a little scared the first time to go brakeless but once you do and lose the extra 2-300 grams you'll never look back. My only complaint with this binding is that the ramp angle you get out of the box is too steep for me. This is the same toe unit as the dynafit ST but doesn't have the plastic base plate that would help lessen this ramp angle. I went and bought the ST plastic base plate and had this mounted underneath my toe pieces and this significantly helped reduce the ramp angle and make the bindings have more of a traditional alpine binding angle which is more comfortable for me to ski. Just make sure you also get longer screws for your toe piece if you plan to do this mod.



Overall, very impressed with this binding. If you're going to be doing long tours and need a reliable binding that is time-tested and issue free, give this guy a shot. Since it is an option that has been around for a few years you can often find deep sales on this option, so very economical. I have the binding on K2 Waybacks and Black Diamond Currents.
Should have gone to breakless years ago
Familiarity:

I've put it through the wringer
Really enjoying the breakless TLT Sped Radicals. Despite the weight, these bindings are still way burly than people give them credit. Cutting out the breaks from the equation sheds a little extra and this really adds up over hours and hours on the mountain. I'll never go back to breaks again!
Light is right
Familiarity:

I've used it several times
Working great so far. I do miss the brake a little bit, because I had a run away ski :-0
Need for Speed.
Familiarity:

I've used it several times
Dynafit's TLT Speed Radical Binding is unlike any other binding I've ever skied with. This thing is surprisingly secure and performance-driven for how light it is. As my first pair of tech bindings, I'm amazed every time I clip into these beauties. My toe has yet to come off on the skin up, and I believe all the other skiers who commented negatively on this product forgot to crank the latch in front of each toe piece. I love the heel piece's innovative construction that's easy to use, adjust the heel risers, and click in. I've only lost my skis on the downhill once so far, and it was totally worth it. In an avy class, an instructor recommended not attaching the leashes in case an avalanche takes me down with the skis. What do you guys think of that?
It's worth noting that the Speed Radical isn't as beefy as the ST or FT. However, you can still jump off of things on them (toes locked, for what it's worth).




Solid and light
Familiarity:

I've put it through the wringer
Great AT binder. I am a former ski racer, I go downhill fast, and I have never had a problem with these guys pre-releasing, even on high-teton death crunch. They go uphill stupid fast and the climbing bars are very easy to use.



My only complaint is that the heel piece is not multi-directional like the old heels. Because of ice build-up I often have to turn the heel back the way it says not to, and I have no idea how bad this is for the binder. However it looks like this years model has a little block that prevents turning back that way. Otherwise, great binder.
Do not use with Scarpa TX Pro Boots
Familiarity:

I've used it several times
I bought these as my first Alpine binding. I'm a tele skier that recently converted to NTN. Given that Scarpa's TX Pro is tech binding compatible I figured I would attempt to use this ridiculously light set up for back country tours. I was not impressed.



I used the spacer provided by Scarpa and even had Scarpa send me a different sized spacer but despite this I was auto ejecting all over the place.



I used them once in bounds and once on a tour. In wet snow the rear tower would ice up and be difficult to rotate back into ski mode. Also, the spacer (the hockey puck looking thing that goes in the crampon slot) really needs to be removed during all tours because mine had a tendency to fall out on its own.



Being a former cable binding guy, trying to stay super light and handle stepping in without brakes should have been a no brainer. Well I sucked at it. Maybe getting used to Dynafit bindings takes time, but it was much harder than expected.



The big kicker, and the reason I had to return them, was the fact that going over the smallest rollers would cause me to pop out of my skis. I think this is because the boot is flexing against the bellows because of the spacer underneath. If you notice, the TLT Speed Radical's toe binding is NOT mounted on top of a black spacer (that you get with the TLT Radical ST). Take a look at the photos and you'll see what I mean. The front of the TLT Radical ST is about 4 mm taller than the speed radical. My friend recently got the TLT Radical ST and uses it with his Scarpa TX Pros and has no issues. I believe this is because the included spacer works appropriately with the binding at this slightly elevated height. You might suggest skiing without the spacer if it is causing the boot to pop out of the bindings. Well then in powerful turns the sole length will shorten because of the flex of the bellows.



If you don't believe me, watch the included video I shot demonstrating two of the problems. I was so frustrated with popping out of my skis while just going down some groomers that I decided I would ski in tour mode and 'lock my toe down.' Despite this step, I was still popping out. You'll notice that the right boot won't stay in tour mode (because of ice getting under the binding, another problem that limits the use of this binding). The left boot easily locks into tour mode. Then I do a little bounce test just standing in place, not much force at all, and whoops...ski comes off. The right ski also popped off but you can't tell that in the video.



In the end, I'm sure this binding rocks if you have the right boots but DO NOT PURCHASE IT if you're trying to use it with tele boots with tech inserts. Go with the TLT Radical ST or another tech binding. I would have given this one star if it wasn't for the incredible light weight that still made this thing a joy to skin with. I felt like I was cheating.
If your a mountaineer - Do NOT buy these
Familiarity:

I've used it several times
Got these thinking they were the business. I was to become roadrunner in the mountains. However on aproaching steepish slopes ascending hard snow (20-30 degrees) the bindings would automatically release leaving me in some bloody precarious positions. This was with the DIN set to max. This happened in excess of 10 times over a day - By the end I was ready to throw them in the bin. Im pretty chilled most of the time but these failed to impress me and are bloody dangerous if your in no slide zones and you ski hits the eject lever !!
What's that? Can't hear you, I'm up here
Familiarity:

I've put it through the wringer
What's the difference between going to Shralptown USA and being tired and sad? - Not having the winged dynafit snowleopard strapped to your boots.



True, Time, and tested - these things are so simply light and efficient it makes it hard to want to really ski alpine bindings again.



The ability to have some room for boot adjustment has allowed me to move to a different shell size without the worry of remounting.



I've done a bit of personal product testing on these by hitting decent size airs, sub 10 feet, and have come out on top each time.



And going to town on some hard, chalky snow makes these things legendary.



Dyna. Fit.



Pic - nearing the top of Suicide Chute, Wasatch Range UT in the early morning light - not feeling a thing in my legs on the up, and about to have one hell of time on the way down.


Simple and Reliable
Familiarity:

I've put it through the wringer
I've been riding the Speed Radicals all year from Chamonix, to Canada, and a tone of time in the Tetons. They have yet to fail me. To me, brakes just get in the way often, plus in Pow they won't really stop much anyways. Just adapt your clicking-in routine, when sketchy I hold the ski with one hand and click in at the same time.



These binders are super light and love the uphill, but will hold their own on the down. Keep your weight over the ski and there won't be any problems.



The only mod I like is to add a lift under the toe. The ramp angle is set heel high, but I find more comfort with flat ramp angle.
Hi, I have a pair of radicals but don't...
Hi, I have a pair of radicals but don't want to be leashed in if caught in a avalanche. Also they can be dicey to put on when on a steep slope. Can I add brakes to the radicals?
Best Answer
You cannot add brakes, and yes they can be dicey to put on when on a steep slope. A tactic I have been using is this: I lay them down on the snow and clip them into my boot. Get both skis on, then just clip the leash back to themselves once I get them on my feet. To be honest though I havent even used my leashes in a year. I do get scared but, when I am on a steep slope I am sure to chop a good step and never let my hand leave the ski and always put on the downhill ski first as it gives you more stability to stand and get your uphill on. I recently had to go to a skimo race and they made us use these like dinky cordage leashes with non-climbing mini biners, those would definitely tear away in an avalanche. Maybe the leash that comes with these are just a bit beefy use something with a breaking force of 200lbs.
I clip my leash to the bar on my front boot buckle (Maestrale)... Confident it'll rip my buckle off before my leg off... Had a huge "snowboarder on backside edge not looking where he was going" enduced stack last weekend and came away OK...
I have tested the leaches pretty extensively, and found that when the forces are really high, i.e. high speed crash, the leashes will break. At lower speeds though, they will keep your skis close.
Max, how have you tested the leashes? Were they designed to break away in an avalanche. My friend and I were considering designing a breakaway linkage in the system.
Fast and Light
Familiarity:

I've put it through the wringer
The TLT Speed Radical is a great binding for backcountry skiers looking for something lightweight and great quality. I'm 6'4 and 210lbs, and these bindings work well for me. That being said, I've popped out a couple times when I shouldn't have. I love these because of their weight, but I'd go with something different if I wanted power. The leash takes a little getting used to if you're used to a brake, but I prefer them now. Bottom line, great binding for the majority of backcountry skiers.
Great binding!
Familiarity:

I've used it several times
These bindings are light weight, tough, and easy to use. These are my first AT binding, and I love them!
Is this enough binding to power a 120 mm...
Is this enough binding to power a 120 mm wide BD Carbon Megawatt? I pretty much only use these skis for BC in Powder.
I have that exact set up. Since you'll be skiing the megawatts in powder...power from boot to ski isn't an issue. And, in reality, the binding is the least of your issues. Running a softer boot with a giant ski may provide some "lack of power" before the binding will. That said, I ski the 188cm megawatt with TLT6 boots and they shred.
I don't need no stinking brakes
It's amazing, I always say I need brakes with my fatty skis, you know in case they come off when I am pushing my boundaries and skiing hard... But every time I have only had brakes on my Fatty skis (125mm through 98mm) when I lose a ski and it's pointed downhill in powder I witness the efficiency of today's powder skis, when I see it rocketing off below... They just float up and best I can tell is I think those little brakes seeming are for show for the resorts... So the only thing that really works is leashes... Why waste the weight on a powder ski... The radical speed is all you need...