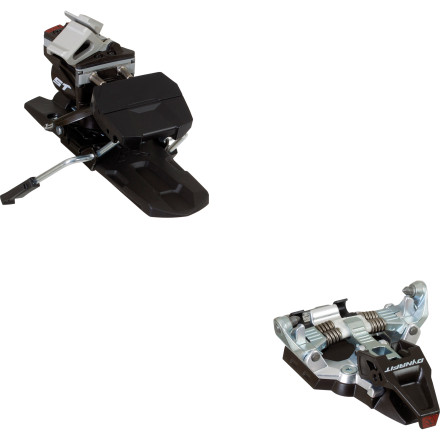 Colors

Community Images
Description
The name might be straight from the '80s, but the tech is definitely 21st century.
Designed with a 100mm brake and gliding heel plate for improved releasability, the Dynafit TLT Radical ST Binding excels at backcountry touring and ski-mountaineering adventures.
A combination of forged aluminum, CrMo steel, stainless steel, and high-strength plastic provides plenty of strength while keeping overall weight low (531g)
The six-millimeter plate under the toe aids turnability without sacrificing power transfer
Self-guiding wings allow for quick entry
Speed Step heel-height adjustment system activates easily using your pole tip
Slide-able heel allows you to gain or lose 12.5mm of length without remounting
Stopper with gliding plate provides better side release in the event of a spill
Torx (steel) screws save weight and are ultra durable
Share your thoughts
What do you think of the
Dynafit
TLT Radical ST Binding
? Share a...
I am wondering which Dynafit TLT Radical ST binding (breaks)would work best for my new Salomon Q 103 Stella's?
Hi Eve,

I think the 110mm brakes would work great with your Stella 103's.

Ben
brabinowitz@backcountry.com
801-746-7564
if I have G3 Cakes that are 100 underfoot, should I get brakes that are 100 or 110 wide? (Specs 132-100-123)
Hi Courtney,

I'd go with 100mm brakes and bend them out a tad to make them fit perfectly. 110mm wouldn't be an issue either.

Ben
brabinowitz@backcountry.com
801-746-7564
I've got a Manaslu with 95 mm under foot. Is the 110 mm wide brake too wide?
Probably a little wide. How far back will the binding be sitting and how wide will the ski be at the point where the brakes are?

I would go with the 92s. They are designed to stretch a few mms, up to 8 mm I believe.
So far so good
Familiarity:

I've put it through the wringer
I've had these mounted on my Dynastar Cham 107 High Mountains for all of last season and haven't had any issues with them. I finally took the plunge on these after a couple years of touring in Marker Dukes and the change is incredible. The weight savings over a frame style binding are incredible and really make a difference in how fast and long you can tour for. These are easy enough to mount and to get used to using, although it is a bit of a change over traditional alpine binders.

Being a bigger guy (220# / 6'1") I was a little concerned about the durability and power of these bindings, but I've been pleasantly surprised. I skied on these more than any of my other skis last winter, including several days at the resort in thoroughly mediocre conditions and have not had any concerns with over skiing these or concerns about their durability. The only time I had a somewhat surprising release was when I (somewhat lightly) hooked a log in the trees. Not sure if my alpine binders would have released on that one, but I was fine with the toe popping open on my Dynafits (I didn't have the toe locked up)

When I first started skiing these I did notice a bit of a difference in how these ski vs. alpine binders, but I think the biggest single difference is that your skis feel a LOT lighter with Dynafits vs. alpine binders. Not necessarily a good/bad feel to them, just different
These are chill.
Familiarity:

I've put it through the wringer
A great, light weight AT binding. They haven't popped on me unexpectedly.

I've been most happy with them during the ascent. After a little practice, switching between the different height adjustments in the heel is a breeze. Absolute climbing machines.
This may be a silly question but will the 110mm width be suitable for Voile V8s in the 165cm length (which have 107mm underfoot)? Thanks.
The 110mm width would be perfect for those 107mm V8s!
Unanswered Question
I got new Volkl Two's, 124 mm underfoot in one hand, and a pair of Radical ST on the other.
So question one is: is it possible to replace for the wider 130 mm brakes?
And question two: will the ST work right in the 124 skis? I am 181 cm - 90 kg (sorry for metric), not agressive skier. I will be skiing maritime (Chile) powder, tracked or wet deep, and some breakable crust. I could use alpine bindings, but got these at home and it'd be a plus to use them to reach "that remaining line".
What gets me to think twice is I've got several preleases on previous Gotamas, including the one that ultimately made me shelf the ST's. In favor now is I'll be hitting almost no ice or badly hard snow with these boards.

Less Weight = Faster Turns
Familiarity:

I've used it several times
Some great feedback from Andrew W. out in Colorado:

"The Dynafit TLT Radical ST Bindings bindings are great in so many ways. First, the weight difference: I went from an old pair of Marker Baron's, and the weight difference was huge. I have noticed no difference in the performance, and I love how lighter my skis are, especially in the thick and heavy snow, in steep trees. Second, less moving parts: With the Dynafits, there are less moving parts, and less places for ice and wet snow to jam into. Getting in and out of the bindings, as well as switching modes is quick and easy. Third, peformance: I don't jump cliffs, but I ski everything else. I was originally concerned about performance going to such a small binding. However, I have noticed no difference, other than the weight. And less weight means faster turns.

Two minor downsides: First, you can get a false positive when engaging the binding. So, you just want to be careful so your ski doesn't drop in before you do. Second, the "breaks" are disengaged when in uphill mode. I don't consider this a show-stopper, but just something you might want to know. However, for both of these issues, I just took two old leashes from my tele-days, and keep the boot and ski connected in the event I might have concern. "

Any questions about Dynafit or other touring bindings:
klivingston@backcountry.com
801-736-4337
Climbing Machines!
Familiarity:

I've put it through the wringer
I have spent too much time touring with Fritchis. After skiing some steep spring snow this review will focus on the uphill portion of the product performance. First of all, if you are concerned about bump skiing or lift service skiing stop reading and head to the saloman or marker page. If you are into lightweight and a serious improvement in skinning uphill performance this is your binding. Wow! is my first reaction. I flat out crushed some long tours in central colorado on both spring and cold snow surfaces. I was amazed at how steep I could skin and Z-turn up slopes. Purely pleasant and fun. Much better than my Fritchis. Drawbacks: The fritchis were easier to get in and out of. They are easier to switch back and forth from ski and walk mode. So what. I am selling the fritchis.
I am so in love!
Familiarity:

I've put it through the wringer
They are light weight and durable! I have put many days on these bindings in the back country and I couldn't be happier. I am a 150lb built female and I consider myself an aggressive skier and the 4-10 din setting is perfect. I haven't done any crazy cliffs, I have done some small jumps and drops and they have held up really well. I only had one miner fall this season and they remained clipped in which was fine, it was weird snow and I wasn't going fast. I have had no problems skinning with them so far and I am excited for more spring corn. I highly recommend these bindings!
Works great. Super light but solid!
Gender:

Male

Familiarity:

I've used it several times
Changed from a Salomon Guardian to these. What a difference in weight. I'm a pretty aggressive skier but weigh only ~160 lbs so the binding feels really solid (the guardian was overkill). I also bit it pretty hard at ~40mph and the binding released very predictably...no injuries! I mounted it myself with a template on from the web and the torx screws helped make this easy. I'm sold, and just picked up another set for my wife.
great binding for all around touring
Familiarity:

I've put it through the wringer
I converted to Dynafit from Fritschi. So far this season, I'll bet I have roughly 40 days on them. So far, they're great! I started out on a pair of freeride pros, which I loved until I broke the torsion plate. I'll admit I was suspicious of the light construction. However, after several long tours I can't imagine riding on anything else. DIN settings on the STs range from 4-10, which is perfect for most unless your sending mondo cliffs on a regular basis. So far, my only gripes are my boots seem to pop right out much too easily while in climbing mode (even with the tab locked in). That and the fact that the brakes don't seem to be very effective. That is one of several features I miss about my Fritschis. These brakes tend to no be very effective in softer snow. Other than a busted Anti-Friction device which may or may not have been my fault, these binding have operated flawlessly. Definitely worth the hefty price tag if you want to shave some weight and save your legs for some downhill shredding
50 Shades has nothing on these bindings
Familiarity:

I've put it through the wringer
Perfect set-up for all around touring and ski-mountaineering. I have also had about 40 days in them this year. Lightweight, easy to use, and bulletproof - defines classic design. The 10 Din also means you can shred some descent stuff without any (or at least) much fear of popping your bindings. The only downside is the cumbersome transition from ski to skin mode - you have to come out of the binding. For extra security in steep or no-fall terrain I have also found that locking the toes in the "up" or skin mode gives some added piece of mind.
Lightweight, robust, and versatile.
Familiarity:

I've put it through the wringer
I have skied about 40 days in them and I'm getting a new pair for my wife's skis. Radical is perfect if you are looking for lightweight bindings without sacrificing downhill performance.
They are a nice balance for an alpine setting. The DIN setting of 4-10 is sufficient for even a big aggressive skier unless you jump off cliffs regularly. They are slightly heavier than the Speed version but I like the fact that they come with brakes, which gives me some peace of mind when transitioning in a tight and slant spot. I had skied in a Fritschi binding for a few seasons before and when I first converted, I was a little suspicion about the downhill performance. That suspicion has been completely eliminated after a few runs.
2nd pair
Familiarity:

I've put it through the wringer
Just bought my 2nd pair and have them mounted on 114 width J Ski Friends. No issue what so ever.
Anybody have any luck getting any kind of service from dynafit after the warranty has run out. My bindings are 3 years old and one of the heel units came apart out in the back country. Obviously a manufacturing defect as I put very little stress on this binding as I am only 150 lbs. Back country was no help at all and the dynafit company was even worse.
Hey Mike,
Dynafit handles all of their warranty issues directly. However, feel free to email me, so you have a point of contact here at Backcountry, and I will assist you as much as possible.

Sincerely,
Emily Jenson
ejenson@backcountry.com
Feels safer than the verticals
I am definitely sold on dynafits! But after 5 years on the verticals I am so grateful I finally coughed up the cash for the radicals. I can now easily and very QUICKLY flick between riser levels, instead of fumbling around and awkwardly bending down like I had to do with the verticals. The one drawback I found was (luckily) on the first day I got them mounted and was trying them out in-bounds. Somebody next to me on the chairlift knocked me down when we were unloading, and one of them popped off. Come to find out I could make both of them pop off easily by lifting my leg to the side and kicking down on the inside edge of the ski against the ground... with the din set to 8! I readjusted all the dins to 10 (learning in the process that each binding has 2 separate din settings), and the problem reduced. But now I'm a bit nervous that they won't come off when I would want them too. Overall, love these bindings, they were worth every penny!
Ease and lightweight
Familiarity:

I've put it through the wringer
Great touring binding. I've used these for the past year and they have held up well. I've hit cliffs, jumps, and skied hard on these and have been pleasantly surprised with the durability and feel of these. While hitting jumps the heel piece has popped off a couple of times and I can't quite tell if they popped off because of landing too far forward or if they popped off and caused me to fall forward. The toe piece has never come off during a fall, however.

This is the first true lightweight touring binding that I have owned and can now say that I doubt I will go back to a heavier set up. Easy to use, quick on the changeover, and a great binding over all. Love hiking with a lighter set up!
Standard Dynafit
Familiarity:

I've put it through the wringer
Lightweight and easy to use. We've used Dynafits for years and still like them. The new flip heel lifts are easier to use the the old twist style but miss the ski pole turn to ski mode.
if you find yourself carrying a heavy pack and hauling a sled full of boxed wine several miles to a yurt, you probably don't want a heavy touring setup... These are awesome - VERY lightweight, sturdy, and simple to use (coming from someone who had previously only been on downhill bindings). The two heel risers can be flipped up and back with your ski pole, and you can switch from walk to ski mode without taking off your skis (although this requires a certain level of coordination...) I'm using these with Dynafit boots, and I haven't had any issues with the pins connecting to the toe piece so far. From a downhill perspective, I've felt confident skiing these for everything I'd ski with my resort bindings. Awesome bindings!