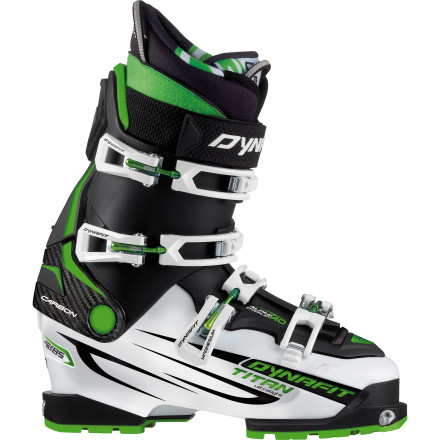 Community Images
On the skin up, you want your boot to be superlight. Feather-light. Half-a-feather-light. On the way down, you want bomber stiffness and support. Welcome to the Dynafit Ultralight Titan TF-X Ski Boot.
Carbon Fiber heel boosters efficiently transfer energy to your glides as you hike and hold firm during sketchy descents
Alpine overlap or walk mode optimizes range of motion for longer more efficient strides
Pebax tongue flexes smoothly and consistently as you pass your skin track on the way back down
Thermo-moldable TF-X liner insulates your foot and allows for a fit custom to you
DynaGrip Ultralight soles provide excellent traction when walking across slippery rock to get the line you really want
First off, let me say that BackCountry.com has been great! I spent quite a bit of time on the phone both with sales and with the shop guys before ordering several items including these boots. So appreciated the insight given! I even needed to exchange these boots for half a size smaller and it was a pain-free experience!



After getting the liners dialed in (heat molded to some pressure points / red zones in my feet), I headed out for a break-in day at the resort.



These boots are powering a set of Rossi Super 7's (which are 116mm underfoot) via a set of Dynafit TLT Radical FT Bindings. I found them to be super light when we hoofed it a bit in the side country, and plenty stiff when charging downhill! I had no difficulties what-so-ever controlling my skis.



I'm still getting used to my setup, but so far, these boots have lived up to my expectations.
can anyone firsthand compare downhill...
can anyone firsthand compare downhill performance of these to the ONE PX? also the differences in the stock liners of each - as they do seem quite different.
great comparison near the bottom of the comments at WildSnow here:

http://www.wildsnow.com/7345/dynafit-one-boot-review/#comment-54960
First off, I don't have much to say about the stock liner as I immediately replaced it with an Intuition liner. I find these boots fit my foot way better than all of the newer Dynafit boots being made (e.g. Vulcon, TLT, One, Mercury). These boots are extremely light for how stiff they are and how well they ski. I find that the walk mode is plenty good enough for super long days in the backcountry.


Pretty pleased
Gender:

Male

Familiarity:

I've put it through the wringer
I picked up these boots mid-season last year and have quite a few days on them. As advertised, they are good and stiff for a touring boot. nice lateral power transfer, doesn't feel like they are over-powered by bigger skis (I'm on Armada JJ's, 115mm underfoot).

They are VERY light. I'm more than impressed. They only boast 30 degress of rotation, but I found that these boots have plenty of rotation, and I have a longer-stride skinning style which usually requires more rotation (as I've read multiple times, don't get too worried about degress of rotation).



My only quips with the boot is that it doesn't necessarily fit my foot the best. I have a wider foot, and from what I've gathered, other people have found that these boots fit narrower than, say, Scarpa Maestrales.

Also, and this isn't always prevalent, the cuffs will catch a bit when I'm skinning. This doesn't really affect performance, but it's slightly annoying.



As other reviews will mention, the plastic on this boot (Pebax) is soft, so be careful that you have the front cuffs in correct alignment when tightening the buckles, being as the plastic will deform fairly easy if you're not careful.



Overall, I'm pretty stoked on these
Whats the FLEX of the boot? Is it comparable...
Whats the FLEX of the boot? Is it comparable to a regular alpine boot? Thanks
Best Answer
My good friend owns this boot and its definitely comparable to a 120 or so flex in an alpine boot. Dynafit did not put an actual flex number on their site http://www.dynafit.com/product/shoes/titan-ultralight . Sometimes companies choose not to put a flex number because there is no set standard at this point.
Thanks for the answer. I wanted to buey the BDQUadrant but I was told that although they soy flex 120they r much sortear than alpine boots w the same flex
I'd have to agree with Bill based on my own experience. These are probably in the 110-120 range, although if you're comparing them to a stiff alpine boot, you will certainly notice a difference (as you would with any AT boot).

Here's a link to a really good review/discussion of this boot, as well as a discussion of the difference between AT and Alpine boots in general (the meat of the discussion is in the comments section):

http://www.wildsnow.com/6499/dynafit-titan-ul-review/
Fit compared to Lange Banshee pro? Looking...
Fit compared to Lange Banshee pro?

Looking of swapping to dynafit binders and boots. Don't have access to a local store. How do dynafits compare to a Lange?
Best Answer
The Lange Banshee has a 98mm wide last. Officially the Titan is 102mm, but everyone agrees it feels much tighter. Obviously, last width isn't the only measurement that defines "fit". My guess is that these would feel pretty similar. Differences could be worked out by a good bootfitter. Plus, Backcountry has an awesome return policy.
Enjoy!
Thanks Sandy - went with the Titan UL's and picked up some Radical FT's too!!
Well I have spent almost 50 days in these boots.



They have a great fit, but I have been finding more issues with them the last few weeks.



They have a very low cuff in the front. Compared to a alpine boot which is higher in the front, the titan has a low cuff on the tibia and I found I wasn't getting nearly as much cuff pressure when skiing . Not only that but I found that I felt like I was going to go OVER the top of the cuff.



The other issue I have found is that the boot leaks in the toe. Every single time I take the boot out, my liners get soaked in the toe and my feet freeze.



The fit is amazing and the boots are nice and light, but I think I am going to be moving on from this boot because of the other issues I have had.
Is this boot compatible with alpine type...
Is this boot compatible with alpine type bindings, such as the marker duke?
Looks like the Ultralight is alpine-compatible.
Best Answer
It is compatible with full Alpine DIN bindings (replaceable toe and heel units are in the box). It is also compatible with any AT binding, tech system (Dynafit, G3, Plum) or frame system (Duke, Baron Marker Tour, Fritschi).
Hello. Can anyone please tell me what the...
Hello. Can anyone please tell me what the boot width/last dimension is, in mm, for this boot. I can't find this information listed anywhere. Thank You
Titan Ultralight Vs Titan
I was able to demo the Titan till my Ultralights showed up, Some things to think about compared to the normal Titan- plastic used on the ultralight is way easier to get in and out of in the cold, the liner on the ultralight fits a bit bigger mostly it just feels softer so it seems to have more room this is nice and all but to help lighten the weight they do not have an option to put laces in the liner so being a little looser fitting and no laces my heel slips a little more on the up hill when the top buckles are loose, Not that big of a deal just something to think about.
All that aside I really like this boot its fast on the up hill super stiff on the down hill.
Trouble with big feet...: need a pair of...
Trouble with big feet...: need a pair of stiff-ish rondo boots. Have a pair of dynafit 4s tourlites and they are just that...light! Too soft. Great for touring, but horrible to ski. The crux is my US 14+ shoe size. I can fit a 13 on occasion. Scarpa Maestrale makes a 31.5. Any one know of another big footed rondo boot out there??
The biggest Dynafit gets is 30.0. The largest volume/width series is the Zzero/Green Machine. BD has a reputation for wider fits. They stop at 30.5.
Is there a women's model of this boot? ...
Is there a women's model of this boot? Would the Titan work for a middle aged woman that wants light with stiffness?
The women's model in this series is the Gaia (http://www.backcountry.com/dynafit-gaia-tf-x-ski-boot-womens). It's lasted to fit a woman's foot and calf shape. If you want to go lighter with similar power, there is the Zzero4-U (http://www.backcountry.com/dynafit-zzero4-u-tf-ski-boot-womens). You do lose the ability to switch soles between AT and alpine bindings.
Just bought these as a beefier replacement for the Garmont Mega Ride. The initial impression is that this is going to be a great touring boot which will handle the downhill (particularly in variable conditions) very well. I am excited to ski these. I cannot throw in a full review yet, but think that certain folks should be mindful of the fit. I have a low volume, narrow foot and these fit me great. I had to trim my footbeds quite extensively just to get them to fit. I am talking about a 29.5, but assume the last is narrow through the line. I view this fit as a major plus, but if you have a beefy, wide foot you will probably want to try this on, and/or expect to do some boot work. For comparison sake, and to get an idea of the narrowness of my foot - my alpine boot has generally been a narrow last with a foam bladder required to take up the room. More with respect with on snow performance when the snow flies!
How many times are you actually able to...
How many times are you actually able to swap between the Alpine and AT soles? I know that the actual thread section on the boot is plastic. Wanted to see if anybody had any longer term or multiple use attempts in swapping the soles (And the potential mis-thread and stripping of plastic)
As many times as you want, as long as you don't strip out the connecting screws.
I swapped them back and forth about 15 times (at least) last season on my ZZeuses. They started to strip a little and the soles didn't hold as tight. If you switch 1-2x / year, it's cool. But it's not something you want to do a lot.
i've swapped the soles once. there is play between the boots and the soles after a year of skiing. i was told by a shop owner i could epoxy the soles on to get a better connection, but then whats the point of having swappable soles you can't swap, even if i don't.
Hi, I wear a 26.5 in BD boots, and live...
Hi, I wear a 26.5 in BD boots, and live in Juneau AK, where I have no access to a store to try things on (bummer). Any idea about fit? Also how stiff are these in comparison to say the Factors. Definitely willing to loose a little for the weight decrease, but I don't want to make a mistake on getting them.
Best Answer
Fit: The size is likely to be the same unless you are right at the edge of fitting in the 26.5. Typically, the BD boots have a little more volume/toe width than Dynafit. If necessary, everything is modifiable with a good bootfitter.
Stiffness: The Factor comes in a 110 and a 130 this year. The Titan is at least as stiff as the 130. Be careful with these stiffness ratings. There is no standard, so the numbers really only reflect relative stiffness within a single brand.
Hop this helps! Enjoy AK
Brad,
Just picked up a pair from BC. I love the fit of these boots, but they are narrow. I have narrow low volume feet and they fit like a glove. I also own a pair of BD Quadrants which I feel have a little bit more room in the toe box and a wider fit. Boots are super light and have a great feel. Looking forward to grabbing a few turns this week.
Hey Brad, you probably ordered a boot by now, but perhaps this will help other customers: These can be a great boot if they fit your feet. Unfortunately, for me, they don't. I wear a street size 10.5, D width, low instep. My regular boot is a Full Tilt (27.5 mondo, 310 bsl, 98mm last) with some punching and grinding. When I wanted a burly touring boot, I really wanted to make these work for me, but I ended up going with the Tecnica Cochise (27.5 mondo, 320 bsl, 100 mm last). The Ultralights are about 0.5 lb lighter than the Cochise, but you gotta go with what fits. Most Dynafit boots that I have tried on are too high in the instep, and the arch is in the wrong place for my foot. They're also a little narrow. As mentioned above, a good bootfitter should be able to make them work (provided the shell size is not too big), but I didn't feel like embarking on an expensive boot-fitting adventure. I'd definitely give the Cochise a look if you're interested in the Titan, but it doesn't fit your foot.