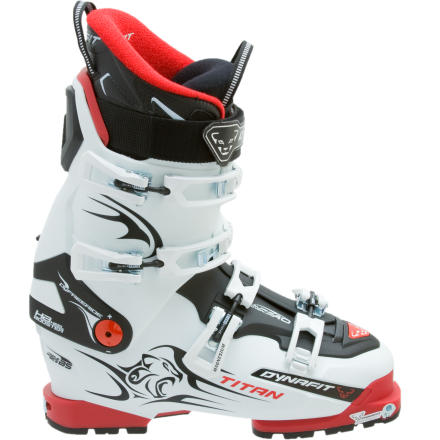 Detail Images

Community Images
On the skin up, you want your boot to be superlight. Feather-light. Half-a-feather-light. On the way down, you want bomber stiffness and support. Welcome to the Dynafit Titan TF-X Ski Boot.
Polyurethane mix maximizes rigidity and support while keeping weight low
Alpine overlap construction allows for a walk/tour range with agile forward and rear motion
High, stiff Titan Spoiler adds support and forward lean
Lightweight, micro-adjustable magnesium buckles have floating touring hooks for the ascent
Triple Binding Sole (TBS) means you can use the touring setup or alpine setup (both toe-and-heel sets included) for backcountry and resort days
Titan TF-X liner combines heat moldability with a plastic-reinforced tongue
Call it an alpine boot for great touring
One season in the books on the Titan and I can confidently say this is a sturdy, worry-free boot which unless you're a pro, you'll never be able to tell the difference between it and a traditional alpine boot on the way down. The huge upside being it tours very well, is pretty comfy in walk mode, and does a lof of things quite well. Will your feet hurt after a 3-mile tour in? Yes, but this isn't a boot designed for miles and miles of comfortable skinning. What it is designed to do is make you forget you're wearing an AT boot on the way down, and stand up to whatever terrain you take it into.



I paired mine with the SI&I CAST touring system and the Marker Lord SP bindings, both new in 2013/14. The Lords were a great match because they accept the tech toe and are super burly, as well. DPS Wailer 112 carbons are what I skiied on all season, both east and west and I couldn't be happier with my setup.



It's also a nice touch that you get both AT and alpine sole plates with this boot, so if you have multiple setups you can pair this boot to all of them. Great for your beater, early/late season skis, icy east coast days where powder planks don't make sense, etc.



One thing of note, the Titans are definitely an athletic fit, and tend to run narrow, particularly in the toe box. I have wider feet so there's been a lot of tinkering and heat molding all season to get them where i needed them. But they haven't let me down in any situation and I hope to get many years of use out of them.
The Dynafit Titan TF-X After 5 Season
Great Boot! Only ever skied with the AT Soles which are still functioning after 5 seasons each of 60 to 70 full days skiing. Will fit any binding that has height adjustment. I believe that this is the only true Dynafit boot that can be described as an "All Mountain Boot". Most ski manufactures produce "All Mountain Skis" but somehow failed to match them with a LIGHT WEIGHT All Mountain Boot. Sadly the Titan TF-X is no longer manufactured by Dynafit and has not been replaced. If you can find a pair your size, grab them. The key features are their great AT soles, their light weight, and the downhill design. I had Intuition Power Strap liners for 4 seasons and now have the Intuition Dreamliner. Both great. The boot is a little cold in -20C. But 'Boot Gloves' solve that. Any boot manufacturers looking to fill the void for "Light Weight All Mountain Boots" could do a lot worse than to start with the TF-X and build from there. Improvements would be a full rubber sole, not just fore & aft (K2 have made a brave first attempt but I think have not understood the benefits of a full rubber sole. At each Gondola terminus I simply step into my bindings while the heard are battering their bindings scraping the ice from their soles), and powder proof sealing, and of course, the downhill design & light weight of the boots.
Unanswered Question
I am looking for a good men's backcountry...
I am looking for a good men's backcountry boot for my Altai skis with the X-trace universal bindings.


Does this boot fit the Marker Duke...
Does this boot fit the Marker Duke bindings?
You can technically wear the Dynafit Titan TF-X Ski Boot with Marker Dukes (or many other alpine bindings) by switching out the factory AT soles with some alpine soles. The Titans are intended more for touring than straight alpine, and this is at least partially evinced by their light weight.
I know they are intended for touring. Was planning to use this as my only boot,(my salomon boots are worn out) on both my dynafit gear and BlackDiamond Megawatt with marker duke....

Ofcourse I can change my bindings from the dukes....



Thanks by the way..
I tried on the Mercury's at a 27" (Im...
I tried on the Mercury's at a 27" (Im normally a 27.5), felt great, especially around the shin. I was told they may be a bit soft for my aggressive style of skiing, but after looking at the reviews, looks like the Mercury's or Titan's would be good options instead of forking all that cash out for the Vulcans.

The problem with the Mercurys were...they were too narrow! Will I find the Titan's wider? I'd hate to buy them without trying them on, but no one here sells them, and the price is very tempting! I will be riding on Armada 181 JJ's and dynafit radical ft's. Im 5'8", 170 pounds.

Thanks
The Dynafit Mercury has a last width of 103mm, and unfortunately the Titan is actually a more narrow at 102mm.
Would these boots work for women as well?...
Would these boots work for women as well? If so what size would be recommended for someone who regularly wears a size 7.5 shoe?
There is no real reason why a women could not wear these boots long as you are compensating for size. If you normally wear a 7.5 I would recommend the men's 6.5.
A boot For Titans
Familiarity:

I've put it through the wringer
If you find your self hiking to ski big mountain lines or are looking for one boot to wear in bounds and hiking then this is an option to consider. This boot is stiff; it will handle high speeds and big drops. It will also be much more comfortable hiking up than in your race plug boots. Shipping with both DIN and tech soles this boot is very versatile.
Hi, im freeride skier. Is this skiboot a...
Hi, im freeride skier. Is this skiboot a good option for a big mountain skiing(includes drops,jumps..)?

Thanks.
This boot is recommended for Alpine Touring because of its light weight, personally I would recommend a different boot, something recommended for All Mountain riding.
I'm looking for my first AT boot next...
I'm looking for my first AT boot next winter. I have Full Tilt Konflicts for my inbounds (Jackson Hole Mtn Resort) boots, looking at a boot just for Teton Pass, Grand Teton National Park & Gros Venture range in Jackson Hole. How would width of foot-bed compare to Full Tilts or Dalbello Kryptons??? I think remember hearing these have a somewhat good stiffness. I believe these were the boot Hoji used before he had designed the Dynafit Vulcan ???
The Konflict are a 99mm wide last width, the Kryptons are 98mm and these are about 104mm (in a 27) so quite a bit wider. These were indeed the precursor to the Vulcan and are pretty stiff. If you are concerned with stiffness you can also look at the Titan UL as that is a bit lighter and a bit stiffer through the use of some carbon.
these boots are pllennnttyyy stiff, I use them for both inbounds and touring... diesel boot for sure.


Sandy (or anyone else) I am looking at the...
Sandy (or anyone else) I am looking at the Titan versus the Vulcan. I assume the Titan is stiffer? And is the last/fit the same on both boots? Thanks in advance.
They are about the same last width (104mm in a 27.5). Where you will find a massive difference is in the walkability between the two. The Vulcan borrow from the TLT5 in the tour mode and makes it a much better uphilling machine than the Titan. I'd say the Vulcan actually felt stiffer but that is likely due to all of the carbon.
Hi, I was wondering what the last is for...
Hi, I was wondering what the last is for the dynafit titan?


104mm for the 27.5 shell.
Great pair of boots
Gender:

Male

Familiarity:

I've used it once or twice and have initial impressions
I used to rent boots but my oddly shaped feet resulted in excruciating pain, loss of circulation, and lots of down time massaging my feet back to life by the fire pit. Then I got these boots and I must say I am absolutely in love with them. They are light (especially for the price), very comfortable, they lock down tight, the walk mode is generous and I really like the way the boot looks. I skied a blue run in walk mode without knowing until I got to the bottom. Total noob mistake probably bumped the switch getting on or off the lift. They come with soles for either AT or Alpine bindings too, although switching back and forth constantly may strip out the screw holes since it's just plastic...
Im finding for alpine soles for Dynafit...
Im finding for alpine soles for Dynafit Zzeus and Gaia. I think its the same with alpine soles for Titan. Do you know where I can buy it?
Lukas, If you are in the US, you can get them through Dynafit/Salewa North America. Call 303-444-0446. Outside the US, it would be best to check the Dynafit website for your country's distributor.
Thinking about this boot as opposed to a...
Thinking about this boot as opposed to a alpine (ie firearrow F1, tecnica demon...) boot. My thought is it will give me the flex of a 130 with touring and a walking mode, but primarily it will be used inbounds... Would this boot make sense or is it best to stick to an alpine?
Best Answer
The walking mode will give you a lot more comfort on short hikes and sidecountry adventures, as well as in the parking lot, base lodge and watching the kid's race. This boot skis and feels like a classic alpine boot. In the end, fit is the most important factor. Your call.
I wanted to know if these boots might work...
I wanted to know if these boots might work with a medium to wide foot.
Officially the width is 104mm in a 27.5. When compared with other brands they feel a bit narrower than that. If you are "medium to wide". you should be fine, especially with the help of a good bootfitter. Typically the widest AT boot is Black Diamond.
Purchased these boots new for this season. Have skied a total of 33 days in them thus far and have a few comments. Most of the time I am using the alpine sole with a pair of Marker Duke bindings. While I would prefer to use the tech compatible soles all the time, the heel piece of the Dukes started to deform the plastic. This is because the Dukes fit very tightly and the heel piece on the tech soles is slightly taller than the alpine sole.

My overall impression is that these boots are VERY stiff and are ideal for high performance descents. If loosened up properly, they also provide a high degree of mobility for the uphill. While they are not the lightest touring boots you can find, for bigger more aggressive skiers, these provide an appropriate trade off of weight for performance. Like some of the other reviews, I have found a few durability issues. The liners are not the highest quality. It felt as though they took a long time to pack out, even after the heat molding. More recently, they have begun to pack out too far, causing me to buckle the boots more tightly than the shell would prefer. As a result, the rivet on one of the toe ratchets has pulled out, so that I cannot fasten the toe buckle. Still looking for spare parts so that this can be fixed.

Will probably keep using these through the end of the season and into the next. The next step in dialing these in will be to get a pair of intuition liners and to repair the toe ratchet. With the performance and versatility of these boots, I will do whatever I can to keep them usable.
How stiff are these boots? "Stiff" in the...
How stiff are these boots? "Stiff" in the description doesn't help
It has a flex index of 120 if that helps
Do these boots work with fks bindings?
Do these boots work with fks bindings?
Yes. The Titan series of boots comes with alpine DIN sole pieces in the box. They should work with all alpine bindings.
wear a BD Factor 27.5; got the same size in the Titan... run smaller for sure. no other commments about performance yet.