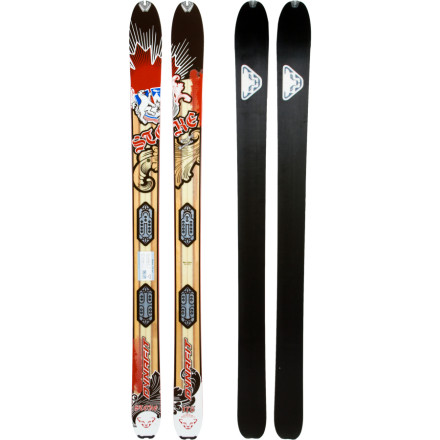 Detail Images

Community Images
From long-approach tours to slack country slayage, Dynafit's new carbon-reinforced, bamboo core Stoke Ski offers up shreddy, smeary radness—minus the weight its girthy profile would normally suggest. The Stoke's early-rise tip enables quick and smooth-as-butter turn initiation, and eliminates the high-step routine while stomping out skin tracks in fresh deepness. The combination of paulownia, bamboo, carbon, and fiberglass in the Stoke's construction creates a super stable surf platform, but saves you a few yo-yo laps worth of energy with its strategic use of materials. The Stoke's metal-reinforced tip and tail put your skins on lockdown, and increase the ski's life.
Stoke the fire within
Familiarity:

I've put it through the wringer
Simply put these skis are awesome. So light, yet so powerful. I personally look for a ski with around 105 underfoot for various reasons and it seems so does the backcountry machine himself Greg Hill who Dynafit designed these skis for and with. Most impressed with the dual side-cut where you can make big GS turns by riding the sweet spot or you can finish the turn more aggressively and carve quick slalom turns and zipper your favorite stash. Did I mention how light they are :)
Unanswered Question
Does anyone know where the ski center is...
Does anyone know where the ski center is on the 182cm? It is not marked on the skis.
This is a nice light weight fatty!
The weight is right and it isn't a super fat ski so it makes a great touring ski. But it is already a little dated technology and was on release. Not enough rocker imo. Also typical of Dynafit not a lot of side cut either which can be a good thing. Check out Dynafits newest offerings if this one interests you.
Is the Stoke setup to work with the Radical...
Is the Stoke setup to work with the Radical line of bindings or the Vertical / Comfort line? There is the 5th hole in the middle of the toepiece, but I can't tell if my Speed Radicals will actually mount up.
Best Answer
Hi Omar-

The new Radical only has 4 holes, with the rear ones in same location as all other Dynafit bindings. The front holes are the same distance apart as all other Dynafit bindings, but are located 12 mm forward of the old hole location. So, they will absolutely work in one position. If you want to mess around with the positioning on the ski, you may need to drill a pair of holes in addition to using two of the insert holes for the toepiece. Dynafit suggests in their labeling that they don't warranty for mounting using inserts for the Radical series, just the Vertical FT/ST/Comfort. That being said, the blogger community has written quite a bit about the Radicals with inserts and consensus seems to be yes, as long as you're cool with the one mounting position that fits the pattern.
I am 217 and strong skier. As anyone knows...
I am 217 and strong skier. As anyone knows form skiing in France, the top can be icy then empty out into incredible powder but once you drop onto the Glacier, it gets tight and icy again. I am considering buying these skis but am curios about pulling a binding especially in a no fall situation. Is this really an issue? I am not going to drop $800.00 for a ski that I am worried about killing myself or having to ski one ski down a mountain.
Long time passed since the Q. I'm 230 skiing the 182s with no problems whatsoever. It is my choice for deep soft snow backcountry, but I prefer my Manaslus fore variable winter snow and Snowwolfs for spring and summer firmer snows.
From the backcountry website, it looks...
From the backcountry website, it looks like the Stoke requires a dynafit binding, is that correct, or could I use other AT bindings (Black Diamond/Fritschi, or Marker?)
Best Answer
The Stoke has an insert plate which matches the Dynafit bindings. It is possible to drill into the ski/plate at any point, but is definitely not recommended and will violate the ski's warranty.
How does the durability of the dynafit...
How does the durability of the dynafit speedskins compare to the BD ascension skins?
Best Answer
Overall durability is comparable. The Speedskins lean towards light weight, so the plush is a little thinner (slightly less grip), but they should last as long.
Dynafit Speed skins are mohair - Ascensions are nylon. Mohairs have much shorter/thinner plush, weigh less, fold up smaller, and glide easier. That said, they will not climb as steep, nor will they last as long as an ascension skin. I have yet to encounter a skin track so steep that the Stoke+Speed skin had any trouble, so other than the durability - the Dynafit skins are superior to the BD ones in every way for my use.
These are apparently the lightest ski (for...
These are apparently the lightest ski (for their dimensions) out there, was wondering about durability if compared to something similar (I.E. Völkl Nunataq, Sidestash) the stoke have a layer of graphite but is this enough to take the odd rock hit? I have heard that the Nunataq have very thin bases and yet they ares still heavier than the stoke.

how are these on steep icy descents? can they cope or are they unstable?
Full disclosure: Dynafit rep here. Durability is very good, but a ski this light won't take extreme abuse the way a heavy ski with layers of metal will. No problem with the odd rock hit, etc. As far as steep icy descents, that may depend on speed and the skier. They feel great making hard, quick turns down anything, but if you open up the throttle on the firm they can get a little loose. Use for what they are designed for and they are the best tool out there!
honestly these suck for anything but pow(my opinion). really these have rather poor duribility and i hate the bases. These definately are not stable and for steep ice? they will suck. You mentioned the sidestash, those rock and have far greater performance than these on anything. I'd check out the sidestash or hardside if I were you. You might not be able to cope with the stoke on steep icy decents. Check out the sidestash, coomback or hardside, you wont be dissapointed with those skis. In my book these are some of the worst skis out there, and kinda expensive for what you get too.
humm, well that is a little conflicting..
Durability is terrible. After ~25 days mine are falling apart.

Glancing off a rock (not a core shot, very minimal base damage) resulted in a cracked edge and the sidewall giving out.

Topsheet is delaminating as well. NOT impressed.
Has the insert system been improved?
Has the insert system been improved?
Over last years model? They have improved it.
These are my go to deep powder ski when I want to get into the backcountry and not bring the kitchen sink. I'm 5'10, 154lb and ski the 173s. They have been great all season. Not the best for hard pack or crust but in the Wasatch I tend not to ski too much of that as is. They are paired with some Stoke Speedskins, FT12s and Titans.
Have had many days this winter on the the stokes, moutned with the FT 12 bindings. Super light weight combo. They have held up well from the steep and deep to the ice of the North East. A Light weight and responsive ski. Overall I am pleased with my purchase.
Seem nice, but be warned!
I have had quite a few clients on these skis this winter, but have seen at least 3 pair where the inserts have failed resulting in loose bindings not staying on in the field. Be warned about the inserts! Seems like this is a good touring ski for light people with light boots, I have noticed good strong skiers, with heavier boots easily over powering this ski, but if you have some light TLT 5s to match up, and want to slay endless pow and nothing else, this could be a good option.
Anybody out there mounted the Stokes with...
Anybody out there mounted the Stokes with Hammerheads or Axls?
The Stoke is not a good candidate for tele bindings because it doesn't have a reinforced binding area, only the insert system for tech bindings. This saves weight but it means that sooner or later you'll inevitably rip your tele bindings out. If you do decide to try and mount them up, make sure you mount within the silver titanal plate. As has been pointed out, this will void your warranty.
Hi. I need some length advice. I'm 6 ft,...
Hi. I need some length advice. I'm 6 ft, 185lbs and an aggressive skier. I normally ski volkl mantra 194s with marker duke bindings for my all mountain resort off piste day set up. I want to buy the stokes for a lighter weight multi day touring/ski mountaineering set up and don't know whether to go for the 182s or get the longer 192s. Any advice? Will the 182s feel short? Thanks
im 6'2 185 and ski the stoke 180cm. LOVE THEM! They ski well in resort or off trail, and have been able to handle ust about anything I have thrown at them.