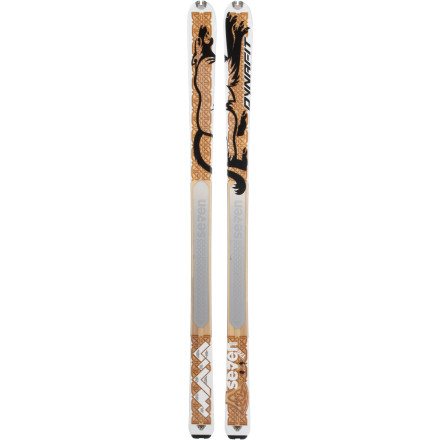 A squirrely ski on mountain tours and mountaineering expeditions is not rad. Dynafit's Se7en Summits Touring Ski has a variable radius so you get stability on changing terrain and a bit of room for error when you make small miscalculations.
Wide sidecut in front and tight curvature in back for control no matter what the snow conditions
Steel inserts underfoot for solid edging
Paulownia wood with beech stringers keeps the ski light, strong, and earth-friendly
Biaxial carbon reinforcement in lower layer and Quadrax in upper for torsional stiffness and lateral reinforcement
SpeedSkinFix in the tip for sweet hold on the uphill and less skin-hassle during transitions
What do you think about this product?
Have questions about this product?
Not a deep powder ski. It is a ski-mountaineering ski and a superb spring-summer-fall ski. Stiff compared to most wimpy AT skis. Holds an edge. Turns easily. Easily skied with a TLT5 Mountain or Zero boot or other lighter weight AT boots. Not meant for backcountry wannabees trying their AT stuff out on high speed groomers.
Like skiing on toothpicks
I ski mountaineer the 14ers of Colorado. These things sure are light. Wow they're great for the uphill, many snowclimbs I totally forgot they were on my back! Approaches are great while my buddies all moan and slowly lift their packs onto their back -- meanwhile here I am tossing these guys up in the air and strolling away.

The thing is, these are skis. For skiing. Something they're horrible for. I guess I don't understand the fascination with ultra-light gear -- you'll get used to carrying a heavier load, you'll never get used to skiing on toothpicks that get thrown around by anything but the lightest of fresh snow.

A friend took his "heavy" resort skis to Denali. I switched to "heavy" resort skis and ski mountaineer with them exclusively. The difference in hiking speed is slight -- the difference in skiing ability is remarkable.

Maybe the fatter dynafits bust stuff better, but I find that hard to believe.

So if you can't handle carrying 4 extra lbs on your next mountain and are willing to risk falling to your death because you couldn't avoid a small ice pebble, the Se7en Summit is the ski for you. Extra star because they do look cool.
Seven Summits Design & use