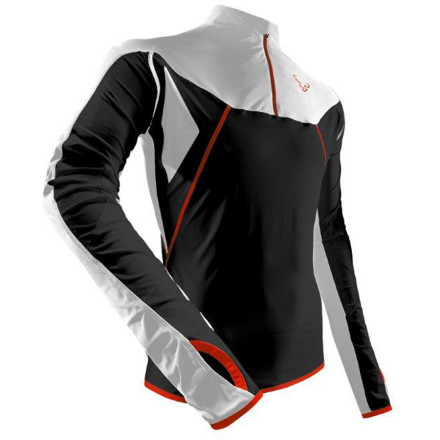 Detail Images
It may be warm at the start of a run or ride, but once you start moving at an accelerated rate along mountain trails, you're bound to feel the air get cooler. That's why Dynafit crafted the Men's Ridge Shirt with long sleeves but kept the moisture-wicking, breathable materials. The Ridge shirt helps your body maintain the ideal temp while you crank through single track and weave in and out of shade and sun.
Raised 3D Silica laminate at the shoulders limits wear from pack straps
Dual fabric design features stretchy material and more breathable mesh separated in key locations where they are most effective
UV protection helps reduce the chance of dehydration and burns from excessive sun exposure
MP3 pocket lets you take the soundtrack with you on the trails or the road
Soft eyewear wiper attached to the body helps clean mud, sweat, and moisture from your shades or goggles
Full Disclosure First: I am a Dynafit sponsored athlete. So I will only describe objective observations - both positive and negative - and will resist using judgmental words like, "better" or "best." But not many people have been in this stuff, so I will share my experiences.

Size: These run small. I am 5'8", 140 lbs, thin, but not pro cyclist thin. I would normally wear a small jersey. In this I wear a medium and it fits well. I would recommend buying a size up. The length is great for cycling, and hasn't bothered me a bit for running.

I have found this to be the most versatile shirt in the Dynafit collection. It is long sleeved, but I haven't over heated in it yet - even on a trip to the desert. In fact the sleeves offered great protection from the sun, and might have helped me stay more comfortable. It also has one, zippered pocket in the back, which has been perfect for short runs, where I don't want to carry a pack.

It is really lightweight, and obviously designed to breathe well and move moisture. It's so thin and silky, I was a little nervous about durability. After several rides in the piece, I can honesty say I am not worried about it. I have run through branches, and even augured in hard on my mountain bike and it held up fine. I put a hole in my knee warmers, but the jersey looks new.

For mountain biking and trail running, this is truly a great piece. It is thin enough to use in warm to hot weather, and the long sleeves offer a bit more protection. It's good looking and comfortable.