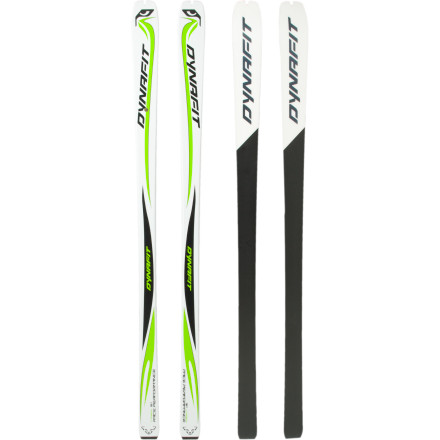 Detail Images
Bagging peaks in the height of the season and training and racing up the mountains in the early and late season, Dynafit's stable, but wicked-light Race Performance Ski loves the skintrack as much as it loves the ride down. Like a featherweight ninja, the Race Performance Ski flies up and down the mountain, leaving only the signs of its slaying in its wake.
Traditional camber offers dependable edge performance and climbing stability
Paulowina wood core creates a stable, consistent flex pattern without weighing your down
Carbon reinforcement increases torsional rigidity and overall flex integrity--great for traverses across sketch snow conditions
Shock absorbing rubber insert
Notches in the tip and tail fit custom Dynafit skins
What do you think about this product?
Have questions about this product?
I'm 6'2" 185lbs, how will these skis at...
I'm 6'2" 185lbs, how will these skis at only 161cm handle my size in variable snow (windpac, powder, hardpack, ice, crud) during recreational rando races?

Currently I am rando rallying on an old pair of Black Diamond Arc Ascents which are 175cm and handle everything really well except deep powder. Both of skis mentioned here have pretty narrow side cut by today's standards.
I am not a rando racer, but man, that seems very small for your size. I'd guess that the longer length wouldn't be too much heavier and it would ski a whole lot better. I am 5'7 and won't think about skiing below 175 nowadays... too squirrely.
Even at your size, pretty much all rando racers are rocking 160-165cm skinny skis. The theory is that you can make up considerably more time on the uphill (with a light stick) than you will lose on the downhill even if the ski is a bit sketchy. If you are sticking to the rec series races, another ski to consider would be the Dynafit Broad Peak. It goes up to 176cm and is 74mm underfoot with a snappy feel. Great corn/couloir ski. Much more versatile, but still pretty light.
What model year are these skis?
What model year are these skis?