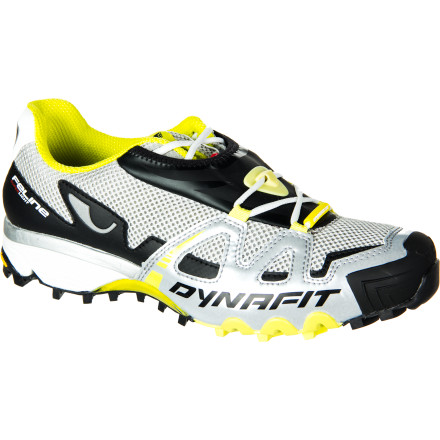 Detail Images

Videos

Community Images
Description
Stride smoothly through the mountains, no matter how rough the trail.
When the snow melts and your go-to ski-touring terrain becomes your running playground (or training ground), slip into the Dynafit MS Feline Superlight Trail Running Shoes. Dynafit drew on its years of experience in creating technical alpine footwear to develop the super-lightweight Feline, which has the stability, grip, and cushioning you need to prowl the roughest, rockiest alpine trails.
Mesh upper and mesh lining allow ample breathability and moisture expulsion to reduce blisters
Aura Activator instep features a tested, patented magnet that increases muscle strength, resistance, and recovery by tuning your natural biofield energy system
Athletic fit matches your foot's shape by hugging your heel and midfoot and allowing a little room in the toe
Invisible Lacing construction uses an integrated half-gaiter to prevent untying and to keep out debris, while a convenient tab fine-tunes the laces for an even fit
Multi Pad Midsole cushions and stabilizes your stomps on rocky trails
Ballistic bumper increases durability over rough mountain trails and reduces impact on toes
Vibram Mapping Compound outsole features three separate rubber compounds that strategically grip the mud, sand, or slick rock while running uphill or downhill
Awesome Shoe
Familiarity:

I've put it through the wringer

Fit:

Runs small
I don't normally write reviews, but felt like I had to for this product.

Theses shoes are the shit. I am actually on my second pair. Great on all types of terrain - water, snow, ice, pavement, trail, gravel, city and mountains. Light, soft and grippy. I trained through a Colorado fall/winter/spring (I averaged about 20-30 miles/week) and recently ran the Colorado Marathon with these - zero issues.

As for sizing, I normally wear a 10.5, but sized up to 11.

If you can get these on discount or SAC, it's a solid buy.
Wants to Summit
Familiarity:

I've put it through the wringer

Fit:

True to size
These shoes are amazing way more confidence in these shoes than any other. These shoes should fit snug so there is no movement. Awesome shoe definitely recommend them.
One of the best I have ever purchase
Familiarity:

I've put it through the wringer

Fit:

True to size
This pair of shoes are not superlight, but consider it very lightweight with the support and cushioning it provide. I have ran three trail races in it, a 30km and two 50km ultra, my feet didn't complaint. I have wear Salomon Sense Mantra but the sole is a bit too thin for me and this pair of shoes give me the perfect balance I need. Vibram outsole give it pretty good grab on rock face and the lugs are nice for dirt road.



I will definitely get another pair when this is on discount, as they are not available in Hong Kong.
Stiff is right
Familiarity:

I've used it several times

Fit:

Runs small
Definitely stiff is the right word. Not sure they are the "lightest" shoe by any means but they are reasonably comfy. Overall I would say they are on par with the effectiveness for trail running as my previous Salomon xcrossTrail runners. A nice shoe but leaves me wanting a little more. I would size up half a size as they run a little small
LIght, Stiff, Sticky,
Familiarity:

I've put it through the wringer
I've used these for most the summer now. Stiff, responsive, med. cushioned shoe. I mostly run/hike up peaks. These shoes have really handled the rough, rocky terrain well. They're tough! Front bumper works great. Soles are nice and sticky w/ lugs that very effectively give great traction. They're the best trail shoes I've ever had. As the previous reviewer mentioned, they might run a tad small, though my usual size 9 worked fine (even w/ new 1st time orthotics).
Dynafit MS Feline Superlight Trail
What's the deal with the "Aura Activator"...
What's the deal with the "Aura Activator" instep magnet? I am shocked to see a reputable company such as Dynafit utilizing gimmicky pseudoscience to sell shoes.



Can anyone provide quality scientific evidence that show these magnets work? The scientific community has come to the consensus that they do not. I will be searching for a trail runner without a magnet.
Yeah, gimmicky at best. I have yet to see anything concrete that these have a physiological benefit, but I'd love to see evidence if it is out there.
Not sure about the changes
The shoes have been redesigned since my last pair:



* they have shorted the tongue

* they have replaced the glued on white lugs with solid molded grips throughout the sole

* they seem much, much narrower



I ultimately returned them given the skinny fit - they were slim fitting last time, but this time they just don't feel comfortable at all.
A great trail running shoe. I went with my usual Asics size 10 and all was well. Now I just hope Backcountry gets more in stock so I can replace them! The lugs did wear out a little fast, my only small gripe. They seem to be glued on, and a few fell off. Avoid running on pavement at all, e.g. at the start and end of trail runs, and I think they will last longer.
Dynafit MS Feline Superlight Trail Running Shoe
Hi, Does anyone knows if these shoes are...
Hi,
Does anyone knows if these shoes are also for 'heavy' trail runners ...
I'm 6"2 and weight 200lbs ... Have normal foot with very little or no pronation. I wear Salomon XTWings2 and the reason I didn't go with the S-Lab 4/5 is because I was told that these are meant for runners under 165lbs. Could this be the case by MS Feline too ?
Thank you.
Kris
Dynafit has no specific recommended weight limit. For a light shoe, they run pretty damn solid. As always, "you mileage may vary..."
Best Trail Runners I have ever bought
I was a bit skeptical at first because Dynafit is known as a winter brand, but I decided to take the leap because they have always made amazing gear in the past. Bottom line is that I am extremely impressed. Dynafit has combined several features that I like in various other shoes into one super shoe. It has a great, tight feet that gave me zero hot spots, even right out of the box. The most amazing thing of the shoes though is the tread. It is SUPER sticky on rock, mud and even ice and snow. I couldnt believe how aggressive I could run on all the various conditions you find during mud season in the mountains. I dont think I will ever use another running shoe again. Also, because I see some threads on this topic, I am a size 10 and they fit very well for me. I needed to adjust the lacing slightly so my toes didnt hit the front of the shoe on the decent, but that was it.
Great Running/Hiking shoe
Great shoe, nice and light and still has a lot of support. Can't really go wrong with a Vibram sole. Toe piece has saved my toes a couple times. The stand out feature of these shoes is the covered laces. I am normally a 10 1/2 but had to return the 10 1/2 and get a size 11. It's possible the 10 1/2 would've worked out if i broke them in but i like my feet to have a little wiggle room.
Speed Up in the Mountains
Dynafit has long been equated with efficient and fast backcountry skiing. First their bindings and now TLT boot line and skis have become THE standard. It was only a matter of time before they entered the mountain running game and that time is now.

The MS Feline Superlight is their first attempt at a high end trail running shoe and fortunately for us they nailed it. To me, a mountain running shoe should be able to tackle any type of terrain, be it dirt, talus, easy 5th class rock moves, etc. As far as weight is concerned, it should be on the lighter end of the spectrum but not so minimalist that every rock is noticed or that so little support is provided that one ends up injured and out of the game. It should have excellent traction without being an over built monstrosity. I think a good guide is if it can be used to run on the road without noticing that it's really a trail shoe. Obviously, durability is an issue so quality construction is key. And lastly, the fit has to be perfect. With the degree of climbing, descending, rock hopping, and multi directional movement, a poor fit at best leads to huge blisters but can be a harbinger of injury.

Out of the box, one notices that the Feline Superlight meets the above criteria. I've used it so far on dirt, rocky trails, scree, and boulder hopping and it excels at all types of mountain running. I've used it on road runs and find it on par with a dedicated road shoe as well. With some shoes, it's apparent that they will fall apart after one really long demanding run but so far there are no signs of appreciable wear. Perhaps most importantly, the fit is perfect without the slightest blister thus far. I'll for sure be using it for all my future races, adventure runs, and ridge scrambles.
Amazing Lightweight Hiking Shoe
Incredibly comfortable and supportive hiking shoe. I had to return the first pair I bought, however, as they run on the big side. I'm normally a size 10, but I had to go with a size 11 with these.