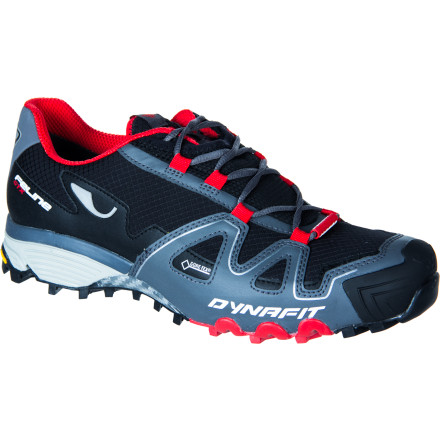 Detail Images

Videos
Dynafit is renowned for its winter alpine and backcountry boots, and now it brings the same know-how to your summer with the MS Feline Gore-Tex Trail Running Shoe. This super-lightweight runner is equipped with a waterproof breathable membrane and a stabilizing Alpine Running sole system because, even though the snow mostly melts away by the end of spring, you never know what the terrain will bring when you're lured high into the mountains for your runs.
Gore-Tex membrane seals out moisture from rain, mud, or slushy snow while allowing interior moisture to escape
Mesh upper and mesh lining allow ample breathability and moisture expulsion to reduce blisters
Aura Activator instep features a tested, patented magnet that increases muscle strength, resistance, and recovery by tuning your natural biofield energy system
Sensitive Athletic fit matches your foot's shape by hugging your heel and midfoot and allowing a little room in the toe
Multi-Pad midsole cushions and stabilizes your stomps on rocky trails
Ballistic bumper increases durability on rough mountain trails and reduces impact on toes
Vibram Mapping Compound outsole features three separate rubber compounds that strategically grip the mud, sand, or slick rock while running uphill or downhill
Great grip!
Familiarity:

I've put it through the wringer

Fit:

Runs small
I've been using these shoes for the past three years (even though I am female). I call them my 'Spidey Shoes' because they are great on trails that may be slippery due to loose gravel etc. I even bought a pair for my bf and he loves them. And they are very light weight!
My favorite
Gender:

Male

Familiarity:

I've put it through the wringer

Fit:

Runs small
First of all the fit is perfect for my feet, i have a wide and big foot so everytime i find somthing with a good fit its like christmas and newyears at the same time. I use US size 12 in Asics, 13 in Nike and 12,5 in Adidas, on the Dynafits i ended up on 13, which kinda suprise me becouse i honestly tought they would be to narrow.



Nothing special with the lacing exept mine was abit short (something with my size?), i fiddled with them for atleast 30 seconds, then replaced them with Locklaces.



The grip is excelent and far better than both the Asics Trial and the Salomon Speedcross. I only had one or two slips on wet rocky surfaces.



For me support and cushioning also worked better than Asics / Salomon.



I didnt have any problems with the waterproofing when runing, but they are of course low and water have a tendency to follow down the leg.



The shoe lasted a good season, and held up better than the Asics trail gtx that lasted roughly 1/3. It seems like the design and how they done the stiching work well in my often very rocky arctic environment. In the end i actually enjoyed these superlight shoes so much that it started using it for lighter mountaineering daytrips and the sharp rocks is what eventually finsihed them off (only boots with heavy rubber around the lower part seem to survive any length of time for this use).



Finding another size 13 2013 was impossible, but Backcountry got one pair with the new 2014 modell, that pair is now on its way to Norway.
Dynafit MS Feline Gore Tex Trail Running
As others have posted they do seem to be a little on the narrow side. However that I could work with. The fact that the soles started to peel away from the sole and multiple lugs from the treads broke away did turn me off. I had only been on a few moderate hikes with them in the white mountains and was already seeing this type of wear.
I had been looking at the Dynafit Feline shoe for some time, & finally decided to buy a pair. I could not be happier with these shoes. As the other reviews have pointed out, the shoe does run small & on the narrow side. My foot is small & narrow so this is not a problem, the fit for me is outstanding. The Feline is very ligh and nimble. After putting in several miles tromping around in them in summer heat, I am surprised at how well they breathe for a Gore shoe. The Vibram sole that rounds out the Feline is awesome for overall performance in a variety of terrain. The detail and quality of this shoe is signature Dynafit.
I had been eyeing the Dynafit Feline's for a bit and am very pleased that I decided to purchase a pair. These shoes ooze quality, craftsmanship, and a style that is very Dynafit if you know the brand. Like other reviews have pointed out, they do run small and on the narrow side. This is great for me as I wear a size 8 and have a B width foot, so this shoe fits my foot like a glove. I love how light and nimble the shoe is. I am also pleased that my experience after tromping around for several miles in these shoes, they do not run overly "hot" for a Gore shoe which was a concern. The Vibram sole adds to the build of this shoe and eats up a variety of different terrain. All in all I couldn't be more pleased, and would recommend to anyone with the foot shape that is best suited for this platform.
I like these a lot but they run small.
These amazing shoes are super light, and great on all trail conditions. I use them for running and hiking and they never slip on loose gravel. They run small. I'm female and usually wear a 9 1/2 in women's, and needed a 9 in the men's size.
Great quality trail shoe, but runs small
I have been a Salomon advocate for the past several years, but i thought i give the Dynafits a try. I like that the choices are limited to two styles; the Superlight Feline and the Gortex Feline. If you make a great product then there is no need to have multiple styles, colors, etc.
The shoes are on a bit of the narrow size and I needed to go a full size larger than my shoe size. I am a 10 shoe, 10.5 in a Salomon, and an 11 in the Dynafit. The 10.5 fit me, but I prefer a little more room in the toe area.
They are extremely comfortable and seem to have great support and stability. I have not yet used them for any extended period of time, so I will have to just comment of the obvious. The lacing system could be better and I am waiting to see if the Aura System really makes a difference. While many companies begin with running shoes designed for level ground and try to develop them for mountain usage, DYNAFIT has taken the opposite approach.
I have purchsed both styles of Dynafits... one I use for Trail Running/Traininig and one I will be using for 100 mile Equine Endurance Rides. There are many times you need to dismount in rough terrain with the necessity of walking or trotting you horse in hand over treacherous terrain for several hundred yards. I hope this shoe will procvide safety in the saddle as well as out.
too narrow...but great otherwise
The shoes were great quality and very light. I really liked them and they would have been a great shoe. Unfortunately, I had to send them back for one reason...too narrow. If you're like me and have wide feet, you'll need to find another shoe. But if you've got regular or narrow feet, I'd say give them a try. Order a half to full size up.
Awesome All Day Trail Runner
Full Disclosure First: I am a Dynafit sponsored athlete. So I will only describe objective observations - both positive and negative - and will resist using judgmental words like, "better" or "best." But not many people have been in this stuff, so I will share my experiences.

Fit: It seems to run "on size" in American sizing. I wore a 7.5 in Salomon and Patagonia running shoes, and I wear a 7.5 in the Feline. I wear a 41 (euro size) casual shoe and in this I wear a 41 2/3, which seems about right. The forefoot is narrowish, but not too narrow - I haven't had any issues with circulation yet. The tow box seems to be roomy, as when I run down hill my toes do not slide to the front of the shoe. The heal pocket holds me in nicely. It feels like a performance shoe, but not a race shoe.

Waterproof: I haven't done much more than tromp through a few puddles, so I can't say much yet. But I can say that even after running in warm to hot temperatures, I am amazed at how well it breathes. So far this is one of my favorite characteristics.

Grip: Excellent. I haven't had any issues with slipping, etc. The lugs are deep and pretty soft. I don't think it would be fun to run on the pavement with these shoes. I can't say how long the treads will last, but there is nothing jumping out that would cause me to be nervous yet. I'll add a comment in another couple weeks.

Lacing: The lacing is very traditional. There is no Boa system or kevlar laces. Pro or con? That's for you to decide.

Stuff I've noticed: I'm not the greatest runner in the world. I do it to train for skiing. So I know my technique is not incredible. That said, I do honestly feel that my stride is improved while wearing this shoe. I do not understand all the technology that goes into the chassis of the shoe, but it seems to promote a stride with less heal strike. It feels very stable and I have yet to turn my ankle, which is unusual for me. Lastly, I have noticed that they do not fill with rocks and debris like many of my other shoes do.

I gave it 5 Stars because 4.5 wasn't an option. I personally really like everything about the shoe, and am impressed, but wish the lacing system was a little better. I can honestly say that I am running better this spring than years past - I'll give the shoe some credit for that.

It seems to be holding up very well, and it hasn't stretched out too much. But I will come back to this in a few weeks.