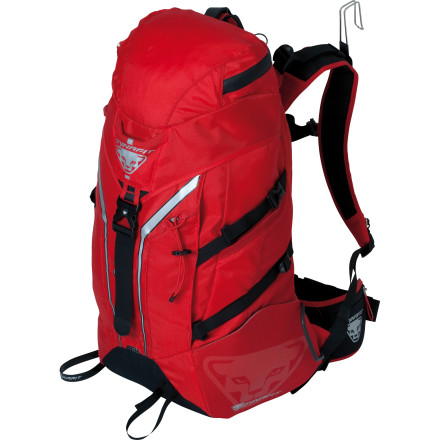 During your search for aesthetic ski lines, Mother Nature sometimes drags you way out there. The Dynafit Manaslu 35 Backpack is sized to hold gear, food, and layers for long tours or hard-to-access summits.
Back-panel access to main compartment so you can easily see and organize your gear even with skis attached to the backpack
Anatomical back system with Airmesh holds the bag closer to your back to prevent bag-swing on the ascent and descent
One handed Dynafit ski attachment system for loading skis on-the-go when seconds count
Crampon safety box on the outside of bag is padded to protect fragile or sharp gear
Mesh skin pocket holds skins for yo-yo laps on powder days
Hydration-system compatible for reservoirs or a water bottle (removable water bottle-holder included)
One of the ice-axe holders is easily accessible from the rear while you'rewearing the pack
Front tool pocket organizes your avalanche gear to prevent the important stuff from banging into your ultra-light lunch
Super-Convenient Features!
I used to be a fan of very basic climbing-oriented packs for skiing, but this has changed my mind. The ski attachment and "safety box" together make for super-fast transition in ski mountaineering terrain. And I love the water battle holder, especially for quick refills from natural water sources. I've started out on 12-hour tours with only a single bike-size bottle of water, and then just easily refilled along the way. Dual access to the main compartment (via zippered back and traditional top loader drawstrings) is very convenient. The ice axe holder also works well for securely holding a ski pole (by quickly sliding apart the two ski pole sections, then reattaching) when taking out your ice axe.
Some nitpicks that prevent a five-star rating:
-- A few relatively minor durability issues, all easily repairable, but don't feel they should happen.
-- Probe sleeve needs to be a wee bit longer. (Shovel pocket though is fine though for the latest "neck-less" designs.) So when I'm bringing a really long beefy probe, I put in the hydration sleeve, quickly accessed through the zippered back.
-- The "Summit Comfort" pad in the safety box is best to swap out for a basic cut-to-fit blue pad (lighter, more insulated, and fine for internal pack protection).
Manaslu 35 Pack Design & Use
This is almost the perfect pack. But as noted by the other reviewer the probe sleeve is too short. My probe, shovel handle, and saw are all too long to fit in the sleeve and there is not another good place to stash them.

Backcountry -- any chance this will get fixed with the 2011-12 version? If not for this design flaw it is a great pack.
The pack has the right idea, but as others have said, the probe pocket is too short. Also, the avy pocket is not roomy enough for a mid-sized shovel--it fits, but distorts the pocket as a result. Otherwise, it seems like it would be a good option. I bought it but sent it back. Now I am considering the Mammut Spindrift 40 or the Deuter Guide 45. I have also heard good things about the Millet ProLight Tour 38+.
I just got this pack and I'm trying to...
I just got this pack and I'm trying to figure it out. I think my avy probe is supposed to go on the left side, but that pocket is only about 12" deep. Looking at most probes, they're ~15" folded and mine is about 17" so it sticks way out the top. Is that right? Anyone have a workaround?
I am about to order it. Here is the Dynafit product page, http://www.dynafit.us/product/backpacks/manaslu-8136-backpack