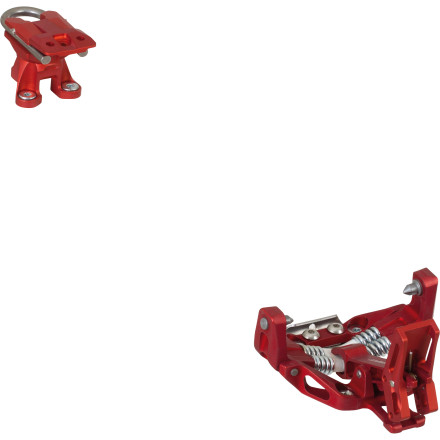 Detail Images

Community Images
Description
A harmonic combination of running and skiing can be had with the Low Tech Race Binding.
It wasn't so long ago that running was something you did in the summer with short shorts and lightweight shoes, but with the Dynafit Low Tech Race Binding you're going to be able to take (ski)running to a whole new season. The engineers at Dynafit modified the Low Tech Race Binding so it now weighs in at 115g, which when combined with Dynafit skis and boots make for a ski-running set up that will rival the weight of your favorite summer sneakers.
Made with titanal, a high-strength, low-weight micro-fusion of magnesium, titanium, and aluminum it is stable for both the ascent and descent
Adjustable sole height screw for easy adjustment to modified racing boots
The engineers at Dynafit saved weight by using four steel Torx screws for the toe and three for the heel (titanium screws available that reduce the weight of the binding by 30%)
Easy to use lever on the heel piece flips up for ski or down for tour
Patented anti-snow grooves on the toe pivot of the binding allows the boot to gain rapid entry into the toe in all snow conditions
The binding locks automatically when toes is inserted to save precious seconds during race transitions
Good but...
Familiarity:

I've put it through the wringer
Great binding, super light, but no longer race legal according to the ISMF. Binding must be manual locking (as with the new Low Tech). Awesome if you are using for ski touring, but maybe look at newer models if you will be racing.
2 years in and going long
Familiarity:

I've put it through the wringer
Still one of my favorite pieces of gear. Only two pre releases in 2 years and all on some really difficult terrain. Pays to clean your boot soles after a boot pack. Hard to believe but this is a best buy value in the long term. Dynafit now offers steel spring replacement parts when they are available in the US.
Dynafit LTR
Familiarity:

I've put it through the wringer
After a season of racing on these, there is no disputing that these bindings are designed to cruise uphill. As others have pointed out, the downside is that grooves develop in the heel spring. Also, I needed to adjust the toe lock tension screw after the lever and lock bump have both shown some wear as well.
I am a bit confused with the discussion...
I am a bit confused with the discussion on the locking toe. I know these bindings lock the toe automatically when you click into them. But for the downhill, can you still put the lever back down in ski mode for a more reasonable release? Otherwise a locked toe on the downhill seems like a tib/fib fracture waiting to happen.
You cannot put the toe into a downhill mode like you can with the non race versions of Dynafits. The lockout is essentially there as a speed measure to allow the racer to step in and ski away or step in and skin away without fiddling with the lever. If toe release is a definite concern for you, The Speed might be a better option.
The lock isn't as bad as it sounds. Reliable binding that has released as required for me. More like a Din of 11 or 12 than the community consensus of 17 when all locked in :) Not for the faint of heart for sure but workable in the no fall zone.



Remember these are made for a lwt and most importantly SHORT race/touring ski. I use them on skis under 170cm.
Why is a "low tech" binding $800?
Why is a "low tech" binding $800?
The low refers to weight, and lighter is always expensive. Look at the materials used to make this, as well as the engineering.
Engineering, Ti and milling costs and most importantly...low volume sales.
Just an update on these since I purchased a second pair. Still an awesome binding. And I like the simplicity of the lock only mode. But you have to realise and fully understand what that does. Glad to hear that Dynafit is again offering the steel option instead of Titanium only on the lcoking bolt. Now that the steel is offered and after a some serious down in these guys I'll give them a 4 star rating. Wish it were a 5 star but the lack of a flat boot and a higher heel riser..either would make them a solid 5..still going to hold at a four.

At the price...most will look at tehm with a very critical eye.

Either way they were my choice for bindings while skiing from Rainier, Hood, Baker and St Helens this spring.

More here on some other thoughts about this binding.

http://coldthistle.blogspot.com/2011/07/tech-bindings-aka-dynafit-bindings.html
Can't tell by the picture, but can these...
Can't tell by the picture, but can these bindings be heel height adjusted or do they have just one mode?
Yes, in tour mode, you can be flat on the ski or on the elevator.
Sandy, the new Race doesn't actually have a "flat" setting. While the heel does rotate, it never ends up fully clearing the back of your boot heel. Your options are to be locked in or to use the elevator.
John beat me to this. IMO a design flaw as it could have so eaily been incorporated i nthe heel piece by an additional detent postion. So actually, no, just the elevated positon or locked. TLT5 boot heel interfers if you ride them flat. I had a Dynafit Center mount mine and thought there was something wrong with the mounting originally.
So which is it? Dane and John say it can't be used in a flat setting. Sandy says it can. I understand from Dane's blog that you can turn the binding 90 degrees which would allow it to be used in flat mode but because it doesn't have a detent at that position it won't stay there. Can anyone else shed any light on this?
Kevin, Dane and John are correct. This binding can only be used either locked in for the down or on the elevator (top of heelpiece) for the up.
I've used it in a flat mode but it is not intended to be used that way and it won't stay there. Gotta use the elevator. So better have a flexible boot & body.
but so light weight that the wear is unacceptable imo. One day and 20K vert of down hill and the rear binding pegs are showing signifigant wear at the heel. Not good for a $800 binding. I'll likely go back to the low tech and save money and add a bunch of durability.