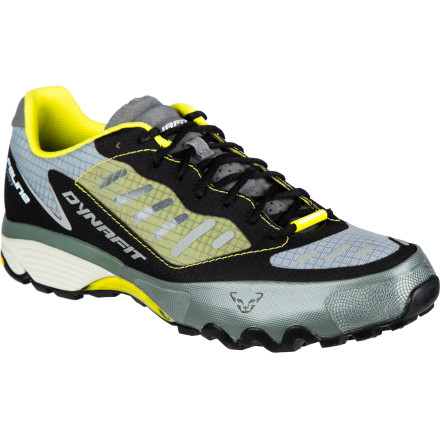 Through collaboration with some of the world's best mountain runners, Dynafit created its line of close-fitting running shoes, and at the core of this line is its lightest trail runner, the Men's MS Feline Ghost Running Shoe. At just a touch over nine ounces, the Ghost feels light on your foot so you can be quick on your toes in nasty terrain. Special attention was paid to the fit, and as a result, you'll immediately feel the difference between the way that this shoe adapts to the curves of your foot in all the places that any other shoe would force your foot to do the adapting. With an aggressive outsole, cushioning, and ample support, this is a shoe for rocky steeplechase races on the trail or long-distance training hauls into the mountains.
Seamless mesh upper and mesh lining allow ample breathability and moisture expulsion to reduce blisters
Athletic fit matches your foot's shape by hugging your heel and midfoot and allowing a little room in the toe
Multi Pad Midsole cushions and stabilizes your stomps on rocky trails
Ballistic bumper increases durability over rough mountain trails and reduces impact on toes
Rocky Tread outsole features material mix that strategically grips the mud, sand, or slick rock while running uphill or down
Nice off-road option
Gender:

Male

Familiarity:

I've put it through the wringer

Fit:

Runs small
I'm updating this review after a few months of constant use. These shoes are great. I wear them for virtually everything: walking around the city, biking, hiking, trail running, etc. The only thing I don't use them for is road running, as the soles are just a bit stiff.



They are extremely comfortable, durable, they dry out quickly and they don't smell even with heavy, heavy use (YMMV). I'm going to order another pair at this price.



Old review content that is still true continues below...



These are not minimalist, but definitely less support than a traditional road running shoe, so keep that in mind.



That said, the soles are Vibram and shine off-road - I ran in the mud/grass in the rain and felt entirely in control. I imagine these will turn into my trailrunners/approach shoes/light hikers, rather than road running shoes. I found the soles a touch stiffer than I'd like for pavement. They're very light, even compared to light running shoes, they breathe well and the sole offers plenty of stiffness (if not so much in the way of cushion). These are my first Dynafits, so I can't say if this is the shoe or the brand, but they're narrow. They fit kind of like Pumas. The black/yellow isn't super loud and I like the way they look.



Also, as others have said, they run small. I normally wear a 9.5 to 10, and the 10.5 fits perfectly. Size up at least half a size.
Sizing Issue
Familiarity:

I've used it once or twice and have initial impressions

Fit:

Runs small
A word about sizing: This shoe runs small. I typically wear a 9.5 but always buy size 10 for outdoor wear due to foot expansion during activity. I ordered a 10 but found the shoes too narrow to comfortably accommodate my feet. Length was right but width was not. Tried wearing them around the house to check comfort after making adjustments to laces to no avail. Shoes are very light and I'm anxious to get a proper fitting pair to try outdoors. I've given the product five stars simply because of first impression plus its simply not fair to discount a rating because I have fully tested the product.
great value, run small
Familiarity:

I've used it once or twice and have initial impressions

Fit:

Runs small
I normally wear a 10.5 in trail shoes, sometimes an 11. with these I had to return and reorder...which I had to pay shipping on the return (suck) to order a size bigger. doing fine with the 12.

haven't gotten them out on the trail yet. super grippy sole. super light. jury still out on performance. love the look. kinda a euro low profile shoe, looks good with everything (i got grey), not at all familiar with Dynafit in the past. decided to make purchase on other reviews i found from Backcountry users and off Amazon etc.
Great shoe overall, careful of fit
Familiarity:

I've used it several times

Fit:

Runs small
I wear a size 12 in most shoes, sometimes 11.5 in dress shoes. The size 12 worked really well for me in this shoe. I was very impressed by the way it fit tightly on the sides of my feet providing me with great lateral stability. I think I have a little bit narrower foot than is normal for a size 12 and so this was perfect for me.



I took these shoes on a trip to Korea in the winter and whether I wore my thick hiking socks or my normal socks, I stayed toasty and dry in the snows of the local trails. There were times that I got snow on my socks but the fit was tight enough that nothing really got into the shoes. Also any moisture from the wet snow quickly evaporated thanks to the design of the side vents.



The grip on these is fantastic and I can see having them for quite a while. I also really liked the look of them which is important to me when I travel and don't have a lot of room to pack functional but ugly shoes.



The one downside I will say on this is that I would have preferred an ever so slightly larger toe box but any problems I had in that respect were from running downhill in them when I had not properly tightened the laces. If I laced them up tight then they were great for even downhill running but that would make them uncomfortable if you were to sit still in them for too long and forget to loosen them up.
Dynafit delivers the fast.
Familiarity:

I've put it through the wringer

Fit:

True to size
Great shoe, stiff where you want it to be, soft where it needs to be. After running in very minimal shoes for the better part of three years I wanted something that would be comfortable in high mountain scrambling and 14'er assault/trail running and this is it. Had to size up from new balance 9.5 to a Dynafit 10.

I was very surprised at the amount of " feel" this shoe offers, the variable midsole lets you know right where your foot is- but is stiff enough to absorb the rocks and tumble.



The good- great feel, super responsive and lightweight, durability- the shoe is surrounded by a tough bumper that protects the upper and seems to be a bit waterproof.

The bad- Very stiff at the start, narrow toe box.



Finally- this shoe is equally at home running gravel roads or fast hiking rock scrambles. If you have wide feet, it may help to size up. I've said it fits " true to size," because in euro I fit my normal size( and should have known better" but in N.A. size I'm up one.)




Dynafit MS Feline Ghost Running Shoe