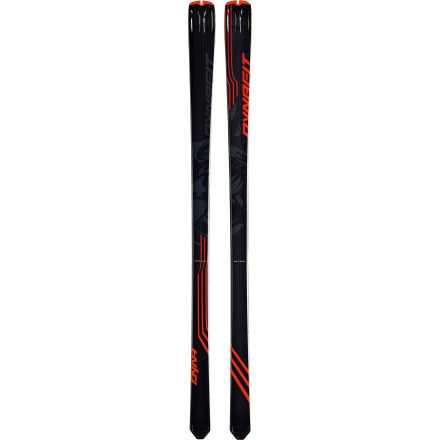 Serious randonnée racers know how tough it is to strike the perfect balance between light weight and high performance—imagine trying to make a delicious fat-free cheeseburger or a chocolate cake with no sugar. Dynafit's master chefs have cooked up a winner in the Dy.N.A. Ski, though. Each ski weighs only 1.5lbs thanks to innovative carbon-fiber construction and Carbon Flex Tip design. The Dy.N.A., though, has the stability and torsional rigidity of a much heavier board. The whole package is built on a paulownia wood core, which is wonderfully light and flexible, and has a pintail design to reduce weight further.
The Dy.N.A. certainly isn't a traditional-looking ski, but that's never really been Dynafit's style. It does have tried-and-true traditional camber, but the tip is significantly wider than the tail, with a carbon inlay that's designed to make for smoother turns with less vibration. The dual sidecut radius makes it easier to vary your turn shape and works with the tip and tail shapes to help you make silky-smooth descents and move quickly from turn to turn.
Traditional camber
Paulownia wood core
Carbon fiber laminate
Carbon Flex Tip
Dual sidecut radius
Pintail design
Tip skin notch
Share your thoughts
What do you think of the
Dynafit
Dy.N.A. Ski
? Share a...