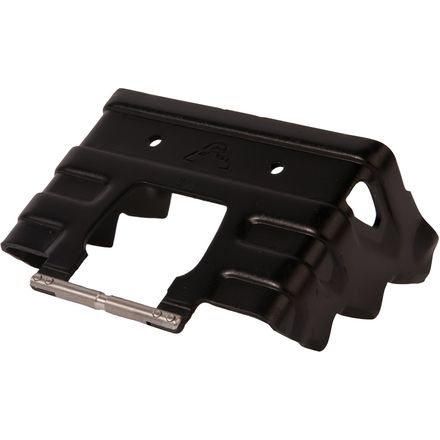 Colors

Community Images
Description
Fangs for your foot.
Sink your teeth in slopeside with Dynafit Crampons, and feast on snowy goodness. Strong, durable and tenacious, negotiate exposed, steep, and bulletproof routes with secure footing—and peace of mind.

Compatible with Dynafit bindings
Made in Germany
Everyone should have a pair
Familiarity:

I've put it through the wringer
These things save energy on firm touring days. Super lightweight and durable. They are in my pack every day from March 1 on.
More cowbell
Familiarity:

I've used it several times
These give a nice bit of grip and peace of mind on icy skin tracks. I wouldn't recommend putting these on and going straight up an ice sheet but they can be really helpful is the skin track is starting to get a bit greasy, especially on extended traverses or side hills. I have the 110mm size for my Dynastar Cham 107s and they have plenty of clearance. These are easy enough to install as long as you do it before you get solidly onto slick terrain. They can be a little bulky in the pack but they aren't so sharp that I'd worry about damaging other gear by shoving them in a tight pack. Of course you can always clip them on the outside of your pack but then you're just asking for cowbell jokes for the rest of your tour.
Will the 100 mm ski crampon fit on a 100 mm (atomic century) ski? Or is my best option to get the 110 mm ski crampon?
Best Answer
I would grab both. I will provide a free shipping label back for the one that does not fit. To be honest the 100mm might work but, the true center waist of the ski is not where you mounted your binding so it could be like 101mm where the crampon will sit. Obviously you want to get away with the 100mm but, I would put a free shipping label on it that you actually need the 110mm.



You can call or email me directly. 801-736-6398, or bporreca@backcountry.com
Spacers?

In my two previous setups, I have always used B&D crampons. The nice thing about B&D is they have spacers so that they will have more purchase into the snow when the riser is up. See attached picture.

Those two holes on these Dynafit bindings seem to be designed for spacers. Does anyone know if there are any aftermarket spacers for them?
Best Answer
I found a write up on Wild Snow https://www.wildsnow.com/1813/wide-ski-crampons/. They took some pieces from an old binding and made a spacer but, Dynafit has never put spacers on their crampons.



You can call or email me directly. 801-736-6398, or bporreca@backcountry.com
Extra Push for the steep
Familiarity:

I've used it once or twice and have initial impressions
I bought these to go with my G3 Zen Oxide 88s, and they fit like a glove. I expected to get snowshoes- just create something to lift and climb, but these slide pretty well when you kick and bite in when you stop. Also much better lateral stability on traverses. So I am sold. I can't address durability issues as I have taken them out just once, but they came back fine from that one.
would the 100mm fit on a pair of dps wailer 99s?
Yes. the clearance is slightly wider than the stated value. And my 100mm ski crampons fit on a different 99mm underfoot ski (dynafit denali).
A Must-Have
Familiarity:

I've used it several times
If you plan on doing any spring tours, dawn patrols or just want to power up steep slopes, these guys are just what you need! I got them for my Plum Guides. Other people with Plum bindings (especially ones a couple of seasons old) report having to file a very small portion of the mount down to make them fit, but mine didn't require this. They were pretty tight and tedious to get on at first but after working the crampons back and forth in the mount a few times, they loosened right up and now go on with ease.
How big is too big? I would like to have one crampon to go on all my skies, but would there be any negatives to having too much space? For example a 120mm on a 90 mm ski?
I have the same question? Any help? Would 120 be too big for 110 skis???


Best Answer
Ideally you want the ski crampon to only be as wide as necessary to span the ski. Having a big gap (example 120mm crampon on a 90mm ski) puts a lot of torque on the crampon/binding toe interface, especially when side-hilling. This could damage or break the slot where the crampon attaches.



I think you could get away with 120mm crampon on a 110mm ski but I would definitely NOT recommend 120mm for a 90mm ski.
i ride a jones solution 168w splitboard, but with phantom bindings and with tlt6 mountain boot. the board is 26.5.cm so each ski is 132.5mm, does the 130mm fit or do i need 140mm?
Best Answer
I have the 162w Jones Carbon Solution with Phantom bindings and the 130mm works for me. But I think that they are closer to 129.5mm...
I bought these crampons to use with my radicals ST's. The space on the hooks on the binding are too tight for the crampon to slide in. Has anyone else has this problem and know of a solution?
Yeah they can be tough to slide in. I actually broke mine because it was so tough and I put my foot down on them by accident. You can take a drummel file and remove just a little bit of the metal, that is the fix I have heard of, never tried it, I just gave up on them.
would 100 mm work for koa 98 skis?
Best Answer
Yes the 100 mm will work.
Great crampons
Familiarity:

I've used it several times
Skis on my feet > skis on my back.



These things work like a charm on the slick and mushy just as well as the icy and sun-cuped ascents. I was amazed by how "easily" I could make kick turns on the steep, especially icy, stuff. Also: You don't have to take the whole ski off to insert them into the bindings. Awesome!
An absolute must have for spring touring
I can't put into words how important these are for spring touring. Turns sketchy skinning into a breeze.
If you do a lot of spring laps at the resort after it's closed or alpine starts, these things are a godsend. Forget about kick turns, you can blast straight up stuff like you wouldn't believe. They also work well on icy or firm traverses.
Great to have in the spring
Used these in the Tushers Mountains on a frozen solid snowpack. Easy to install and keeps you on those steep frozen up tracks. Taking them to Europe for a spring hut trip in the Alps I will really put them through the wringer then.
How much clearance is necessary? Does a...
How much clearance is necessary? Does a 108mm crampon work smooth on a 108mm waist ski? Thanks for your insight.
It will likely be too tight. The interior dimension of the crampon is 108mm. The area that they rotate over the ski may be slightly more than 108 if the narrowest point on the ski is 108. They are also pretty stiff, so bending is not really an option. I'd size up to be sure.