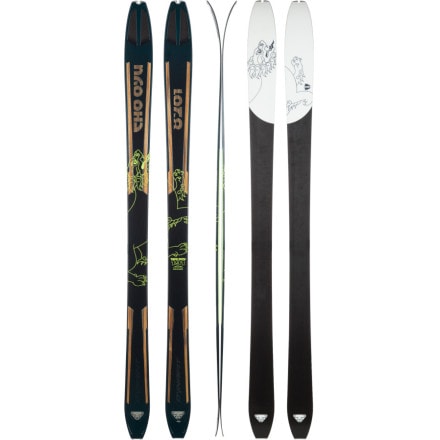 Description
Faster than a speeding bullet, lighter than a steam train.
There's a conundrum that comes with building skis for long, fast trips in serious, high-consequence terrain―how do you design a board that's light enough for serious approaches and fast ascents, but stiff and strong enough to handle sketchy conditions in serious no-fall zones? The Cho Oyu Ski is Dynafit's magic bullet, built with an ultra-light paulownia wood core that's reinforced with a torsionally stiff carbon speed stringer and Quadrax biaxial laminate, creating a ski that's the lightest of Dynafit's non-speed touring models, but with many of the terrain-munching features found it its freeride models. The triple-radius construction, for example, has a fairly wide tip, proportionally narrow shape under the binding, and a pintail that's significantly narrower than the tip, providing superior underfoot grip on icy snow and, along with the tail rocker, an easily-adjustable turn shape that can suit any terrain. The pintail shape also lets you dump speed in an emergency and makes it easy to slip the Cho Oyu into pack ski-carry systems, while the Scoop Rocker tip handles variable snow with ease and allows smooth, easy turn initiation.
With a surprisingly wide shovel, the Cho Oyu doesn't immediately look like a speedy super-light ski, but Dynafit's got some tricks up its sleeve. The Flex Tip, as they call it, tapers to a very narrow point and is made nearly entirely of lightweight carbon, which reduces weight and dampens vibration, so you don't get thrown off balance in dangerous situations. Micro sidewalls use less material than traditional constructions and extend deeper into the core of the ski, making them torsionally stiffer and more resistant to impact than standard sidewalls. When you're ready to open it up and enjoy making some powder turns, the sintered graphite base will keep you flying, letting you really love any surprise alpine pow.
Paulownia wood core with carbon speed stringer and Quadrax biaxial laminate
Scoop rocker tip
Pintail with tail rocker
Lightweight, stable carbon Flex Tip
Triple Radius profile for easy, stable turning
Super-light and tough Micro Sidewall construction
Speedskin tip and tail skin notches are instantly compatible with Dynafit skins
Sintered graphite base
Share your thoughts
What do you think of the
Dynafit Cho Oyu Ski
? Share a...