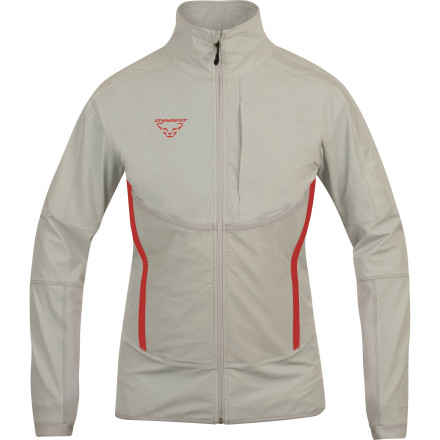 Detail Images
Touring is about adaptability and versatility. You need to have the strength to work up a sweat hiking to the best runs and the most prime powder. You have to have the skill to spot and navigate those runs and then take them with freezing air blowing over you as you drop. The Dynafit Breathe Softshell Jacket gives you versatile protection from the weather to keep you ready for all kinds of conditions.
Breathable Stormwall Alpine laminate on shoulders and upper arms keeps out moisture
Durastretch High Tension fabric is flexible and ready to move
Mesh back panels vent overheated, moist air to help your body better maintain its temperature balance
Oversized front pockets give you plenty of room for accessories and skins
Goggle cloth keeps your view clear
I've used this jacket for a full ski season so I thought it was about time to do a review. Short answer, i like it. The front skin pockets are very convenient. Wide skins fit in no problem if you take a minute to roll them up. The waterproof shoulder material has helped with our PNW soggy days. Typically I run hot, so it takes a lot of precipitation before I break out a hard shell. So this is a good compromise with light precipitation. The venting back panels are also really nice for those who run hot.

I was debating giving this a 5 star rating, because it does function great. Perhaps my only quibbles are that the white color is not my favorite (when I am wearing the jacket and the dynafit movement pants I look like a 70s disco throwback which has made me the butt of many jokes, even from strangers). Also the sizing is a bit off. When you order a medium, Dynafit USA sizes you up to a European large which is a bit baggy given that it is supposed to be a stretchy, athletic cut. I am not sure if the next size down would have been too small. Hard to say. For reference, I am 5'9 170 lbs. The bagginess is fine for backcountry skiing but I also like to use this jacket for skate skiing where the bagginess is literally a drag.

All that said, however, it is a great jacket. In general it is breathable enough for the skin track (except when you are breaking really deep trail). But it is also protective enough when a wind kicks up on a ridge or you are ready for a descent. Because of the versatility of the jacket, I find my transitions are much quicker because I am not fiddling with layers nearly as much. Plus it is great to rip off the skins and stuff them in the pockets without all the fuss of removing your backpack. It makes doing quick laps a breeze. Who knows, perhaps after another season I will come back and give this 5 stars.
How does the sizing match up on this jacket?...
How does the sizing match up on this jacket? I have a Dynafit vest in their small...it is a bit tight. However, their Med. was pretty loose.
How does the breathe jacket size compare? I'm a 32inch waist, @ 38 chest. Thanks.
You may be in between sizes. It is definitely an "athletic" cut. I am 5'6" & 150lbs. and it fits me in a small with a lightweight layer under it.
Breath Jacket Design & Use
How big are the front pockets? Are they...
How big are the front pockets? Are they wide enough to quickly stash a pair of Manaslu skins?

Also, do you have any plans to stock the darker color version? I would probably ruin this white color far too quickly. Thanks.
Plenty wide enough for Manaslu (or wider) skins. Dynafit North America does not bring the dark color into the U.S., sorry.
Jeff, If you are still interested in this jacket, the black color will be coming to the US this fall (2012).