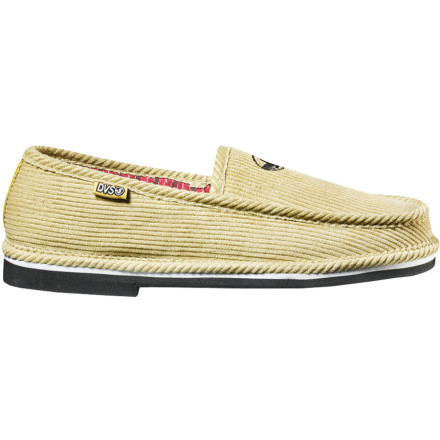 Detail Images
Relax on the deck of your yacht or the patio of your beachside condo in the DVS Francisco Slippers. Choose from corduroy, tweed, or suede options to match your smoking jacket. DVS lined the Francisco Slippers with soft terrycloth for soothing comfort that'll make you feel like a million bucks—even if you only have $5 in the ol' checking account. Board-lasted construction and a soft EVA outsole mean you can wear them out of the house too.
Comfort and Style
Familiarity:

I've put it through the wringer

Fit:

True to size
I put these slippers through the wringer. I wear them when going to and fro the mountain because of the lack of laces. That makes getting ready so much faster and easier. The plus side is that I can wear them out for the apres-ski and no one really notices that they are slippers. I definitely plan on getting another pair once these hush puppies have to retire.
Rollin like Hef
Familiarity:

I've put it through the wringer

Fit:

Runs large
Son's foot is narrow sz 9 and he fits in the M's. He loves these slippers, wears them everywhere.
Awesome slipper but runs narrow
This is a great looking, comfortable slipper, but it runs narrow where the top section of the shoe closest to the ankle is attached to the side panels of the shoe. XXL size was not even wide enough to get them on, had to re-gift them unfortunately.
Ultimate relaxation
Familiarity:

I've put it through the wringer
I love these slip-slips. I usually go barefoot at home, but since getting these the quality of my home life has gone up. Much nicer than walking around on hardwood. Perfect for running out to check the mail, or let the dog out. I thought the heel looked funky and uncomfortable in the photos, but it's not. These are not suitable for long walks as my feet will sometimes slip out. Also, don't run, jog, or even skip in these. I ran down the driveway and I ended up ripping them a little bit. They will also drag down your socks if you are wearing ankle socks with them. (just my experience of course) Could do with a little more padding in the bottom. It's a little harder than I'd like my slippers to be.
i need them in large!!!where can i get them
Comfortable- Stylish. Fun. Durable. Slippery bottoms. Fresh around the house or a quick run out in town- I wear size 9 in most shoes- these fit perfectly.
These run large so go a size down!
These run large so go a size down!
Always rock the DVS Franciso's
Love these slippers, must have purchased over 20 pairs in my life not including ones bought for gifts.
Best slippers ever! Super comfy and stay on well. I wear these like shoes everywhere. Get them!
Decently comfortable. The front creases easily though. If you're down with that, they're fine I guess.
The slippers are great i got the black leather harts. They look sick just one size to big i wear a 10 should have got a 9.
Not bad cosmetically..but sole is like a brick hah!
Looks neat, but not very comfy to be honest, especially standing. I liked the pinstripe version. I'm used to really cushy slippers so these were like wearing oldschool wood slates in oldworld Japan. I wear size 12, it's a nice fit. pretty cool for the price guys
These are good comfortable house shoes. The outsole seems to be an eva midsole material, so very comfy and conformable to the bottom of your foot, but not really a material that would wear well outside. I would have given 5 stars but the limited sizing loses a star. I wear a 10.5 and the xl is jusst barely snug enough, but definately good enough, due to the conforming nature of the slipper. For the price on whiskey... I dig em!
probably one of the best investments i made on whiskey. you wont regret buying them. just make sure you buy the right slippers according to your size. i was about to get a medium, but realized im actually a large.
do these run big or small? i wear a size...
do these run big or small? i wear a size 9 but am afraid if i order large they'll be too big and if i order a mediumt they'll be too small.
I also wear a 9 and have a pair of the DVS Francisco Slipper. I bought the medium and it fits great. It has a tighter fit so if you like the fit loose, especially since it is a slipper get the large.
Medium should be fine. It might fit a little tight at first, but they stretch out over time.
I'd say the run small. I wear a 12 in Chucks and a 14 in Adidas and the XXL is just barely too small.
Rad slips. Simple, comfy, great around the house and even a little optimo/swisher run. If comparing against the Castros; these are more like a slipper where the castros can be more of a shoe cuz of their sole. Sizing was a lil tricky on Whiskey cuz the chart was off. I'm a size 12 and the XL is a lil snug but works fine.
Great slippers to cruise around the house, and stylin enough to wear out to pickup a sandwich.
i need the hart an harrington dvs slipper...
i need the hart an harrington dvs slipper in white and size xl.
Be patient and wait. There are more DVS Hart Franciscos in White and in Black on the way. They may not be here before Christmas but they are coming.