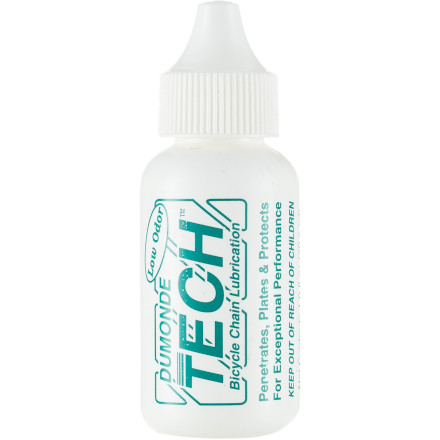 If you're not using chain lube, you obviously don't care about your bike. And if you're not using Dumonde Tech's Low Odor Bicycle Chain Lube, you definitely don't care about quality or retaining your sense of smell.
Dumonde Tech's lubricant flexes serious chemistry muscles. The lube forms what Dumonde calls a 'liquid plastic' through the chemical reaction of, say it with us, polymerization. We know that this sounds complicated, and that's because it is. The process sets in motion a reaction of molecules that form three dimensional networks of polymer. Polymer is quite a heavy molecule that, over the years, has been spliced and diced to form hundreds of different analogs for durability uses. However, that's enough of the chemistry lesson. In relation to your bicycle chain, this lubricant forms a long-lasting, bonded coat with your chain. This spells durability, as the coat is impervious to washing. So, with the Dumonde's lube, you can expect your drivetrain to run smoother and quieter for longer. And with the Low Odor formula, you can perform your mechanics duties without smelling like a mechanic afterwards. Win, win.
The Dumonde Low Odor Bicycle Chain Lube is available in one-ounce size.