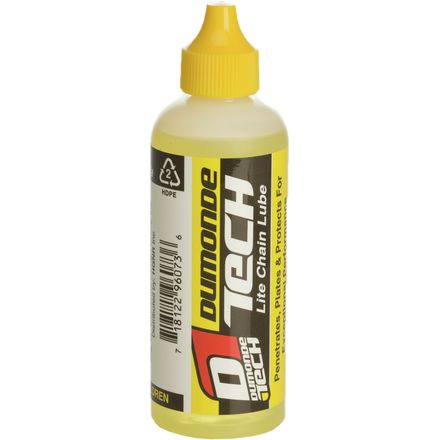 Colors

Detail Images

Community Images
Description
The other Lite.
Unlike every other bike product in the world, the 'Lite' in Dumonde Lite Bicycle chain lube doesn't refer to its weight. Well, not in the usual sense. It refers to viscosity. The reason that this is so important is that you want a clean drivetrain.
Heavy (thick) chain lubes leave a wet, sticky residue on your chain. That attracts dirt, which is cycled through your drivetrain. Dumonde Lite quickly works its way into your chains pivots and forms a low-friction plastic plating which bonds to the chain. It's designed to leave your chain feeling dry, so dirt falls off before it gums up your drivetrain. Which is nice, because dirt is one of the reasons that drivetrains die.
Low-viscosity
Leaves your drivetrain cleaner
Desert Riding Lube!
Familiarity:

I've put it through the wringer
This is my now go to lube. Smells great and does the trick. I found that these steps are best to use on this lube to get optimal performance out of it.
1. Clean your chain with a rag and/or brush first.
2. Apply the lube to each link but definitely DO NOT over do it.
3. Wipe off excessive lube.
4. Enjoy the smell!
Quality Lube
Familiarity:

I've put it through the wringer
Quality lube! Just so happens to smell great, but more importantly it doesn't leave excessive residue and keeps your drive train running smooth. My top choice from all the lubes we carry!
Smells Good
Familiarity:

I've put it through the wringer
Love this lube. Goes on light and doesn't build up on the chain. Did I mention it smells great when you are putting it on your chain? I use it for both my mountain bikes and commuters.
This stuff is amazing in the desert. Keeps a lot of the dust off compared to other products and seems to last longer as well.
Great chain lube
Familiarity:

I've put it through the wringer
This Lite version is my go to lube for road riding, or riding in dry, but not too dusty MTB conditions. It keeps the drivetrain running smoothly and is plenty durable. When more durability is needed (more dust or if it's wet out) then you'll want to with the Original blue option. Great product.
Simple, and works great
Familiarity:

I've put it through the wringer
Dumonde Tech Lite Bicycle Chain Lube is quiet, fast, and keeps dirt off of your chain. It's easy to apply and stays on longer than other lubes I've used. I recommend it!
Great lube for dry dusty conditions
Familiarity:

I've put it through the wringer
I live in Bend, Oregon. We do not get much wet weather. Dry dusty hard pan and sand. This is a great chain lube for these conditions. Does not fling off and does not pick up much dirt at all. I use it lightly (2 rotations of chain during application). This works great for several hours of riding. Clean chain and repeat for next ride.
Goat Drinks!

Boys in the band ordered GOAT DRINKS!



GOAT DRINKS !!!

Waitress, I need two more GOAT drinks.

Then I'm headin south 'fore my dream shrinks.

I gotta where it's warm.



I gotta go where it's warm.

I gotta go where it's warm.

I gotta go where there ain't any snow,

where there ain't any blow,

'cause my fin sinks so low.

I gotta go where it's warm.



(Jimmy Buffet is straight cray' - I gotta go where it SNOWS)!
BC Bike EXPERT Recommended!
Familiarity:

I've used it several times
I know very little about bikes.

In fact, it's rather embarrassing. Seriously.



And while I am taking small strides to change this terrible dearth of basic knowledge, I consult folks around the Backcountry / Competitive Cyclist office in the meantime.



In asking our most knowledgeable, experienced and veteran bike nerd employees - 4 out of 4 agreed.

THIS IS THE BEST LUBE. THIS IS IT. THERE IS NOTHING ELSE.

I didn't even say anything...all 4 recommended it independently of each other.



What do I know about bike lube? Nothing.

But these strong recommendations were enough to convince me that this was the only option for lube.



My nO_Ob observations:



*It's a nice yellow color.



*The texture is viscous without being nasty - I kept hearing how the 'lite' part is sposto be really nifty. Sure. It's great. I think?



*I don't mind the smell - It's a weird combo of sweet, candy (smarties maybe?) with the acrid scent of a rubber tire. Interesting but not offensive.



* Pretty easy to clean up, though I have nothing else to compare it to....what do I know?
Best chain lube for road bikes
I've been a Tri Flow lube user for five plus years. A friend told me about this lube and I decided to give it a try-I'm hooked. I like that it's thin, runs very smooth, reduces chain noise, and most of all-it doesn't seem to pick up dirt like the Tri Flow did. Until something better comes along, it's what I'll be using. Highly recommend the Lite for the rider who keeps bike well maintained (frequent attention). If not, then try the Original.
Excellent
Familiarity:

I've put it through the wringer
I'm sure all lubes are equally good, but after using this for a couple of months, I don't think i'll try anything else. After a good cleaning, applying this lube really seems to make a difference. It seems to last "forever" (in dry conditions) and is noticeably slicker after it's applied (and given a chance to dry).



I love it.
Rock and Roll Convert
Familiarity:

I've used it several times
I used to use Rock and Roll Gold until I found this lube. So clean so quite.
The $10 Upgrade
Familiarity:

I've put it through the wringer
There are a lot of ways to spend a lot of money to go faster on a bicycle. And most of them don't work for crap. On the other hand, you can spend $10 for this upgrade in a bottle.



Every time I use it, it's like I just got a new chain. Pedal strokes feel more fluid, shifting improves. And my chain stays clean! Clean = Fast
I like this lube alot I use it on my road bike, keeps the chain quiet, does not have to be reapplied often, and is easy to clean. Follow the instructions listed in the description on this page for best results, especially for the first application.
Works great even in dusty conditions
I am crazy about keeping my drivetrain clean and laser precise, the Dumonde tech lite makes it easy to keep the chain clean. I mostly ride in the southwest and the dust tends to gunk up on on the chain. It also works wonders on wet & muddy conditions on the DH bike.
Nice light lube that is easy to clean with a mild degreaser.
works great if you keep your ride clean
Great lube. The original can be had at motorcycle shops for around $14 for 16! oz. I use it on my dirtbike chains as well.... It's not for people who don't like to maintain their bikes--works best if applied & wiped off a while later.
Good lube, but better ones out there
This stuff is great if you have your chain perfectly clean and dry. That is practical if you clean your bike once every month or so. Since I am washing my bike a few times per week, I rarely get the chain looking like new or take the time to completely dry the chain before applying lube.

If you apply this lube to a wet or dirty chain, it gets nasty and black really fast. It also smells a lot stronger than other lubes and is not fun to get on your fingers.
The dumonde lite lub is a great balance between cleanliness and the ability to last for the long haul. I was a long time RockNRoll Gold user, but Dumonde cut my re-applications in half.
Durable/Light for the Dry
This is my preferred liquid food for my chain. I use it everyday, it lasts and never gums up my chain. I love that I can brush it off with soap and water after a ride to provide a clean surface for the next coating. Very durable lube. During 100 mile races I will apply this lube four times during the race and the chain remains clean. As it says this is the lite version from Dumonde. I use when it is dry or when lubing the road bike. Ride On