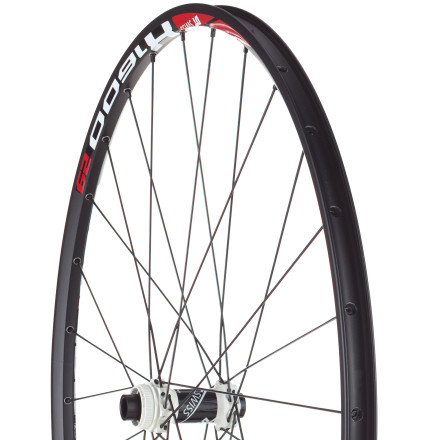 Colors
Description
A wheel for every inch of the mountain.
If you've ever sat and pondered which wheel will tolerate your riding style, don't fret, DT Swiss has simplified the process. With its new Spline Technology wheel line, DT Swiss has created designs to meet every intended riding application. And for those with a penchant for all-mountain riding, the X 1600 Spline 29 Wheel is aiming at you.
Starting at the rim, DT Swiss constructed the X 1600 from a lightweight aluminum alloy. By doing so, weight is well managed without subtracting from the X 1600's intended application, all-mountain riding. That's right, durability and a stiff ride quality were at the forefront of this wheel's design. So, while the wheel remains compliant on rough terrain, DT Swiss guarantees a reliable power transfer and exceptional tracking on the trail. And not surprisingly, DT Swiss managed to achieve this at a respectable 1770 grams. For a reference point, the carbon fiber Enve Twenty9 AM tips the scales around 1644 grams with King ISO hubs.
Durability is covered through a few subtle, yet key design features that DT Swiss calls its Spline Technology. For one, you'll find that DT Swiss applied its patented Prolock to the nipple threads. Essentially, this application seals the nipple to the thread, resulting in less tension loss, and ultimately, less wheel truing on your part. Additionally, the clincher wheel is convertible to a tubeless tire system. And when converted, your ride quality will benefit from lower tire pressures, less rolling resistance, and a near elimination of pinch-flats.
Now, lets move into the keystone of the X 1600, the all-new Spline hubs. Essentially, DT Swiss designed the Spline hubs to strike the ideal balance between strength and weight savings. To do so, DT Swiss opted to design the hub around the use of straight pull, Competition spokes. So, the hub shell sees a reduction in weight, while providing the perfect positioning for the spoke anchors. What are spoke anchors? Well, they're a section of the hub flange that house the spoke ends. However, they've been designed with a three-cross lacing pattern in mind, and their shape and position are specified to mathematically reduce the effects of spoke pull on the bearing seats. Accordingly, DT Swiss has added longevity to the wheel, reduced the exhaustion of required maintenance, and created a stiff and reliable platform for power transfer.
At the freewheel, we see a continuation of DT Swiss' patented Ratchet System. Basically, this is a two-pawl engagement system that is highly responsive and durable. It features an extremely high load capacity, and even better, it was built around a no-tool design philosophy. So, the system guarantees that your routine maintenance will be a painless affair.
The DT Swiss X 1600 Spline 29in Wheel is available in the color Black and is sold individually. The front wheel is available in a 15mm option, and the rear is being offered as either a 10x135mm quick-release or 12x142mm thru-axle. Please note that these wheels are only compatible with Centerlock disc rotors, and that each wheel includes rim tape and a Centerlock adapter.
Share your thoughts
What do you think of the
DT Swiss
X 1600 Spline 29in Wheels
? Share a...
Unanswered Question
I see that only the 12 X142 is available. Does it comes with conversion cups for 10X135 quick release ?. If not, the conversion is available?
RE: DT Swiss X 1600 Spline 29in Wheels...
RE: DT Swiss X 1600 Spline 29in Wheels can the front axel be converted to 9mm QR?
These wheels can not be converted to a 9mm quick release axle. If your looking for additional options, please contact me at jcrocker@backcountry.com.
What is the inner/outer rim width and spoke...
What is the inner/outer rim width and spoke count on this wheel and can it be adapted to the xx1 cassette with an adapter?
Also is the wheel suitable moderate drops at bike parks (e.g. up to 4-5ft)?
This is a 19mm rim with 28 spokes, I'd use it more as a XC wheel with maybe a little trail. If your light, it might take a 4-5 footer if you take the wrong line but I wouldn't go looking for them. I think you're looking for something more like the X1900. All DT swiss wheels are convertable to XX1 with the XD driver body.
How can I tell if my bike has a "Centerlock"...
How can I tell if my bike has a "Centerlock" disc rotor? If it doesn't does the "Centerlock adapter" make this wheel work with my current rotor?
My bike for reference: http://www.specialized.com/us/en/bikes/mountain/stumpjumper-fsr/stumpjumper-fsr-comp-evo-29#specs
Best Answer
The best way to see if you are running center lock would be to look at the rotor/hub interface and if you have 6 T-25 torx screws you are on a 6 bolt configuration. The centerlock to 6 bolt adapter is a great alternative and can be found on our site via item # SHI0271.

Please let us know if you have any other questions and we are happy to help.